Glitzy, glamorous and happening Dallas, with its roaring rodeos and bulging state fair, is unquestionably one of the biggest pulls of the American South. Given its wealth of cultural institutions, authentic Texan barbecue joints and sprawling shopping districts, it's hardly surprising that Georgian natives simply love to holiday here.
So, if you're looking to avoid that sultry drive down Interstate 20, and would prefer a snappy two-hour hop across the southern skies, then be sure to heed these top tips for grabbing cheap flights between Atlanta to Dallas.
See the great deals travelers are finding right now on flights between Atlanta and Dallas on the Hopper Flight Explorer.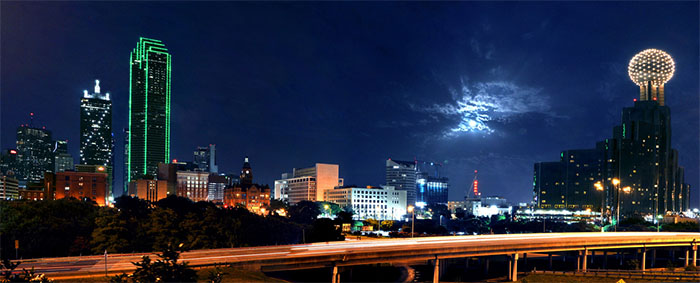 Photo by Robert Hensley/Flickr.
1. Save up to $150 by booking 21 days in advance
If you're thinking about making the quick two-hour hop across the heartlands of the Deep South this year, from Atlanta to Dallas-Fort Worth, then be sure to plan your trip at least three weeks in advance, because Hopper's expert team of flight researchers have discovered that this is when air fares are at their lowest. Passengers buying their tickets more than 21 days before departure can expect to pay up to $150 less on average than late bookers purchasing seats within five days of take-off.
2. Save up to $50 by traveling in June
Why not come and ride the wave of rising summer temperatures in Dallas this June, dipping in and out of your rooftop hotel pools to cool off, or retreating into one of the city's many great museums to enjoy the air conditioning while spying out Picasso, Goya or even creatures from the deep sea? It may even save travelers from Atlanta a buck or two on their flights, because we've found that departures during the summer month could knock off as much as $50 from the price of round-trip fares.
3. Save up to $34 by departing on a Saturday
While average flight prices from Atlanta to DFW do show the usual mid-week dip, with Tuesday and Wednesday offering would-be passengers a possible reduction in the region of $30, the cheapest overall option is to leave on a Saturday, when our statistics show savings could reach as much as $34. That should leave any eager shopaholics heading to Dallas' famous super malls or legendary local farmer's markets with a little more cash in their pocket!
4. Save up to $19 by returning on a Saturday
It's good news for any travelers looking for a jaunt in Texan Dallas between mid-week dates or the weekend, because Tuesday, Wednesday and Saturday all seem to offer considerable reductions in the average ticket price. Our statistics show that returning home on any of these days could save up to $19 on the price of a roundtrip ticket, while passengers will want to avoid popular days like Mondays, Thursdays and Fridays, when fares find their peak at just under $185!
5. Save up to $15 by booking on a Tuesday
Perhaps a little unusually, we found that Tuesday is both the most popular day for Atlanta locals to search for their flights to Dallas Fort Worth and the least expensive, with bookings made on the day saving up to $15 on average from the overall price of a round-trip ticket. Granted that may not seem like much of a reduction, but why lose out when it looks like everyone else is benefitting from Tuesday savings?
Fliers out of the Hartsfield–Jackson International really are spoiled for choice when it comes to picking their airline into Dallas, with no fewer than three separate carriers running regular flights on the route. Out of the lot it's Spirit and American that come in with the best prices, with average seat fares of $169 and $174 respectively. That said, when additional baggage fees are taken into account, we think passengers may do better opting for American as the airline doesn't charge extra for carry-on bags, like Spirit does.
Airlines offering direct flights from Atlanta to Dallas:
- American makes the journey in 2.5 hours for $152 round trip, on average.
- Spirit makes the journey in 2.5 hours for $153 round trip, on average.
- Delta makes the journey in 2.5 hours for $204 round trip, on average.
Airlines offering connecting flights from Atlanta to Dallas:
- United makes the journey in 4.5 hours via Houston for $238 round trip, on average.
- Frontier makes the journey in 8.75 hours via Denver for $321 round trip, on average.
7. Frequent fliers on American can use 25,000 miles to book a round-trip ticket
While American Airlines do offer the best overall deal on nonstop flights into Dallas, it's still definitely worth checking out the carrier's loyalty program, which could mean passengers with enough air miles cruise into the Big D with a whole load more cash in their pocket than expected! In fact, the lowest return trip tariff for flights between the two cities on AA sits at just 25,000 miles, which is actually the airline's cheapest award going.
8. Check out Hopper's When to Fly and Buy Reports for up-to-date information
If we've whetted your appetite for grabbing bargain air fares between the Hartsfield–Jackson International and Dallas-Fort Worth airports, then be sure to head over to Hopper's When to Fly and Buy Reports, where all would-be travelers on the route can see extensive data sets about things like the cheapest departure dates, booking times, yearly highs and lows and plenty more, all sourced from nearly 7.5 million searches on the route in the last 30 days.
See Hopper's latest when to fly and buy report for flights from Atlanta to Dallas for consistently up-to-date information
For those planning a longer stay in the glitzy districts of downtown Dallas, or anyone in need of some extra baggage to carry their chaps and cowboy boots for the state fair in the fall, it's important to check just how much the various airlines will charge for additional services, because you may find overall fare prices drastically increase at checkout. To do this, head over to Airline Fees Calculator, for a detailed visual breakdown of all the hidden costs and extras.
10. Keep in mind that a cheap flight from Atlanta to Dallas is about $171 round trip
While we have seen some seat prices on this popular route descend as low as $135 return, we still think it's a good idea to stay focused on the task at hand, remembering that most bargain deals between ATL and DFW will be priced in the region of $171. In fact, while some passengers do manage to grab a great deal, we estimate this is less than one twelfth of all fliers, with a vast majority of tickets on the route actually going for over $190.