Las Vegas locals likely know Orlando by its stereotype as a haven for childish fun, with a resolutely charming climate, world class, but family-friendly, restaurants and many, many theme parks. Contrastingly, Orlando residents have no doubt picked up on the international image of Las Vegas as a city of debauchery, gambling, wild and wonderful nightlife and ever so adult fun. Both areas emblematic of American tourism, Orlando and Las Vegas are hot spots for national and international travelers – but to locals, they're simply home. And, although there's no place like it, we all enjoy leaving home for a change of pace once in a while. Orlando locals looking for a break from the wholesome Floridian lifestyle can take a quick five-hour flight to Nevada's Sin City. It may be a short flight, but it's a long way from home. Still, it needn't be a pricey journey: Follow our simple but clever tips to find cheap flights from Orlando to Las Vegas.
See the great deals travelers are finding right now on flights from Orlando to Las Vegas on the Hopper Flight Explorer.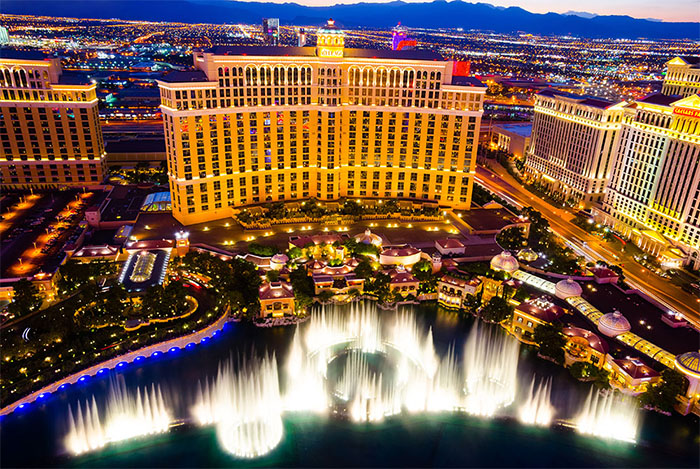 1. The cheapest time to book a flight from Orlando to Las Vegas is 30 days in advance, saving up to $200
Countless impulsive couples would probably advise you against rushing off to Vegas, and Hopper seconds that advice – but not, perhaps, for the same reasons. A well-organised traveler can save up to $200 on the price of their Orlando to Vegas round-trip ticket by booking 30 days in advance of their departure date, with prices steady and rising only minimally up to 20 day before departure. Prices rise increasingly steeply around 14 days before departure, so make sure to book at least two weeks in advance for the chance of a reasonable deal on your flight.
2. The cheapest time to fly from Orlando to Las Vegas is from January-March, saving up to $60
The first three months of the year are significantly cheaper than the rest for travelers from Orlando to Vegas. Around this time of year, our friends from the snowy North and other colder parts of the world are migrating to Florida to enjoy the mild winter, so Orlando residents might be feeling crowded or even hard done by on the holiday front. Need a better excuse to get away? Saving $60 on your round-trip flight is the perfect excuse to jet away to Sin City during those quiet winter and early spring months. Bargain hunters should avoid flying in April or May, as Orlando to Las Vegas prices peak around this time.
3. The cheapest day to fly from Orlando to Cancun is on a Saturday, saving up to $46
Saturday is particularly busy in Orlando, with families indulging in all the child-friendly activities the region has to offer while school's out. Get away from it all and hit up a very different sort of hubbub on a Saturday night in Las Vegas. Depart on Saturday and save a potential $46 on your flight versus the most expensive day. With a direct flight at only five hours and Las Vegas three hours behind you can make sure to arrive in time for the Vegas' night time revelry.
4. Save up to $58 by returning on a Wednesday
Returning to Orlando on a Wednesday means a potential saving of $58. Cutting the week short might seem counter-intuitive, but weekends in Las Vegas are notoriously expensive. Hotel rates, for example, tend to increase significantly on weekend nights – so leaving on hump day could see you save more than just travel expenses. Leave on a high – having recovered from the raucous weekend – and profit from breaking up the working week.
A good deal on a non-stop flight on Delta airlines between Orlando and Las Vegas comes in at around $470, while Frontier's best deals offer indirect flights at around $100 less. However, a five-hour jaunt with the former becomes an almost seven-hour trek with the latter, so bargain hunter should weigh up how much their time is worth before jumping to the conclusion that the lowest price is the best bargain.
Airlines offering direct flights from Orlando to Las Vegas:
- Delta makes the journey in 5 hours for $470 round trip, on average.
Airlines offering connecting flights from Orlando to Las Vegas:
- Frontier makes the journey in 6.75 hours via Denver for $375 round trip, on average.
- Spirit makes the journey in 9.5 hours via Dallas and Denver for $385 round trip, on average.
- American makes the journey in 6.5 hours via Dallas for $422 round trip, on average.
- United makes the journey in 7 hours via Denver or Houston for $424 round trip, on average.
- US Airways makes the journey in 7 hours via Phoenix or Charlotte for $441 round trip, on average.
Speaking of bargains, don't forget about hidden fees. Most airlines charge for things like extra legroom, while some charge for booking your seat in advance and a few airlines even charge for carry-on luggage. Whatever your travel needs, check out Hopper's airline fees calculator to find out what each airline will charge you for the extras. When you're choosing your Orlando to Vegas airline, for example, it's worth knowing that Frontier charges for a carry on, while Delta doesn't.
7. Check out Hopper's When to Fly and Buy Reports for up-to-date information
Our tips are compiled from Hopper's When to Fly and Buy Reports. Our clever number crunchers work hard to bring you the most accurate and contemporary information on the best way to book your flight to get maximum value. The information here is based on over seven million flight prices from searches in the last month alone.
Check out Hopper's latest when to fly and buy report for flights from Orlando to Las Vegas for up-to-date information
8. Keep in mind that a cheap flight from Orlando to Las Vegas is about $385 round trip
If you've followed all our tips, you can expect to get a good deal at around $385 for a round trip with stops. A good deal on a nonstop round trip comes in between $416 and $470. There's quite a bit of variation on this route depending on when you book and when you choose to fly, and that's evident in the lowest price our data researchers found; an incredibly low price of $196.
How the flight from Orlando to Las Vegas compares to flights to other fun cities