No longer is Omaha only the Gateway to the West, for lurking on its north-eastern fringes, the Eppley Airfield now offers a whole host of destinations to Midwesterners looking to escape the Great Plains for a time. Among them is Cancun, a land entirely apart from Nebraska; loaded to the brim with the relics of mysterious Mesoamerican civilizations, brilliant white beaches, aquamarine seas, and some of the most luxurious hotels the Caribbean has to offer.
If that sounds like your kind of thing, then be sure to check out these top tips for bagging cheap flights from Omaha to Cancun this year. See you on the beaches!
See the great deals travelers are finding right now on flights between Omaha and Cancun using the Hopper Flight Explorer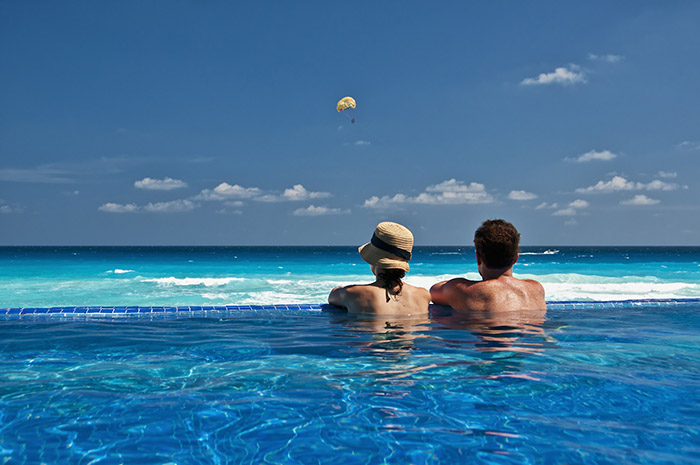 1. The cheapest time to book a flight from Omaha to Cancun is 21 days in advance, saving up to $200
We know that Midwesterners are laid-back folk, but there can't be too much relaxation when it comes to booking flights to Cancun, because if they aren't done and dusted at least 21 days before departure, you can expect to pay through the nose to say the least. In fact, our statistics have shown that in the three weeks before take-off, prices on the route skyrocket more than $200, reaching a whopping average last-minute fare of $750 return!
2. The cheapest time to fly from Omaha to Cancun is any time after April, saving up to $100
Unsurprisingly, fares on the route from Omaha's Eppley Airfield to Cancun International stay rather bloated during the Yucatan's high season from January to April, making budget holidays pretty much a total no go in the first half the year. However, from May onward passengers will typically see prices drop by around $100, giving rise to plenty of off-season and shoulder-season low cost travelling opportunities along the way. Still, those snowy Nebraskan winters may not be as trying if there's a jaunt to Mexico around the corner!
3. The cheapest day to fly from Omaha to Cancun is on a Monday or a Tuesday, saving up to $52
What better way to cure a case of those Monday blues than with a hop down to the sun, sea, sand, opulent hotels and wild mangroves of Mexico? In fact, that's not the only bonus passengers will enjoy by leaving Omaha early in the week, because our stats have also revealed a possible saving on return trip flights to the tune of $52 with departures out of the city on both Mondays and Tuesdays.
4. Save up to $50 by returning on a Wednesday or Thursday
While demand for return flights back to Omaha from Cancun stays relatively steady throughout the week (drawing in between 3,000 and 4,500 searches every day), the prices don't, which is why passengers looking to save as many pesos as possible would do well to book their returns for either a Wednesday or a Thursday. Unfortunately that will count some travelers out of weekend-to-weekend package deals on the Mayan Riviera, but will mean some great savings of up to $50 and no seething crowds to deal with at the airport!
5. United has the cheapest flights from Omaha to Cancun
In the absence of any direct flights between these two cities, Midwesterners will need to look to the various airlines offering indirect connections into Cancun International. And on that count, it's all good news, with no fewer than five separate carriers running regular services on the route. Of them, United Airlines are the cheapest — with their $391 round trip average — closely followed by American Airlines and US Airways on $393, and then Delta Air Lines, on $395.
Airlines offering connecting flights from Omaha to Cancun:
- American Airlines makes the journey in 6 hours via Chicago O'Hare International Airport for $393 round trip, on average.
- Delta Air Lines makes the journey in 7 hours via Atlanta International Airport for $395 round trip, on average.
- Frontier Airlines makes the journey in 9 hours via Denver International Airport for $435 round trip, on average.
- United Airlines makes the journey in 7 hours via Houston's George Bush Airport for $391 round trip, on average.
6. Check out Hopper's When to Fly and Buy Reports for up-to-date information
If all these facts and figures are proving just a little too much to take in, or you're looking to see stats for high-season departures and the like, why not head over to Hopper's When to Fly and Buy Reports Page? This is where you'll find all the 750,000 pieces of raw data we use to formulate these tips, providing loads of other useful pieces of information regarding flights between Omaha and Cancun—including yearly price trends, alternative flight routes and airline market share.
See Hopper's latest when to fly and buy report for flights from Omaha to Cancun for constantly updated information
7. Take a look at Hopper's Airline Fee Calculator to get the real cost of your ticket
We hate it as much as the next person when additional airline fees and charges take what seemed like a bargain flight and transform it into a wallet-trouncing total, which is why we've put together our Airline Fees Calculator. It offers would-be travelers going from Omaha to Cancun the chance to see the real price of their ticket, by detailing everything from checked baggage fees and in-flight meal costs and comparing every airline across the board.
8. Keep in mind that a cheap flight from Omaha to Cancun is about $394 round trip
With a majority of ticket prices on this less-trodden air route going for upwards of $570, it's definitely worth remembering that bargain seats between these two cities will be priced somewhere in the region of $394. In fact, those are actually the lowest fares we've seen for a long time for fliers out of the Eppley Airfield heading to Cancun, and our statistics show that they are reserved for around just 10% of lucky passengers on every plane!