Cancun has earned its reputation as one of Mexico's most popular tourist destinations, boasting the perfect balance of sun, sand and sea with cosmopolitan nightlife and reasonably priced accommodation. Canadians famously enjoy escaping to Mexico during the dark and snowy winter months, and the manageable four-hour flight to Cancun – typically at its cheapest in late January – is ideal for Torontonians looking to change their scenery from high-rise buildings and lakes to low-rise bikinis and ocean views. Toronto's Spring breakers in Cancun might be looking for a budget hotel with great drinks deals, honeymooners will likely be seeking out a luxury resort on Cancun's more private shores – but everyone wants a great deal on the flight. What is a good deal on the Toronto to Cancun flight, though, and how can you get it? Follow a few simple guidelines, compiled by Hopper's flight experts, to ensure you nab a cheap flight from Toronto to Cancun.
See the great deals travelers are finding right now on flights from Toronto to Cancun on the Hopper Flight Explorer.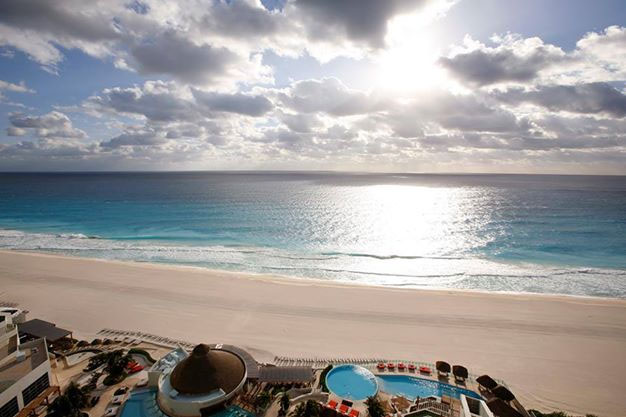 Photo via ME Cancun
1. The cheapest day to buy a flight from Toronto to Cancun is on a Friday, saving up to CAD$13
There's no need to stress about booking your flights on a weeknight. Instead, have a quiet night in on a Friday and take time to book your Toronto to Cancun trip, ensuring the best deal. Sure, you might have to miss those traditional after-works drinks, but you'll have more than enough opportunities to enjoy a few cold ones in the party capital that is Cancun, at least a one of which will be guilt-free thanks to the CAD$13 saving you made by booking on the right day.
2. The cheapest time to book a flight from Toronto to Cancun is 20 days in advance, saving up to CAD$32
The rates on the Toronto to Cancun route are typically quite volatile, if flat, with a fair amount of variation in prices even when booking over a month before departure. But, in general, savvy fliers should book about three weeks before departure to increase the likelihood of landing a decent price on their tickets. If you do need to book last minute, however, don't worry too much – there isn't a particularly reliable guarantee of a better price for early birds on this route.
For direct flights between Toronto and Cancun, which take under four hours, WestJet is the cheapest airline. It's also one of North America's most efficient choices, with 77% of flights arriving on time to date in 2014. Air Canada and Air Transat also offer direct flights on the Toronto to Cancun route, with popular deals on Air Canada coming in at around CAD$27 more expensive and Air Transat about CAD$54 more expensive than those offered by WestJet. If you fly regularly, you can really get the most out of a good deal on WestJet by following the next handy hint on our list...
Airlines offering direct flights from Toronto to Cancun:
- WestJet makes the journey in 4 hours for CAD$517 round trip, on average.
- Air Canada makes the journey in 4 hours for CAD$544 round trip, on average.
- Air Transat makes the journey in 4 hours for CAD$575 round trip, on average.
Airlines offering connecting flights from Toronto to Cancun:
- US Airways makes the journey in 9.5 hours via Philadelphia for CAD$467 round trip, on average.
- United makes the journey in 7.5 hours via Houston for CAD$481 round trip, on average.
4. Frequent fliers on WestJet can use WestJet Dollars to book a round-trip ticket
WestJet's frequent flier program is a bargain hunter's dream and it's ideal for regular business travelers. For every dollar spent with the airline, fliers earn $1 WestJet dollar to be redeemed against another flight. Between CAD$1 and CAD$1499 spent on WestJet flights in a year, you'll earn 1% back in WestJet dollars. There are some nifty bonuses on offer, too, like the Canadian Jet-Away reward: a free companion flight, excluding taxes and charges, anywhere WestJet goes in Canada when your annual spend exceeds CAD$4500.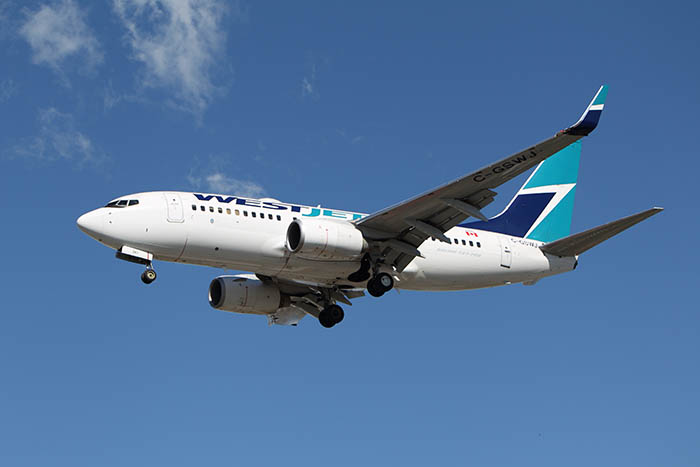 5. Check out Hopper's When to Fly and Buy Reports for up-to-date information
Our When to Fly and Buy reports are the most up to date and reliable sources of information for travelers looking for the best price on their Toronto to Cancun flight. Current information compiles flight prices on over 808,000 flights sourced between July and August of 2014, and analysing return flights between August 2014 and January 2015. The YYZ – CUN When to Fly and Buy report will help you decide when to fly during the year to land the best bargain, which days of the week to depart and return for the cheapest deals and even analyse the popularity of the Toronto to Cancun route so travelers can predict how quickly the flight prices are set to rise.
See Hopper's latest when to fly and buy report for flights from Toronto to Cancun for consistently up-to-date information
Keep in mind that a cheap flight from Toronto to Cancun is about CAD$478 round trip
Travelers looking for a decent deal should aim to pay around CAD$479 for their round-trip tickets. Those who are particularly well-prepared – and lucky! – might even nab a flight under CAD$436. Our research team found the cheapest recorded flights over the next six months were typically in the CAD$468 to CAD$545 range for direct flights. Indirect flights aren't much cheaper so they're unlikely to be worth the extra hassle, falling in the CAD$464 to CAD$479 price range.
How the flight from Toronto to Cancun compares to flights to other beach destinations