Given that one of the city's nicknames is "Lost Wages," travelers to Las Vegas are going to want to make sure they save as much as possible while they still can – starting with flight expenses. Las Vegas isn't just the go-to for high-rolling party kids, bachelor parties and gambling fiends. It's also a pretty fascinating tourist destination in its own right, with some spectacular events and festivals throughout the year all boasting that inimitable Las Vegas glitter. Perhaps you're hitting up the Strip for some dice tosses and dicey ladies or maybe you're simply there to bear witness to the extraordinary feats of glamour that are the city's hotels. Whatever compels intrepid Dallas residents to take the 2.5-hour flight to Las Vegas, cheap flights will always prove a welcome start to the trip. So, to get the best value between Dallas and Las Vegas, simply follow these easy tips for the cheapest flights.
See the great deals travelers are finding right now on flights between Dallas and Las Vegas using the Hopper Flight Explorer.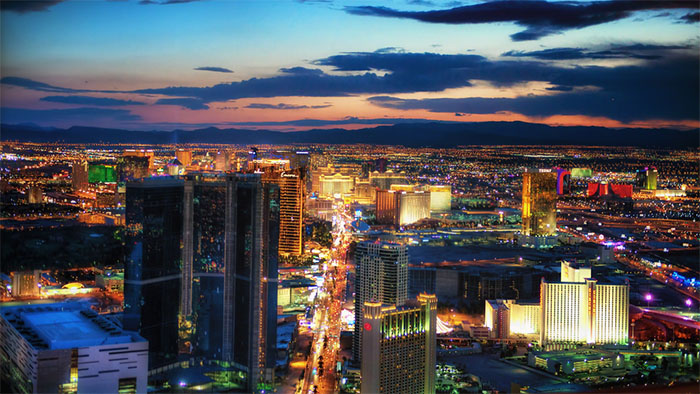 Photo by wbeem/Flickr.
1. The cheapest time to book a flight from Dallas to Las Vegas is 20 days in advance, saving up to $130
Being unprepared and booking too close to your departure date could cost you a full $130. Up to 20 days before departure between Dallas and Las Vegas, prices are stable at the lower end of the spectrum. With the 20 days leading up to your departure date – and particularly during the two weeks preceding departure – flight prices sky rocket, increasing by well over 50% and maxing out on the day of departure at over $350 on average.
All of that said, truly spontaneous travelers with some flexibility can take advantage of sudden price tips by using the new Hopper app, Flight Tonight, which lets fliers book their tickets on the day of travel.
2. The cheapest time to fly from Dallas to Las Vegas is in September, saving up to $182
September, the "back to school" month and a fresh start for many, is just the right time to take a trip to Las Vegas if you're looking for a great deal on flights. What are the other advantages of traveling in this month? It's a little late in the season for a summer holiday, making it that much easier to book the time off, and the heavy heat of the Nevadan desert which reaches its peak in July has dispersed a little by early fall. September is also the month for the Las Vegas Food and Drink festival, so you could spend some of the $182 you'd save enjoying some gourmet treats.
3. The cheapest day to fly from Dallas to Las Vegas is on a Tuesday, saving up to $44
Take off early in the week from Dallas to Las Vegas to shave a considerable chunk off the potential overall ticket price. Tuesday is the cheapest day to depart, leaving visitors to Las Vegas with a week's stretch to enjoy before the weekend rush. Just as they say New York never sleeps, it's never daytime in Las Vegas – and that includes the weekdays. There are no dull moments in the city known as the "Entertainment Capital of the World," but if you're arriving early in the week you can take advantage of cheaper tickets for shows outside of the peak weekend prices and slightly less packed blackjack tables.
4. Save up to $35 by returning on a Tuesday
Tuesday's also the cheapest day to leave Las Vegas and return back to the welcoming bosom of D-Town – you'll can save up to a full $35 by returning on a Tuesday. We all know that what happens in Vegas, stays there; so take Monday off to wind down, recover from the weekend revelry, pack up your headache pills and clear those ill-advised photos from your camera – it never happened. You'll return back to Dallas with a clear head – and, for most, a clear conscience!
5. The cheapest day to buy a flight from Dallas to Las Vegas is on a Tuesday, saving up to $10
Tuesday seems to be the magic word for Las Vegas, as it's also the cheapest day to buy your ticket. Don't use early-week weariness as an excuse to delay searching for those great deals: Even though a potential maximum saving of $10 might not seem like much, that same $10 could well multiply itself into hundreds at the casinos of Sin City.
6. American has the cheapest direct flights from Dallas to Las Vegas
Although American Airlines isn't the cheapest airline in terms of upfront costs for the Dallas to Las Vegas route, it is cheapest after factoring in sneaky hidden charges. Ostensibly, Spirit airlines comes in cheapest on average with a good price of $189, but luggage charges and seat reservation fees could see that price creep well over the $200 mark. American comes in at around $237 for direct flights, but you'll arrive at Dallas airport safe in the knowledge that all travel fees are settled and correct. Travelers can check out the Hopper Airline Fees calculator to see how much extra Spirit will charge for checked bags or other amenities.
Airlines offering direct flights from Dallas to Las Vegas:
- Spirit makes the journey in 3 hours for $189 round trip, on average.
- American makes the journey in 2.75 hours for $237 round trip, on average.
Airlines offering connecting flights from Dallas to Las Vegas:
- Frontier makes the journey in 4.5 hours via Denver for $233 round trip, on average.
- United makes the journey in 5 hours via Houston for $269 round trip, on average.
7. Frequent fliers on American can use 25,000 miles to book a round-trip ticket
Any Dallas locals keen to save a bit of money for the betting tables would do well to consider American Airlines' loyalty program, which currently offers passengers out of DFW round-trip seats on the route to Las Vegas for as little as 25,000 air miles. For departures during peak dates the tariff increases to 30,000, while first class and business class travelers will need to fork out considerably more.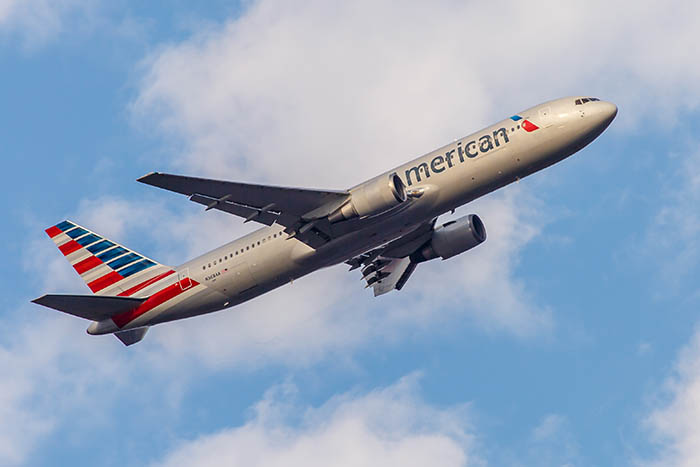 8. Check out Hopper's When to Fly and Buy Reports for up-to-date information
In the last month, Hopper's When to Fly and Buy Report for Dallas to Las Vegas has collated more than 17 million search results from airfare portals right across the web, all in order to bring our users the most up-to-date money-saving insights regarding flights on the route. Head over to get all of the data and findings in a single document, to help you keep the air fares down and the spending money high.
See Hopper's latest when to fly and buy report for flights from Dallas to Las Vegas for up-to-the-minute information
9. Take a look at Hopper's Airline Fee Calculator to get the real cost of your ticket
If you're wondering how much a checked bag will set you back on that bargain American Airlines deal from DFW to LAS, or perhaps if the savings you made on taking a mid-week departure will be offset by asking for a little extra leg room, then be sure to check out our Airline Fee Calculator, which provides a detailed visual breakdown of all the costs, extras and additional fees that may affect the final price of your overall airfare.
10. Remember that a cheap flight from Dallas to Las Vegas is about $194 round trip
It's easy to get a great deal between Dallas and Las Vegas if you book wisely, with a good deal coming in under the $200 mark – a decent price for a direct flight under three hours. However, you could end up paying the equivalent of over $100 per hour of flying time if you book over peak days and for peak times. Keep in mind that late December is by far the most expensive time to fly to Las Vegas from Dallas – with prices at over $350 for a round trip. A fantastic deal, at the very lowest end of the spectrum, can come in at around $148 return.
How the flight from Dallas to Las Vegas compares to flights to other fun cities