Las Vegas, the land of the bachelor parties, 21st birthday bashes, girls' weekend getaways, and copious amounts of drinking. Severe alcohol abuse is a firmly rooted tradition in Vegas lore, dating back to the drunken card games at saloons in the Frontier towns all over Nevada (that is, if "Blazing Saddles" has any historical accuracy). These days, it's almost harder to stay sober in this town than to succumb to the sweet nectar of Lady Luck. A fountain that leads to nowhere good, and hopefully to somewhere bad, in a fun, sinful way. Unfortunately, many of the gin-joints that dot the Strip are just plain bad. So how do visitors get around and make sure that they hit the right spots? It's easy – they channel their inner freshman and go on a pub crawl, of course!
See 7 tips, like when to book your ticket, from the Hopper research team that can save travelers hundreds on their flights to Las Vegas.
Ride in style, Las Vegas style – in a limo, of course!
Photo by Siâny/Flickr.
Forget walking down the Strip – wouldn't want to ruin the stilettos. Besides, walking and drinking is pretty hard to manoeuvre sometimes, especially with champagne flutes, and who would be carrying the bottle? So it's solved. Limo it is. And luckily, there are enough services in Las Vegas that keep its guests well-hydrated with bubbly while they peer out the darkened window at the bright lights. With stops at the iconic Fabulous Las Vegas sign for photos, and all the hotel light shows, like the Fountains of Bellagio and the volcano show at the Mirage, passengers are sure to get all their sightseeing done while they're pregaming for the club. Go ahead – wear those sunglasses inside.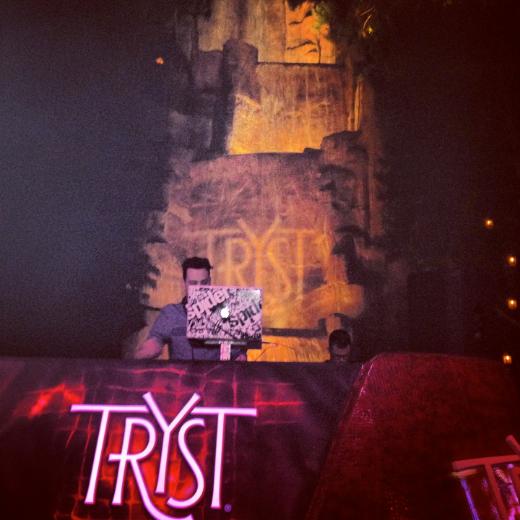 Tryst, Las Vegas – photo by Kevin Amanda Milo
For a truly wild Las Vegas night, bring a crowd. The Sun City Club Crawl makes sure nobody goes it alone at the four or five destinations on the schedule. They know it's going to be a hard night of dancing and drinking so there's no time to be wasted in line – between shots on the bus and dancing at hot clubs like Tryst or LAX, every passenger knows it's going to be a jam-packed night. Included in the package are free drinks and cover for the clubs, so there's nothing to worry about!
For a truly pimped-out ride, rent a Las Vegas Party Bus for your posse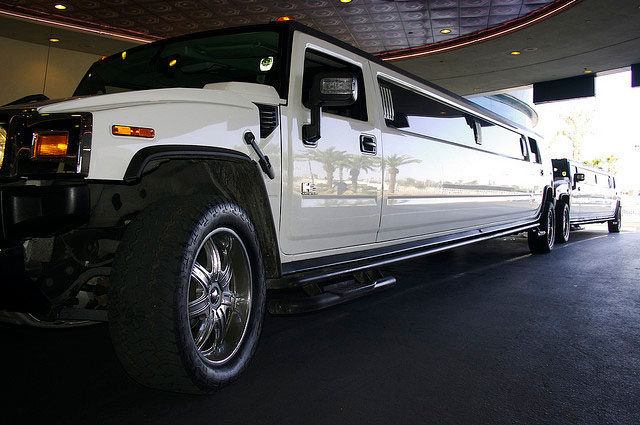 Photo by kepibear/Flickr.
These Las Vegas party organizers are seriously underselling themselves by calling this thing a "bus." What it is in actuality is a glowing neon inferno with, occasionally, a stripper pole in an armored stretch SUV limo. Large groups not only get to ride around in this party chariot, but the company also offers package deals and throw in complimentary booze. Whether your posse is in for a night of clubhopping, a day of shopping the city, or a simple sightseeing tour, the party bus is all-accommodating.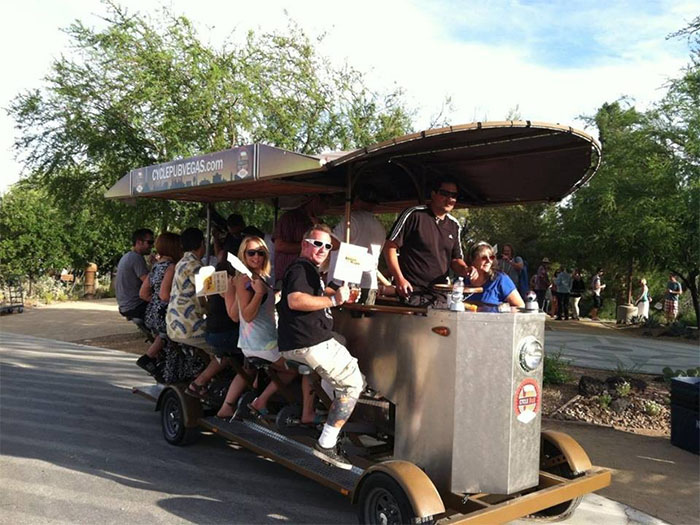 Photo via their official FB page.
Whether it's for a bachelor/bachelorette party, a sweet family reunion, or just a weekend trip with the buddies, Cycle Pub Las Vegas offers a totally unique way to crawl the pubs. Appointed with 14 bicycle seats and pedals, this pub-on-wheels is a totally fuel-efficient and fun way to travel. It might not be super-stylish, but it is wired with a stereo to blast the music of your choice. Hit any of their special Very Important Pubs, which include deals at Bar + Bistro, Common Wealth, Radio City Pizza, and others.
Check out the diversity of nightclubs and bars on the Strip with the Las Vegas Club Crawl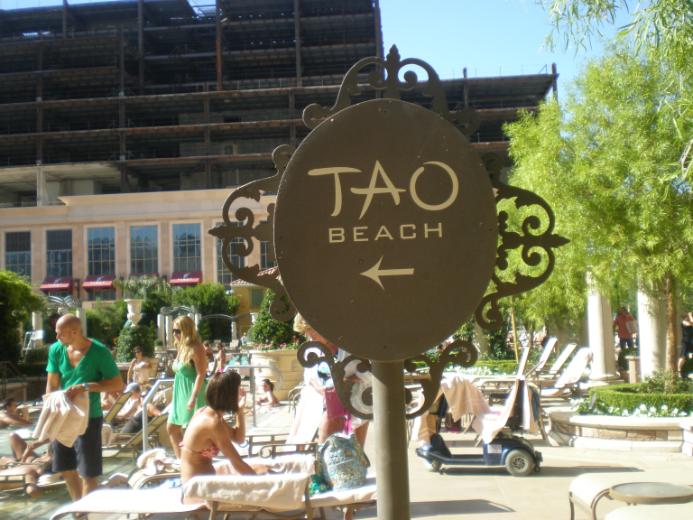 Tao, Las Vegas – photo by yourkindofsalad
Problems that arise when deliberating on the nightlife in new cities, especially this one: it's hard to know where to go, and expensive to waste money on the many disappointing party locales on the Strip. And meeting people; how do people do it? Well, the Vegas Crawl is a sure way. It's hooked up with both relaxed bars like the PBR Rock Bar at Planet Hollywood and upscale mega-clubs like Pure and Koi, and gathers up to 300 partiers every night along with 10 hosts and tons of free drink tickets and wristbands. The Crawl drifts in an out of five to six drinkeries a night and re-entrance is free to any of them.
Also check out these tips from the Hopper research team on how to save money on your flights to Las Vegas
Book at least 14 days in advance to save up to $200
Depart on a Saturday to save up to $76
Return on a Tuesday to save up to $54
Buy your ticket on a Wednesday to save up to $11
Travel in October or August to save up to $25
- Read more on how to find cheap flights to Las Vegas and see all 7 money-saving tips from the Hopper research team