Find all the creature comforts and more at these 10 world-class zoos. Sometimes the best or most informative way of getting familiar with a part of the world is first by learning about the animals who call it home, and some of these huge sprawling animal kingdoms offer that and so much more. These zoos are traces to aristocratic history, architectural marvels, leaders in wildlife conservation, family adventures waiting to happen, and, at the very least, present a chance to hang out with some pretty cute critters (check out the baby panda in Vienna's Tiergarten Schönbrunn and just try not to feel your heart expand). To find out more about the largest, most fabulous ménageries in the world, keep reading!
10. The Berlin Zoo is a brilliant mishmash of animal-centric architecture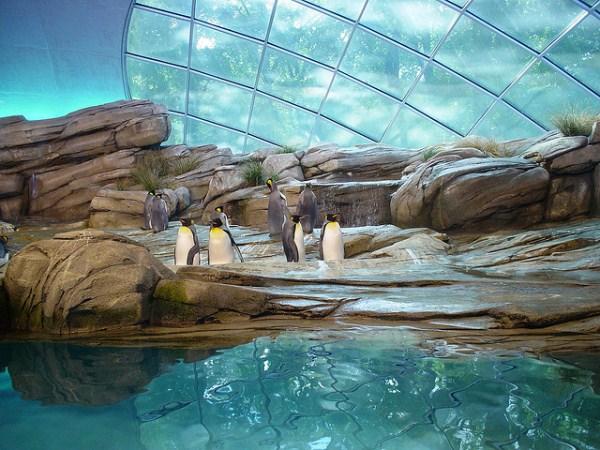 Berlin Zoological Garden, Berlin – photo by Amrat Patel
A lot of superlatives could be used to describe aspects of the Berlin Zoo. It's the oldest zoo in Germany (opened 1844), and with 1,500 species and 9,500 animals, holds the most comprehensive collection of species in the world and subsequently is one of the most visited zoos in Europe. It also houses the largest aquarium in the world, with more than 250 tanks on display. However, numbers and superlatives aside, the grounds of this zoo are simply stunning to walk around in, offering enchanting architecture, beginning with their giant scalloped Elephant Gate that looms over two elephant sculptures guarding the entrance. The Hippopotamus House, opened in 1997, comprises two freeform tessellated grid shells flowing like a glass canopy over the splashy mammals, allowing visitors to catch a few above and underwater.
9. The Bronx Zoo cultivates some pretty bad-ass animals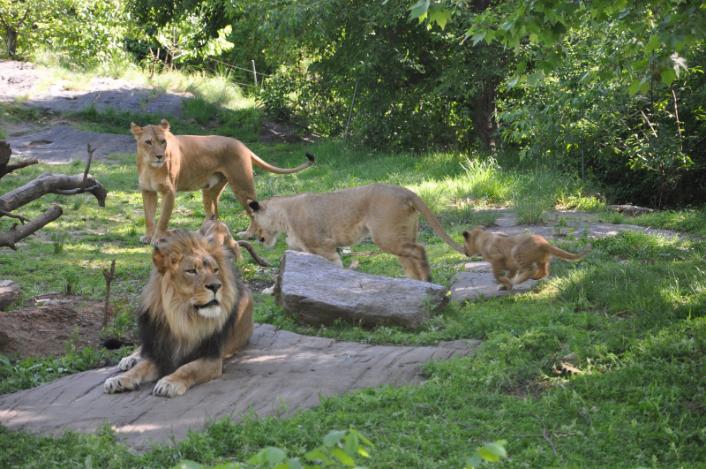 Bronx Zoo, New York City – photo by Lorrie
The Bronx Zoo opened to the public in 1899, and in 1903, it became the first zoo in the Western Hemisphere to have snow leopards (several generations later, there are truly New Yorker snow leopards in this world, and that is a delightful thing). During the course of the next century, the zoo would continue to expand into one of the world's largest zoos and a major innovator in wildlife preservation and education. Clocking in at over 6,000 animals spread over 265 acres, the Bronx Zoo has cool little animal-spectating features like deep moats to separate animals from their predators and prey as well as a Wild Asia Monorail to see their naturalistic habitats on a relaxing guided tour past tigers, elephants and rhinos.
8. The London Zoo is a modern yet Victorian ménagerie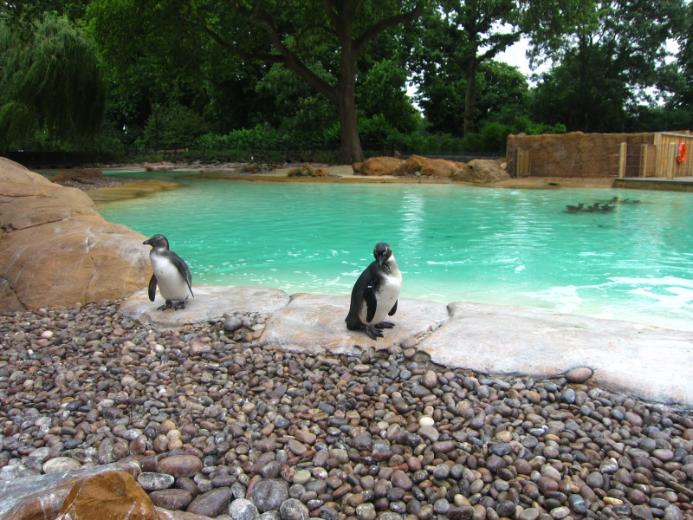 London Zoo, London – photo by Shareen
The London Zoo, located on the north side of Regent's Park, has been operating as an animal research facility since 1826. In 1847, the grounds opened to the public, its success as a family attraction has helped them develop new zoo innovations such as the world's first reptile house (in 1849), public aquarium (in 1853) and petting zoo (in 1938). Since then, the zoo has retained some of its most notable pieces of Victorian architecture while expanding their animals to include the popular Komodo Dragon, Galapagos Tortoises, a wide range of reptiles, tigers, gorillas and more. Particularly noteworthy is their Penguin Beach, which is a circular 12,000-square-meter pool that holds 450,000 liters of water and offers stunning underwater viewing areas.
See 5 tips, like when to book your ticket, from the Hopper research team that can save travelers hundreds on their flights to London.
7. The Beijing Zoo has giant pandas in spades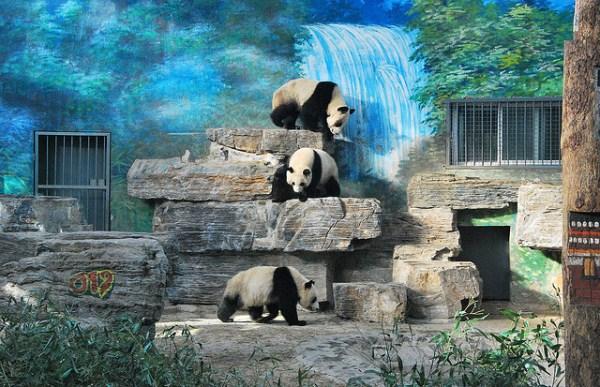 Beijing Zoo, Beijing – photo by Amrat Patel
The zoo was in established in 1906 during the late Qing Dynasty and has grown substantially from its relatively humble beginnings as a home to 12 monkeys, two parrots and a blind emu. Now, it contains 950 species of animals within its sprawling 219 acres of land, and by far the most popular exhibits in the Beijing Zoo are devoted to rare Chinese animals, most notably the Giant Pandas. Also on display are the South China tiger, Chinese Alligators and Chinese Great Salamander. Visitors can stroll leisurely around the manicured flower gardens, large groves of trees, grassland, streams, lotus pools and small hills atop which sit beautiful turn of the century Chinese pavilions.
6. A scenic stroll around the animals at the National Zoological Gardens of South Africa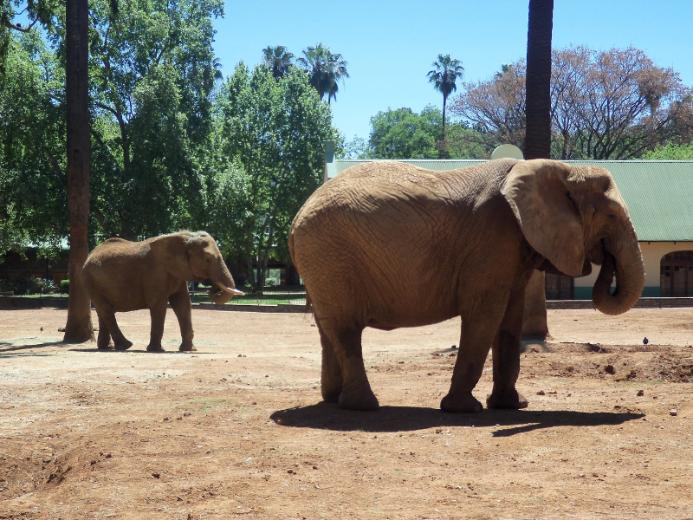 National Zoological Gardens of South Africa, Gauteng – photo by Tammy
The National Zoological Gardens of South Africa, otherwise known as the Pretoria Zoo, was founded in 1916 and has since grown to encompass 216 acres. Half the zoo lies stretched over flat ground, while the other half is hill-side; streaming between the two areas is the Apies River, but getting around is as simple as crossing its suspension bridges and following the 6 km of trails and walkways on foot, renting a golf course, or even catching a ride on the cablecar to the upper section. The journey through the zoo winds through exhibits featuring chimpanzees, various waterbirds and lemurs, smaller primate, marmosets, tamarins, kangaroos, emus, red pandas and ample wildlife only native to the South African wildlife – 9,000 individual animals of over 705 types of species call this zoo their home.
5. Hit the Columbus Zoo for Lions, coasters and bears, oh my!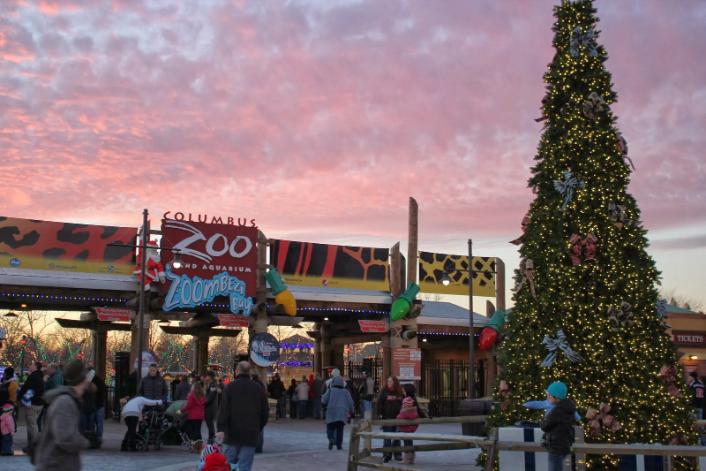 Columbus Zoo and Aquarium, Ohio – photo by Dust
Those who are unaware that Ohio was capable of having a world-class anything will be delighted to know that one of the largest zoos in the world is in Powell, close to Columbus. With over 9,000 total animals spread over 793 species and attracting over 2.3 million annual visitors, the Columbus Zoo has proven to be quite the menagerie and worthy of note; but what makes this place really shine is its world-renowned conservation facilities and fundraising programs to help outside conservation efforts. That, and, unlike most traditional zoos, the Columbus Zoo houses thrilling rides, coasters, drops, spin rides and even a water park. A home to a diverse range of creatures from all corners of the world, the zoo is easily a full day adventure.
4. See the regal animals in the magnificent Tiergarten Schönbrunn Palace in Vienna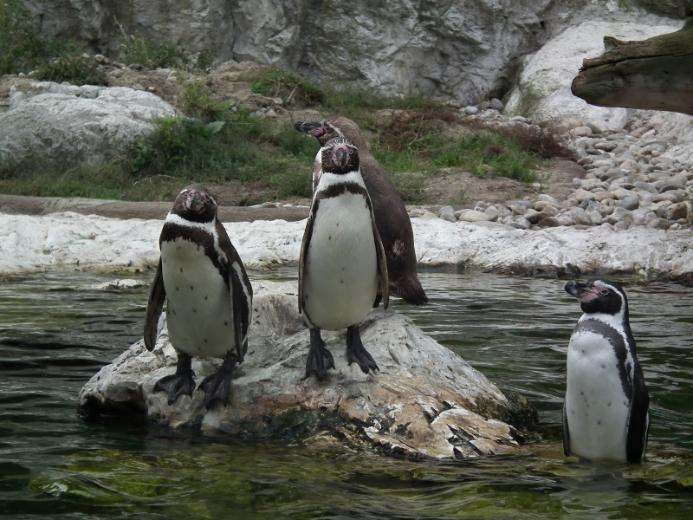 Tiergarten Schönbrunn, Vienna – photo by myzoophotos
The oldest zoo in the world was built in the turn of the 17th century on the grounds of Schönbrunn Palace, a summer palace for royalty during the Hapsburg Dynasty. Apart from being a breeding ground for exotic creatures, the majestic palace offers a keen lens into history, having hosted the likes of Emperor Napoleon Bonaparte and Mozart. Its ménagerie is no less remarkable, set against the yellow-splashed Viennese answer to Versaille, updated with carefully designed habitats and crawling with beautiful flamingos, pandas, giraffes and a whole host of other animals. Their most popular exhibition by far is the baby panda, the face of which can pretty much blow the brilliant facade of the palace out of the water by comparison.
3. Sleep with the snow leopards at Sydney's Taronga Zoo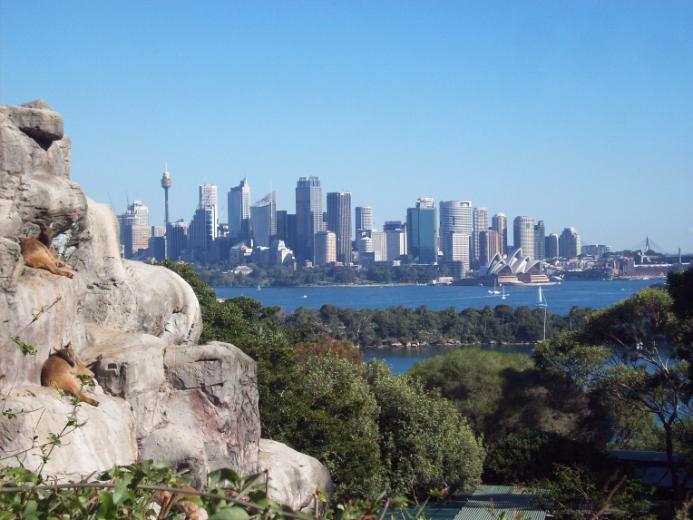 Taronga Zoo, Sydney – photo by Farhan Iqbal
Located 12 minutes by ferry from Sydney, the Taronga Zoo is a fully sensorial Australian experience, engaging the eyes with a breathtaking view of the Sydney Harbour and Opera House before getting a close introduction to some of the wildlife of the Aussie outback. Winding down the scenic trail with a tour guide, visitors can spot giraffes, koalas, African elephants, Australian sea-lions, Tasmanian devils and over 300 other other species. Their shows offer an insightful look into the activities of seals and birds, educational talks by keepers, as well as a chance to nuzzle koalas, feed giraffes and meet a reptile. Those who book strategically could even find themselves staying a night at the zoo in one of their architecturally-designed tents, alongside lions, snow leopards and meerkats and waking up at sunrise to the roar of a lion.
See 5 tips, like when to book your ticket, from the Hopper research team that can save travelers hundreds on their flights to Sydney.
2. Uncover huge wildlife and botanical display at the San Diego Zoo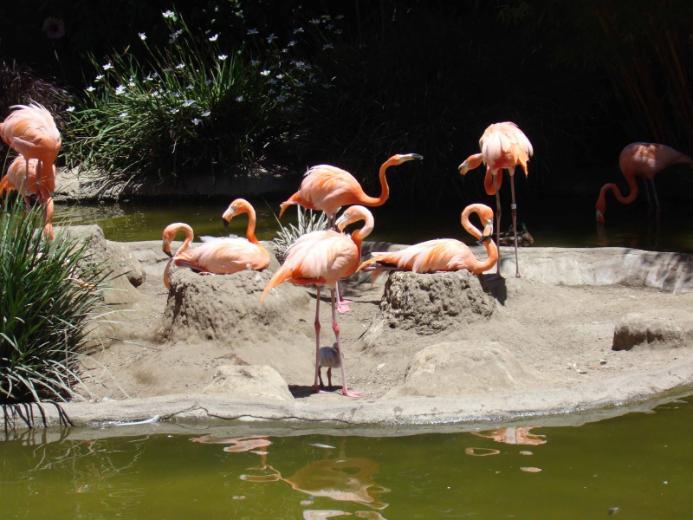 San Diego Zoo, San Diego – photo by Judy S.
San Diego is a great destination for adults and kids who love animals: people who want a little adventure in their marine exploration go to Seaworld; families interested in ocean conservation and a deeper look into the habitats of fish and invertebrates hit the Birch Aquarium. For everyone else, the world-famous century-old San Diego Zoo is home to such exotic creatures as giant pandas, koalas, leopards, elephants, Chinese alligators and more, divided between their ten bioclimatic zones. Visitors can simply stroll from an arctic tundra to a rain forest and get a fairly leisurely nature lesson on their respective inhabitants. Budding horticulturalists can easily take a tour around their expansive botanical garden of over 700,000 plants. Visitors can also take their Skyfari Aerial Tram to get a better idea of the layout and see all of the magnificent animals from a birds' eye perspective.
1. Get up close and purrrrr-sonal with the exotic felines at the Singapore Zoo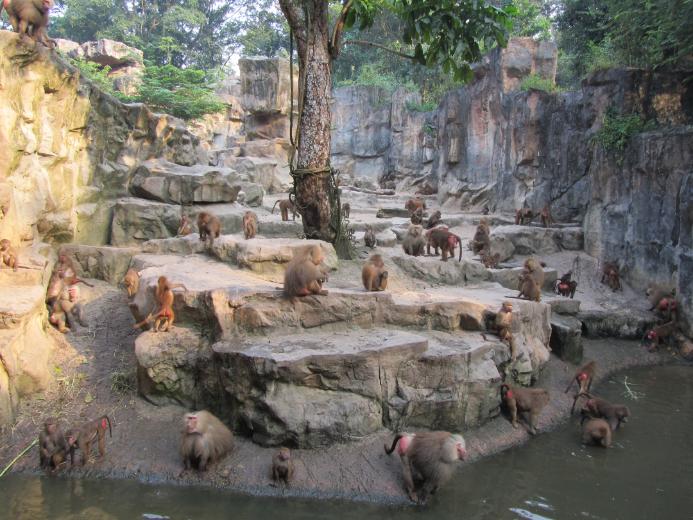 Singapore Zoo, Singapore – photo by missmegs1
Over 2,800 animals representing 300 species of mammals, birds and reptiles are spread over the 64-acre wildlife park that lies snug in the lush Mandai rainforest. Unlike many other traditional zoos, the Singapore Zoo skews towards open-air exhibits: no cages, only meticulously recreated animal habitats that befit the ones natural to the species as well as special viewing features such as elevated platforms, underwater galleries, glass observatories and even deep moats that separate some more dangerous animals from the viewers. And if the lack of cages didn't make for an interactive enough experience, their regular shows and feedings certainly help visitors get acquainted to their favorite furry, scaly, or supple creatures.