Three hours from Los Angeles and San Jose, and just under four hours from San Francisco, Pismo Beach is a great choice for those looking to have an outdoorsy weekend away by the sea. Outdoors and adventure activities are plentiful in Pismo Beach, including golfing, bicycling, tennis, hiking, horseback riding and scuba diving. The area boasts miles of beautiful, clean beaches with pools, coves and caves that visitors can explore. There's also the Pismo Pier, a 12,200-foot pier that's a popular spot for sightseeing, walking, fishing and sunset watching. And, best of all, visitors to Pismo Beach will be in prime position to visit some of the other amazing destinations on San Luis Obispo County's Wine Coast.
Photo by John Walker via Flickr.
Every year, in the winter, tens of thousands of orange and black monarch butterflies come to Pismo Beach to escape the cold winters up north. Visitors to Pismo Beach during the butterfly season would be remiss not to check out the Monarch Butterfly Grove, where there are volunteer experts on-hand to offer info and show visitors around.
Catch some waves, as Pismo Beach is great for surfing
Photo by Bill Gracey via Flickr.
Pismo Beach is popular with surfers, the city itself being known by many as a surf destination. Around sunrise and sunset is when most of the surfers hit the beach looking to catch some waves. Some are locals, some have traveled to be there, either way, they enjoy the laid back surf atmosphere of the city and the great waves that Pismo Beach has to offer.
Photo by Julie Gibson via Flickr.
Oceano Dunes is 5.5 miles of beachfront sand dunes with a unique twist: it's the only beach in California where it's legal to drive vehicles. Not just any vehicles, of course, but off-road, 4×4 vehicles. Imagine the Pacific Ocean stretching out before you as you speed across the dunes on a ATV with some friends.
Clam chowder doesn't get any better than at Splash Cafe
Photo by cmrowell via Flickr.
Splash Cafe serves more than 30,000 gallons of its award-winning and world-famous clam chowder each year. What makes it so special? Well, the recipe is a closely guarded secret, but the fact that the restaurant makes its chowder fresh from scratch each day is certainly a factor in its appeal. Those who can't make it to Pismo Beach to try Splash Cafe first hand can also order the clam chowder online and have it shipped anywhere in the United States.
Photo by michelleysbelly via Flickr.
This restaurant was founded in 1999 by husband and wife duo, Mike and Kathy Lee, and has since grown to be one of the favorite restaurant options among locals craving seafood. The menu spans a wide range of seafaring goodies, such as crab cocktail, Alaskan king crab tails and clam chowder. As it's a small restaurant, it only takes walk-ins as opposed to bookings.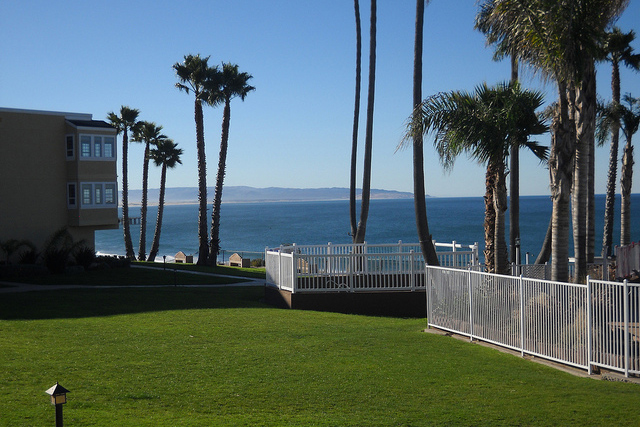 Photo by SeaCrest OceanFront Hotel via Flickr.
Particularly popular in the summer, SeaCrest Oceanfront Hotel is the perfect place for beach lovers to stay. It's got direct beach access, a stunning view of the sunset and a five-acre oceanfront bluff. The guest rooms are stylish and modern, with free WiFi and complimentary breakfast. The hotel's location is convenient, too, as it's close to Pismo's restaurant row and the pier.