Australia's vast wilderness, relieved by a handful of vibrant modern metropolises, is one of the world's great travel destinations, containing an immense diversity of cultures and climates, tastes and terrain for wanderers to explore. This two-week itinerary winds its way up the country's east coast, taking in cities such as Sydney and Brisbane, sojourning in the sun-drenched Whitsunday Islands, and finishing in the great wild worlds of reef and rainforest that surround and enclose the city of Cairns. This is an unforgettable trip, encompassing almost 3000 km and some of the most diverse ecosystems in the world.
Begin in the Southern Hemisphere's greatest colonial metropolis, Sydney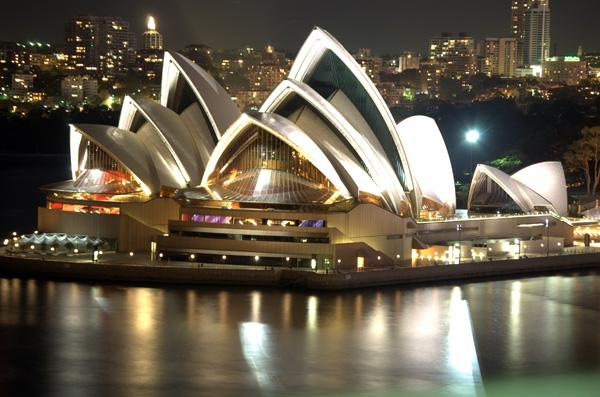 Sydney Opera House, Sydney – photo by ketul patel
First stop, follow the example of the early colonists and drop into Sydney, built on the site of the first British settlement in Australia. It was originally established as a penal colony, but is situated in an ideal location for a city – on the hills surrounding one of the world's largest natural harbours. This harbour is now an icon itself, framing a skyline composed of iconic structures including the Sydney Opera House and Sydney Harbour Bridge. The shoreline where the city meets the sea is defined by a string of famous beaches, such as Manly Beach, which is one of the world's great casual surfing destinations. Younger travelers are likely to adore the Sydney SEALIFE Aquarium, with 12,000 animal inhabitants and exhibitions on the marine life in Sydney Harbour, in other areas around Australia's coast, and across the southern oceans.
See 5 tips, like when to book your ticket, from the Hopper research team that can save travelers hundreds on their flights to Sydney.
Party or stretch out in Australia's easy coast chill city, the Gold Coast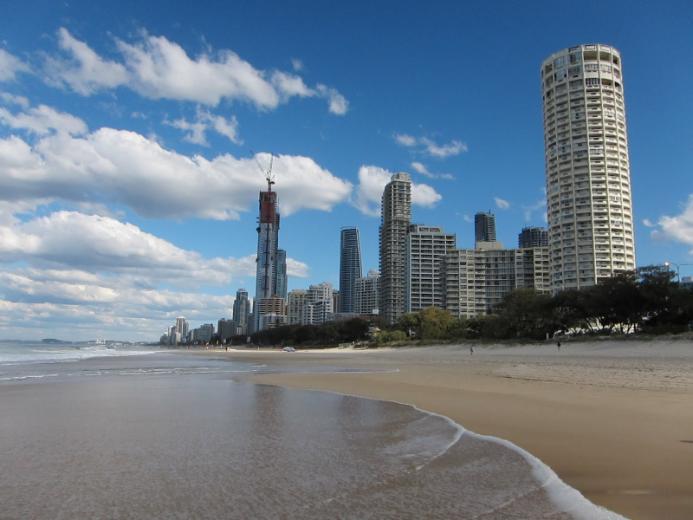 Surfers Paradise, Gold Coast – photo by Aroundtheglobe
From Sydney, wind your way north up Australia's east coast and – a short 900 km later – you'll reach the sun-dazzled city of the Gold Coast. This is one of Australia's most alive cities, balancing the fast-paced nightlife and sky-scraping skyline, with a shoreline of white-sand beaches and a hinterland of dense and wild rainforest. Experience the town's coastal life at Burleigh Heads, a sheltered and secluded beach with protected waters perfect for swimming, and a more turbulent headland area swarming with surfers. Inland of the Gold Coast lies a vast terrain of rolling forest-covered hills. This can be explored in Springbrook National Park, an ancient land of crashing waterfalls, huge trees, and verdant rainforest which is home to a fantastically diverse ecosystem of plants and animals.
Get to know warm, trendy and up-and-coming Brisbane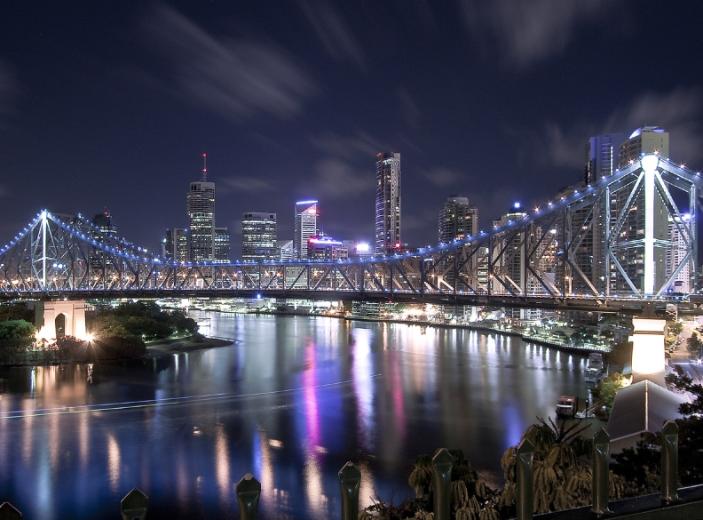 Brisbane, Queensland – photo by Alexander Sac
Drive a couple more hours north of the Gold Coast and you'll reach Brisbane, which is rapidly becoming one of Australia's hippest and most desirable cities. It has a chilled-out, tolerant vibe and a gorgeous subtropical climate, which translates into a great café culture and a friendly, open attitude which sees life unfold on the streets instead of behind closed doors. A birdseye perspective on Australia's up-and-coming mid-coast capital can be gained from The Wheel of Brisbane, with particularly memorable views at night. Get to know some of Australia's unique local fauna – koalas, platypuses, kangaroos, Tasmanian Devils, that kind of thing – at the fabulous Lone Pine Koala Sanctuary, one of the country's best zoos. And drink down the open-armed ambience of this warm and cultured city in the South Bank Parklands, a precinct that encompasses much that is great about Brisbane: the outdoor gardens and beaches of the Parklands; the cosmopolitan bars and restaurants of Little Stanley; and the galleries and music venues that speckle neighboring Grey Street.
Immerse yourself in the natural beauty of Fraser Island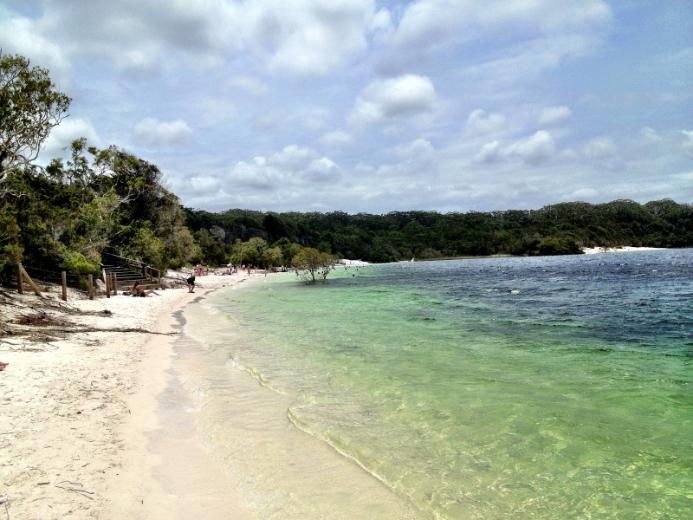 Lake Mackenzie, Queensland – photo by Kingfisher Bay Resort
Fraser Island, a few hours north of Brisbane, is the world's largest sand island and a place of phenomenal natural beauty. A shoreline of soft sand beaches flanks an interior of winding creeks, freshwater lakes and rainforest growing out of island's sandy floor. All this is guarded by stunning colored cliffs, which rise bright and jagged above the glimmering green-blue Pacific. The entire island is contained in Great Sandy National Park, and one of its most unique and representative features is Lake McKenzie, a sapphire blue lake raised above the regional water table and filled with water so pure it is unsuitable for many species. Six kilometers from Lake McKenzie is Kingfisher Bay Resort, the island's biggest provider of accommodation which has, thankfully, been built to blend with rather than dominate the surrounding natural world. Knowledgeable tours to Fraser Island's remoter reaches are offered by Tasman Ventures.
Drift round the pristine Whitsunday Islands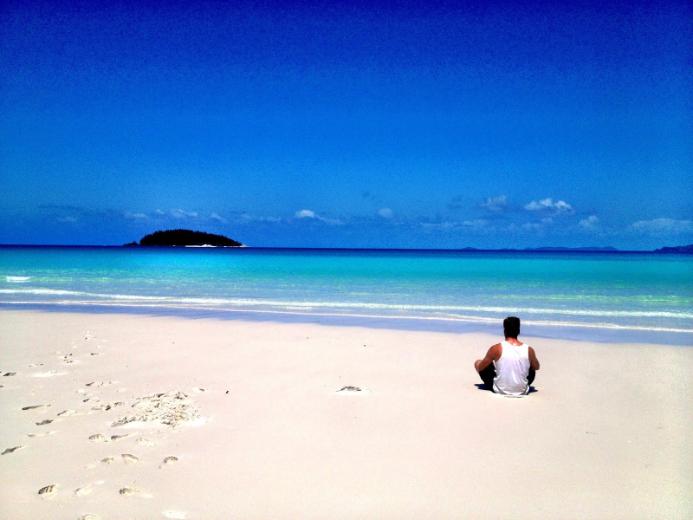 Whitsunday Islands, Queensland – photo by Simon Heyes
The Whitsundays are an archipelago of 74 islands off Australia's east coast, a collection of sand-ringed green gems dotting the sun-glazed surface of the Pacific Ocean. The launching point into this pristine natural world is the small town of Airlie Beach, perched on the mainland, a fun and convenient place to base yourself for a few days exploration of the islands themselves. Among the most memorable sights in the Whitsundays is Whitehaven Beach, the quintessential Australian beach which borders a green jungle interior with vivid white silica sand that runs and curves alongside crystal-blue seawater. If you have your own boat, you can base it at Abel Point Marina and explore the rest of the islands from there; or there are plenty of charter and boat tour companies with which to roam the pristine network of islands, and discover your own hidden coves and tranquil spaces.
Explore a wild world of reef and rainforest from the northern city of Cairns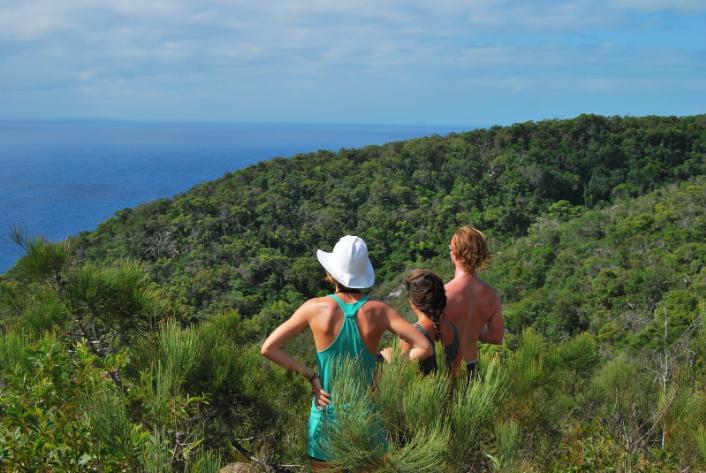 Fitzroy Island, Queensland – photo by Amandine
Continue up the coast for another 600 km to reach Cairns, a small city in the far north of Queensland, around 2700 km from this itinerary's starting point in Sydney. Cairns is a friendly and relaxed city surrounded by a fabulous wild world, both on land and in water. The city is the best gateway to the Great Barrier Reef, which stretches for 2000 km along Australia's northern coast. Kaleidoscopic coral, visible from space, is home to an immense diversity of marine life – fish, molluscs, birds, sea snakes, turtles, whales, dolphins, sharks, rays – and an entire underwater topography of seagrass, mangrove, canyons, plateaus and deep oceanic gulfs. This can be explored by boat or with flippers, a wet suit and SCUBA kit. Back on land, just north of Cairns is another fantastical stretch of uninhibited biodiversity – the Daintree Rainforest. Daintree takes up only 0.2% of the landmass of Australia but contains 30% of the country's frog, marsupial and reptile species, as well as 20% of the country's bird species. The reef and rainforest around Cairns, thriving with the life that makes Australia so unique, is the ideal place to take one last deep draught of this unforgettable natural world.