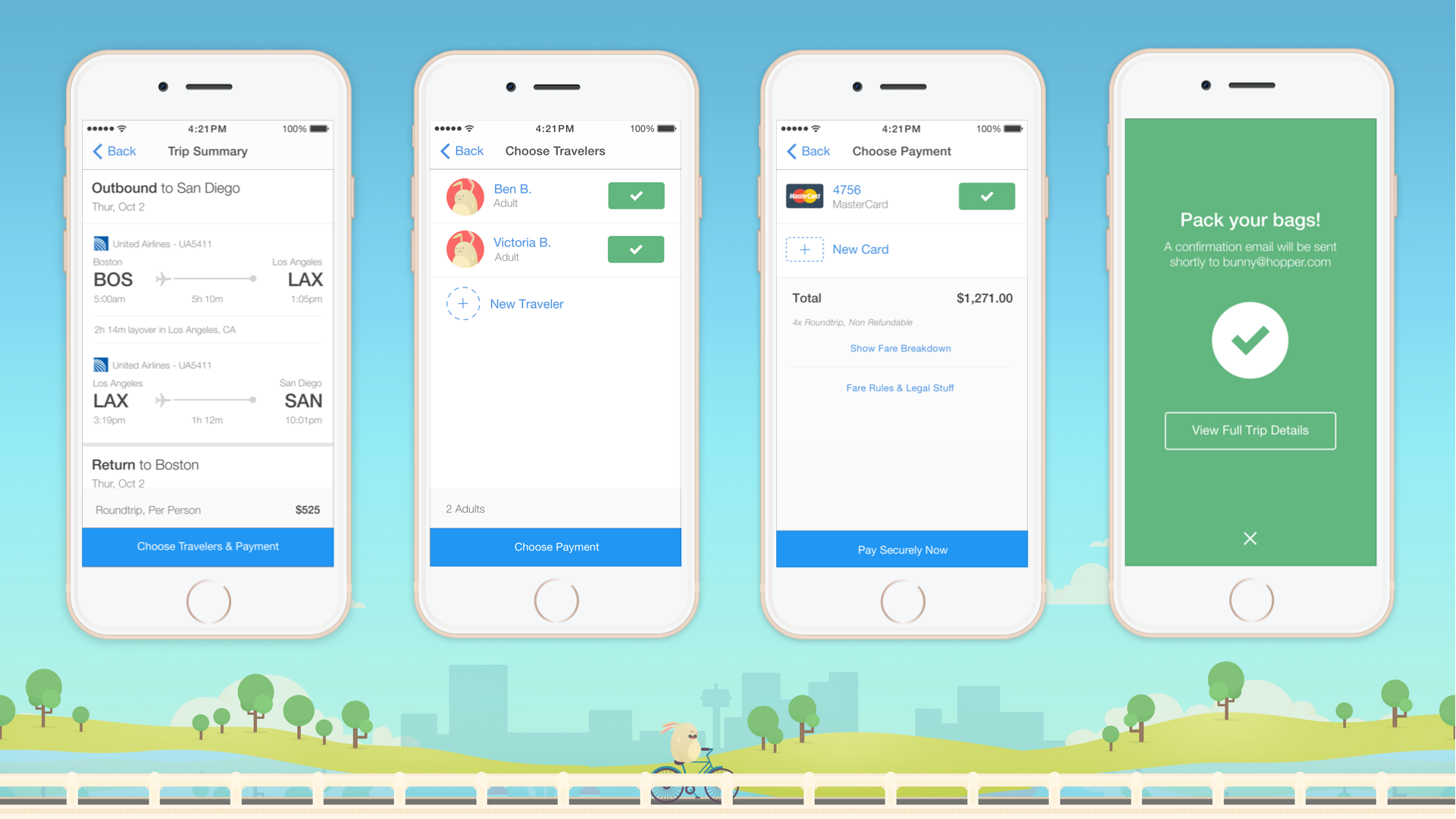 If more travelers than ever are turning to their smartphone to research and plan vacations, then why are 78% of travelers still booking flights from a desktop? Nobody likes being tied to a desktop and getting barraged with endless popups, upsells, and screens to fill out - so why are we still booking flights this way?
The truth is that booking a flight from your phone is usually even more frustrating. In most cases, you're handed off to some website that's probably not meant to be used on a phone and then you have to tediously re-enter and review lots of information. To make matters worse, flight prices move so rapidly that if you don't act quickly, you could end up paying more.
You've told us how much you love Hopper's expert predictions and price monitoring, so we decided to tackle one more step in the process for you - booking. We're proud that Hopper has saved you all $15M to date. But time is money, so we can't have you wasting time on a frustrating booking process any longer.
QuickTap Booking
Today, we're introducing QuickTap Booking, the easiest way to book on the fly. Once we've notified you about a great fare sale or a price drop we've uncovered, you're ready to pull the trigger— but you've got to be fast. Flight prices can change in an instant. That's why we've developed QuickTap Booking. Here are some reasons our QuickTap Booking feature in Hopper 2.0 is a game changer:
Traveler Profiles - Chances are you probably take most of your vacations with your family or your go-to travel buddy. If you have a big group, entering each passenger's information is excruciating. We created Traveler Profiles so you can enter you and your frequent travel companions' information once and have it stored for future trips. Next time the bunny finds you a great deal, you'll just have to tap the checkmarks next the travelers you're booking for.

Saved Payment - No more fussing around with typing credit card digits on a tiny keypad every time you want to book. You can add and conveniently store payment information to expedite the checkout process. Your payment will be securely processed by Stripe.

Simplified Process - Unlike travel-booking websites, this checkout process is exclusively designed for the mobile experience. That means it's extremely simple, fast, and designed to eliminate extra noise (popups, additional tabs, and so on). We're calling it QuickTap Booking because if you've booked with Hopper before all you have to do is tap your travelers and tap your payment - seriously, that's it.
Once you've booked your flight, you'll receive an airline confirmation number that you can use on the airline's website or app to manage your frequent flier status, select your seat, or purchase enhancements like seat upgrades and priority access.
We're proud to say that with this new update, you can actually complete your entire flight shopping process - researching, comparison shopping, and booking - in under a minute. Don't believe us? Just check out this demo.
QuickTap Booking is available today in the Hopper iOS app. It will be rolled out to our brand-new Android app after launch.
Media Contact:
Brianna Schneider