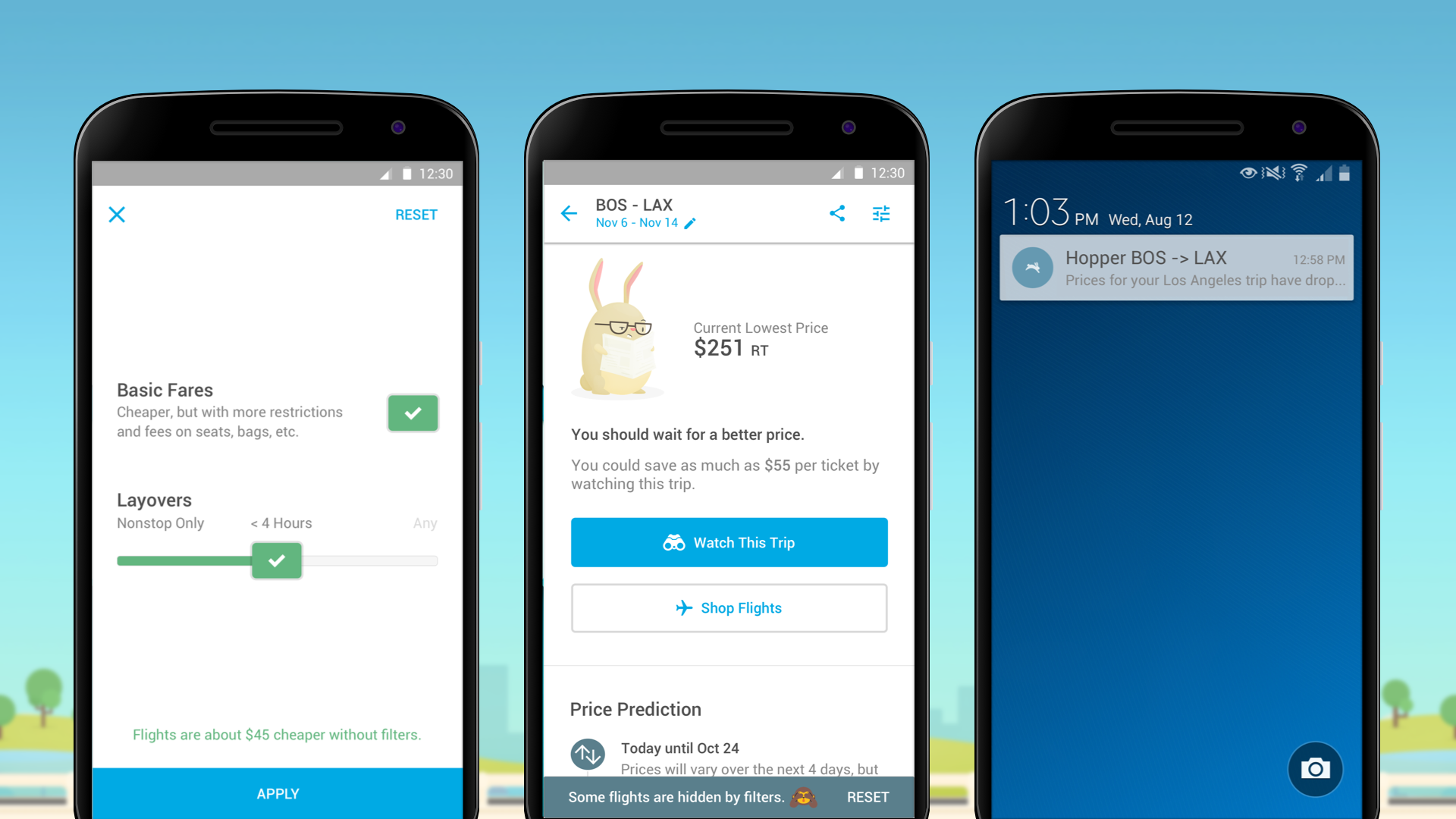 When we first released Hopper in early 2015, there was naturally some skepticism: Could we really predict future flight prices with 95% accuracy up to six months prior to departure?
We've lived up to our promise, though, which has earned Hopper nearly perfect reviews in both the App Store and Google Play Store. We've nabbed accolades such as Apple's App Store Best of 2015, the Google Play Award for Standout Startup of 2016 and the Webby Award for Best Travel App. The average Hopper user saves $50 on airfare and, in total, our users have saved over $150 million on airfare.
However, we know the cheapest flight isn't always the best flight for our users. So we wanted to do something a little extra:
Introducing Watch Filters
Hopper has been predicting and alerting flyers when to buy the absolute cheapest flight. But for many travelers, convenience or comfort may be more important than getting the absolute cheapest flight.
Today, we're excited to introduce our Watch Filters feature. You'll now be able to set your flight preferences, such as removing stops, long layovers, and basic fares (cheaper fares, but with more restrictions and fees for things like seat selection and bags).
After you've set your Watch Filters, Hopper will provide a price prediction based on your specific trip and preferences. If Hopper recommends you wait to buy, simply tap the "watch this trip" button and Hopper will monitor prices 24/7. We'll alert you when your perfect flight is a great deal.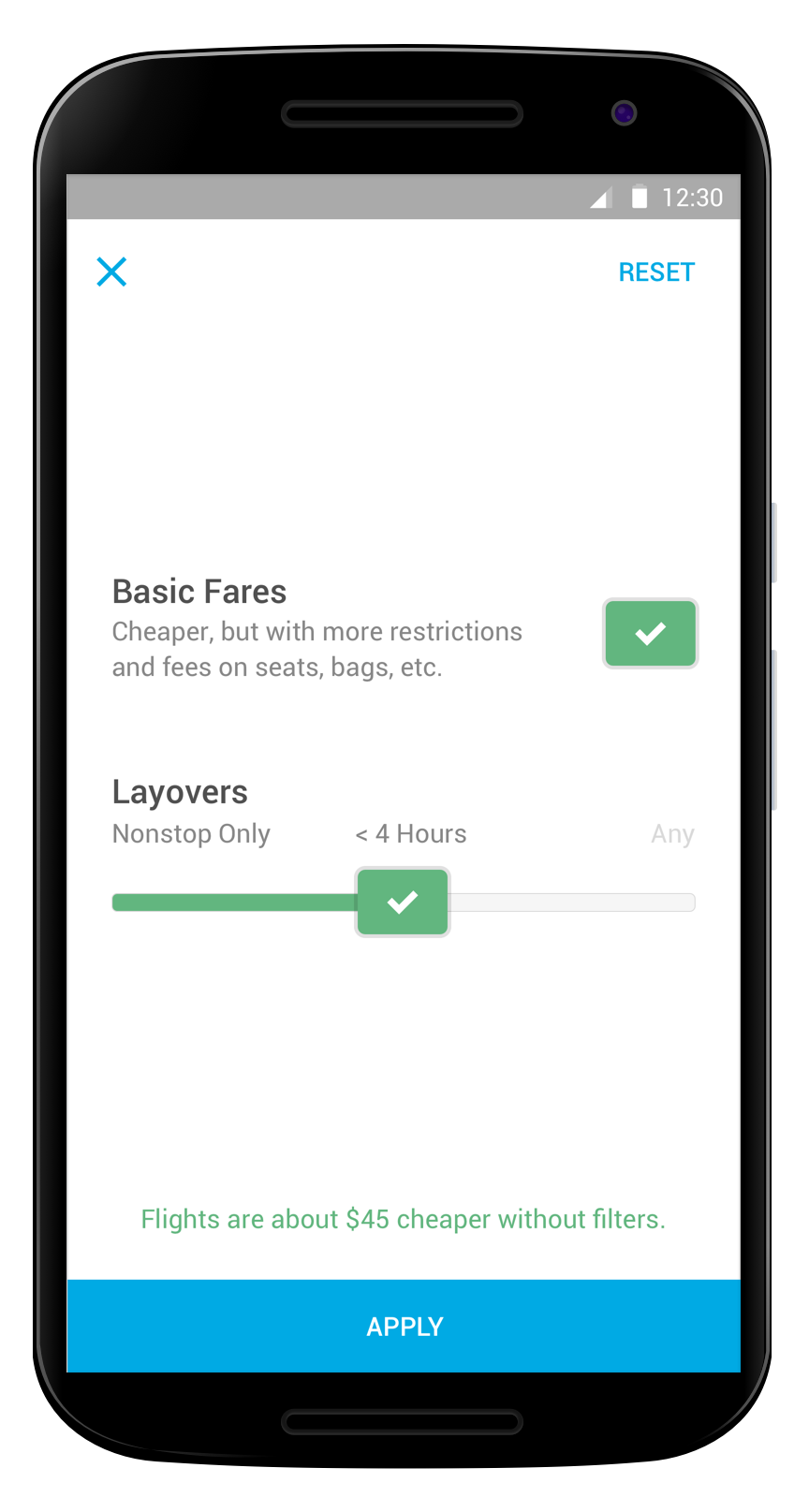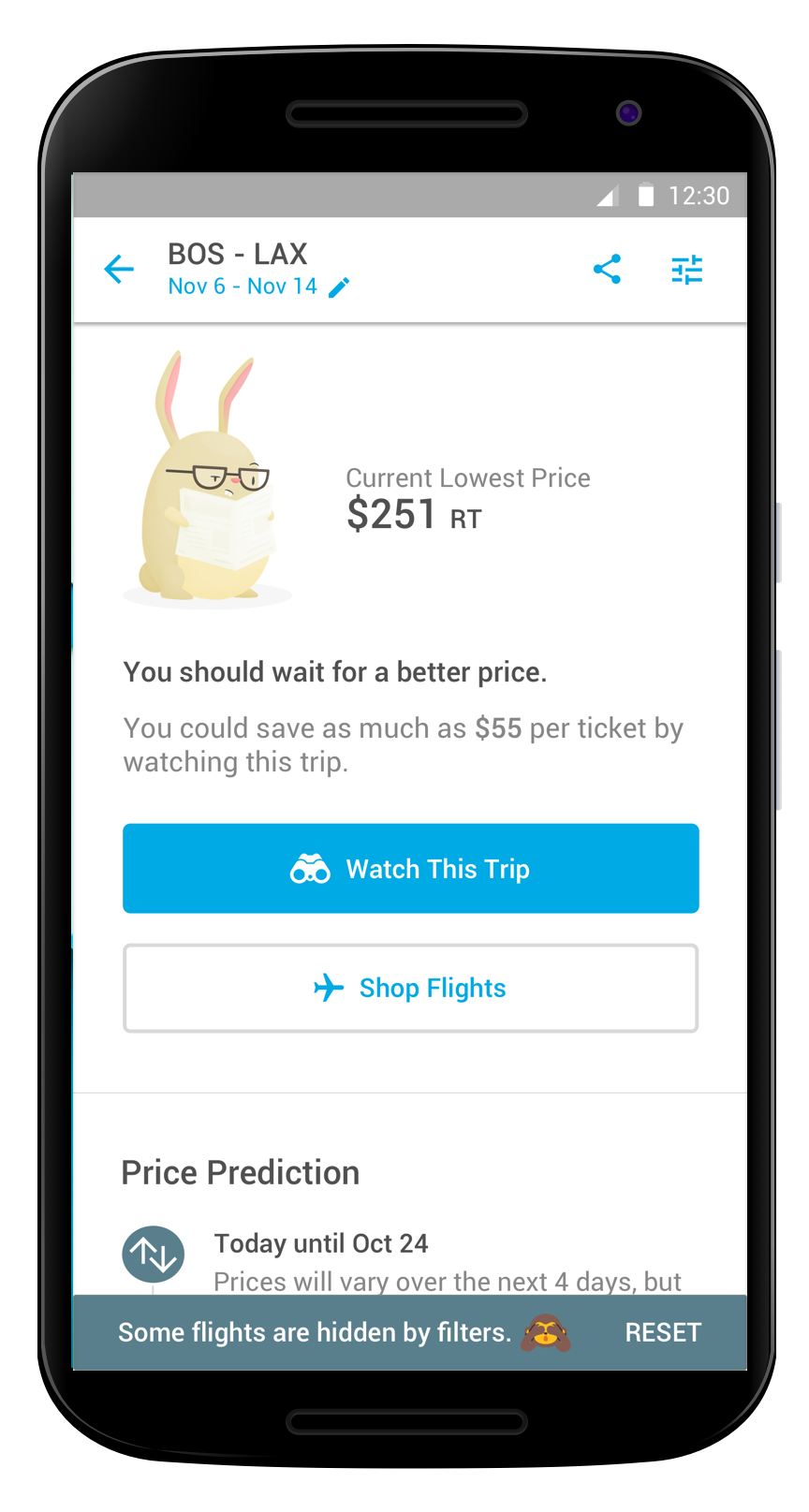 The Impact of Watch Filters
We've been working on this feature for about a year because it's an incredibly complicated data science problem. In fact, no other farecasting company has ever attempted to make predictions that are this granular. According to our backtesting, we're also 95% accurate when making predictions with Watch Filters applied. This level of accuracy (and more importantly our users' trust) is critical, so we wanted to make sure we got it right.
The graph below demonstrates how Watch Filters completely change Hopper's price predictions and alerts. It shows the price trend for a trip from New York (JFK) to Rome in late May. The pink line shows when Hopper would alert you to buy the cheapest overall flight, while the blue line shows when Hopper would alert you to buy the cheapest nonstop flight that's not a basic fare.
The cheapest option is nearly flat, with the best prices popping up only six weeks before departure. On the other hand, the best price for the premium option is available about four months before departure. Thus, users will receive their buy recommendations at different times depending on the Watch Filters they've enabled.

Here are a few other stats to keep in mind when using Hopper's Watch Filters:
Nonstop flights are available for about two-thirds of domestic trips.

Typically, nonstops flights are 21% more expensive than flights with stops. However, Hopper's predictions and notifications can save you well over 21% so you don't have to worry about paying a premium.

If you do opt to fly with stops (or there's no nonstop option), consider filtering out long layovers because it rarely adds a significant amount to the ticket price.

Basic fares will save you an average of 16% on airfare, but keep in mind fees for things like baggage, seat selection, entertainment, food, and drinks.
Hopper's Watch Filters are available today for Android devices and will be available for iOS devices shortly after.