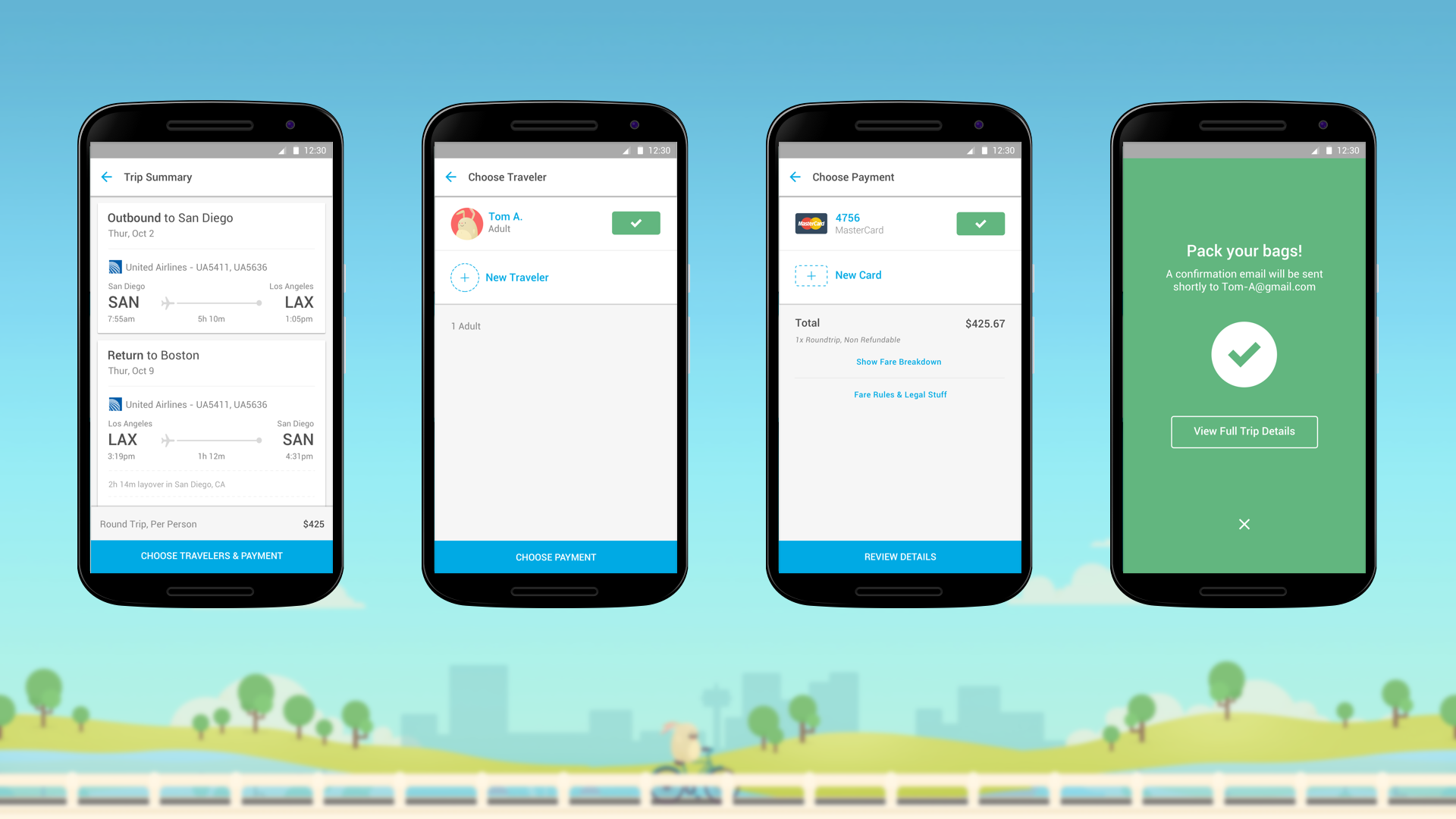 Hopper, the leading airfare prediction app, today announced its QuickTap Booking feature is available for Android devices.
Booking a flight on your phone can be a frustrating process. Flight prices can change in an instant so getting redirected to another site can mean losing out on a great fare. And, no one wants to be bothered with ads, popups, and upsells.
That's why we designed our QuickTap booking feature to be the easiest way to book flights from your phone. Once Hopper notifies you about a great flight deal, Hopper's new QuickTap Booking feature will allow you to book you flight in the app in just a few taps - in fact, it takes under 10 seconds. It's the fastest way to book on the fly. Here's how Hopper makes it super easy to book directly in the app:
Traveler Profiles - Chances are you probably take most of your vacations with your family or your go-to travel buddy. If you have a big group, entering each passenger's information is frustrating. Hopper offers Traveler Profiles so you can enter you and your frequent travel companions' information once and have it stored for future trips. Next time Hopper finds you a great deal, you'll just have to tap the checkmarks next the travelers you're booking for.

Saved Payment - No more fussing around with typing credit card digits on a tiny keypad every time you want to book. You can add and conveniently store payment information to expedite the checkout process. Your payment will be securely processed by Stripe.

Simplified Process - Unlike travel-booking websites, this checkout process is exclusively designed for the mobile experience. That means it's extremely simple, fast, and designed to eliminate extra noise (popups, additional tabs, and so on). We're calling it QuickTap Booking because if you've booked with Hopper before all you have to do is tap your travelers and tap your payment - seriously, that's it.
Hopper has been featured by Google in the Google Play Store and was recognized by Apple as one of the best apps of 2015. Hopper analyzes billions of flight prices a day to provide advice on when to fly and buy. The app predicts future flight prices and alerts you when there's a deal for your trip. To date, Hopper has saved users a total of over $35 million on airfare.
Here's a video that demonstrates how the Hopper app and it's QuickTap Booking feature works on iOS:
About Hopper
Hopper is a mobile application available for iOS and Android devices that uses big data to predict and analyze airfare. Hopper provides travellers with the information they need to get the best deals on flights, and notifies them when prices for their flights are at their predicted lowest points. Hopper is the only travel app to make Apple's AppStore Best of 2015 list. Hopper was founded in 2007, is based in Boston and Montreal, and is backed by Brightspark, Accomplice, OMERS Ventures, and BDC Capital IT Venture Fund.
Media Contact
Brianna Schneider
Brianna@hopper.com