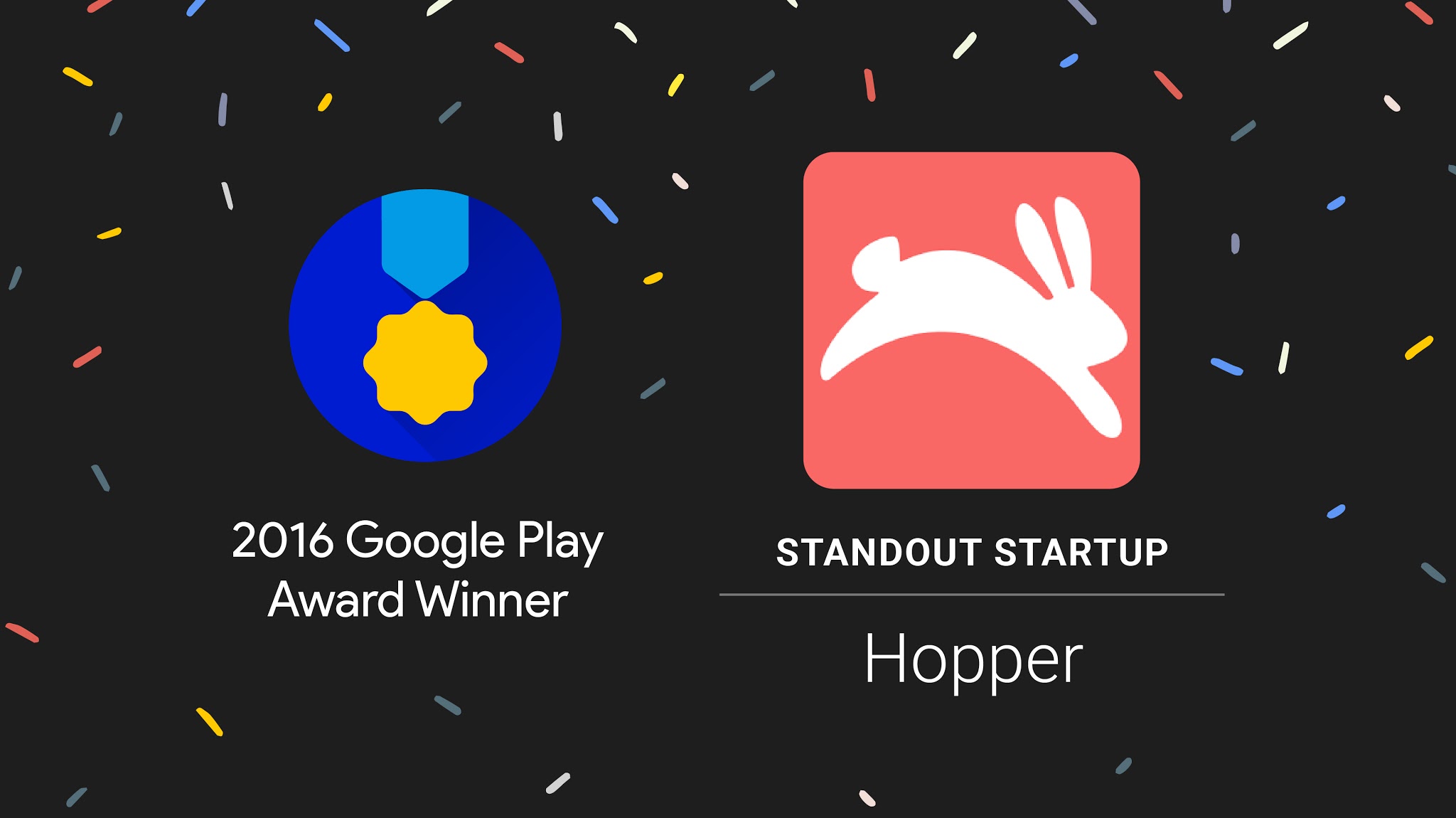 CAMBRIDGE, MA (May 20, 2016) - Hopper was just selected as the winner of the first-ever Google Play Awards in the category of Standout Startup. Winners were announced last night during a special session at Google's annual developer conference, Google I/O.
Hopper is an app that provides insightful, data-driven research to help travelers make better decisions about when to fly and buy. Hopper predicts future flight prices with 95% accuracy and notifies you when to book. It's like having a super-fast, all-knowing travel agent in your pocket.
The Google Play Awards celebrates the achievements of the developer community over the past year, by recognizing the best apps and games across ten categories. Winners were selected by a panel of experts on the Google Play team based on a criteria set emphasizing app quality, innovation, and having a launch or major update in the last 12 months.
Some of Hopper's achievements in the last year include:
Surpassing 4.5 million downloads (Android & iOS) and monitoring prices for over 8 million users' trips

Ranking as one of the top 10 travel apps in over 95 countries and the #1 app in the travel category in over 37 countries (Data from App Annie)

Earning praise from Apple as the only travel app to make its App Store Best of 2015 list (#7 overall) and scoring the Webby Award earlier this week for the Mobile Sites & Apps - Travel category

Saving the average Hopper user $50 on airfare and, in the best cases, as much as $1,300
All of the Google Play Award winners are featured in this new collection on Google Play.
About Hopper
Hopper is a mobile application that uses big data to predict and analyze airfare. Hopper provides travelers with the information they need to get the best deals on flights, and notifies them when prices for their flights are at their predicted lowest points. Hopper was founded in 2007, is based in Cambridge and Montreal, and is backed by Brightspark, Accomplice, OMERS Ventures, and BDC Capital IT Venture Fund.