It's still winter in much of the country, but U.S. flyers have already begun to plan their spring travel. So we've analyzed our own data at Hopper to forecast pricing trends and predict consumer behavior through June 2016.
To recap, average domestic consumer airfare dropped to $211 USD in January, the lowest Hopper has yet recorded.
Our data predicts those historical low fares to continue through spring. Figure 1 shows the actual average domestic consumer airfare prices through January 2016 (solid line) and our forecasted price levels through June 2016 (dashed).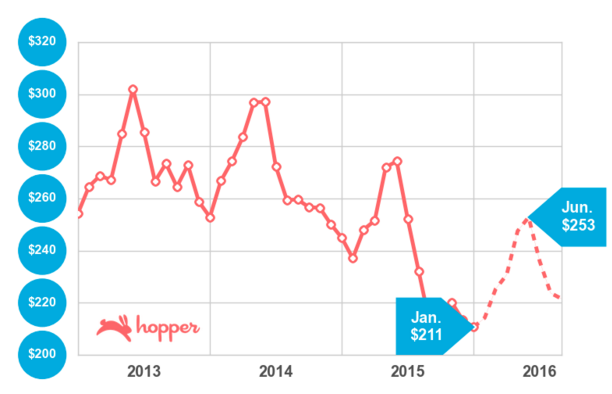 While prices remain low, we predict that they will follow normal seasonal demand fluctuations. Hopper's six-month forecast for consumer airfare shows prices peaking in June, closely following a typical annual trendline, before beginning their usual summer slide in July.

Meanwhile, low jet-fuel prices continue to push down prices consumers see.
Below, we've graphed historical airfare data scaled to match Hopper's consumer airfare index compared to U.S. Gulf Coast jet-fuel prices. Recent airfare has dropped to 2010 levels, with jet fuel trading at the lowest price in more than a decade. Consumers are now seeing — and acknowledging — this welcome drop in prices. Additionally, we've found that airfare tends to lag fuel price changes by about two months.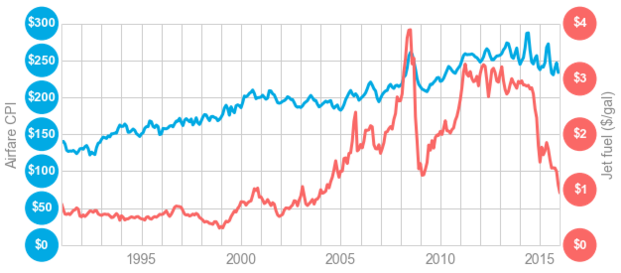 And where are consumers looking to fly? By analyzing our internal watch data, we rounded up the top destinations for spring 2016. The most watched destinations offer a nice geographic spread. Many are traditional domestic spring-break destinations, while the most watched international spots heavily feature Caribbean and European markets.
Domestic: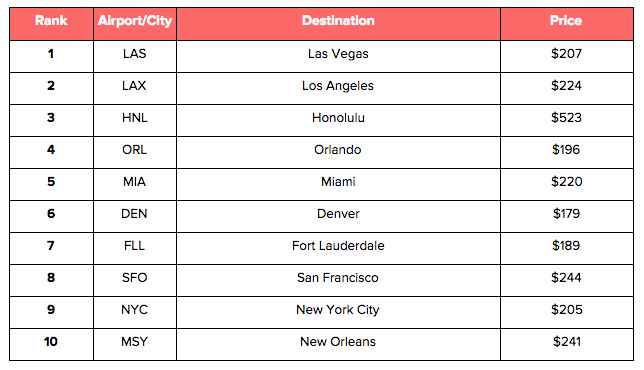 International: