Summary
Interest in flying to the Boston Marathon is up 10.6% compared to last year.
Interest in flying to the Boston Marathon was up 42% compared to last year for the months of January and February.
The increase in field size for this year's Marathon is not enough to explain all of the additional demand.
Searches for Marathon flights increased during registration week and held steady through the Red Sox playoff run suggesting that "Boston Strong" has driven broad interest.
Prices are tracking similarly to last year, and expected to trend upwards, so now is the time to book!
Boston Strong Marathon
The US is poised to show strong support for Boston after last year's bombing, by turning out in force for the Boston Marathon, and the 33% expansion in the field size (1) is not enough to explain all the additional interest.
Interest in travel to Boston for the Marathon started with the opening of the registration period in September and has been increasing as the Marathon date nears (Figure 1).  Currently search levels for the event are 10.6% higher than last year (looking at searches between Jan 1 - March 30 in both years).  This increase factors out the national growth in aviation demand.  Hotel owners are seeing the increase in interest as well, with rooms already selling out for the dates of the Marathon (3).
The data shows an initial increase in flight search during the Marathon's registration period from September 9th through 30th (2), as qualifying runners were notified, with levels holding steady  through October as the Red Sox made their winning World Series bid (October 23rd to 31st), triggering nationwide support for Boston Strong.  After that searches really start to take off following the Thanksgiving lull, on into December and January.  In January and February, this years search was 42% higher than last year, but since the start of March, search levels are closely matching last year's pattern.  If last year's pattern continues, only about half of expected searches have already occurred and 51.7% are still expected to happen.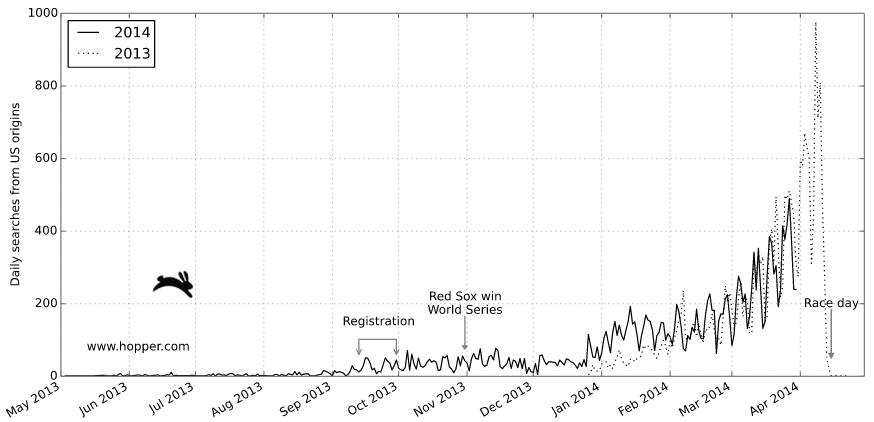 Figure 1: Searches for travel to Boston for the Boston Marathon in 2013 and 2014
This year's prices for trips to Boston on the Patriot's Day weekend are 6.4% higher than last year, and also without the noticeable dip that prices saw in January 2013.  If this trend continues, prices will begin to trend upwards and increase sharply in late march as race day approaches.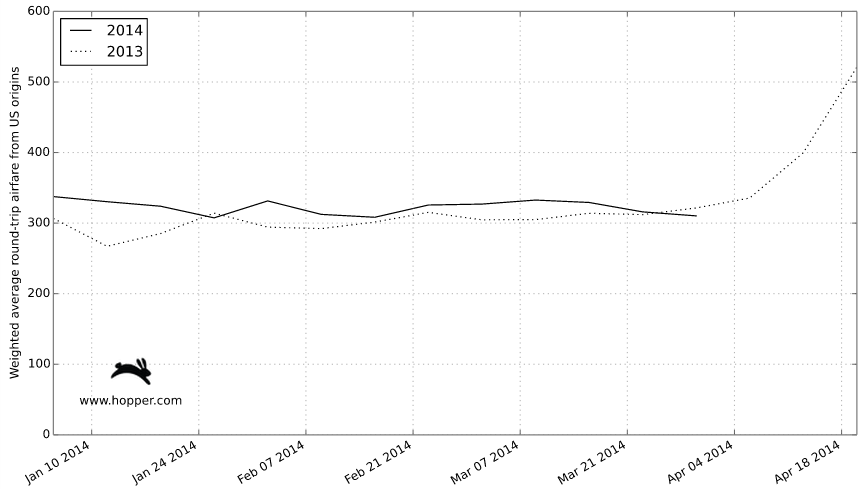 Figure 2: Weighted average price from US origins for round-trip travel to Boston for the Boston Marathon in 2013 and 2014
1.http://www.baa.org/news-and-press/news-listing/2013/august/boston-marathon-registration-dates-and-field-size.aspx
2.http://www.bostonglobe.com/sports/2013/08/29/baa-expands-field-for-boston-marathon/vMaQvAQKRIbw3nR1IOWzpL/story.html
3.http://www.boston.com/business/2014/02/10/with-marathon-interest-high-city-hotels-already-sold-out/Nr66kkvgHGOAuDlERvSPdN/story.html
Data and Methodology
The data presented in this analysis comes from Hopper's combined feed of Global Distribution Service (GDS) data sources which includes about 10 million queries and 1 billion trips per day.  Demand is represented as the number of queries not actual ticket purchases, and is calibrated across all GDS sources for each market.  Deal fares are represented by the 10th percentile prices.  For example if the 10th percentile price is $800 dollars it means that only 10% of trips are priced at or below this price.
The data presented in this analysis include searches for travel to Boston from all US origins for departures on Thursday through Sunday leading up to the Marathon.