Summary
During a two-hour period on Dec 26th, Hopper saw about 83,000 flight searches that included a Delta Air Lines round-trip fare below $50
At its peak, more than 1,700 searches per minute included a flight below $50
Search rates in some markets jumped to more than 50 times normal volume within an hour as news of the deals spread via social media
Discounted flights were offered across 5,300 US markets in a variety of economy fare classes
Price discounts compared to good market rates ranged from 32% to 98%, including round-trips as low as $11
**Analysis of Flight Search Behavior **
On December 26th Delta Airlines posted unusually inexpensive flights to a number of destinations in the US giving some lucky holiday shoppers quite a present.  Hopper has conducted an analysis to better understand what routes the discounts occurred on, how steep these discounts were, and how many searches resulted in discounted fares.
Fares under $50 appeared on December 26th with the earliest showing up in a search at 10:50am EST (see Figure 1).  As word spread through social media and forums the number of searches per minute returning discounted fares started to sharply increase a little before 11:00am EST time and peaked right after 12pm EST.  The increased search volume lasted two hours and discounted fares disappeared by 12:31pm EST.
The sharp spike in searches was driven mainly by a handful of very popular origins-destination pairs that "went viral", such as JFK-LAX which saw the most traffic.  As word of the discounts spread, the searches for this specific origin-destination pair started to increase at about 11:15am EST time, and peaked right after 12pm along with overall searches.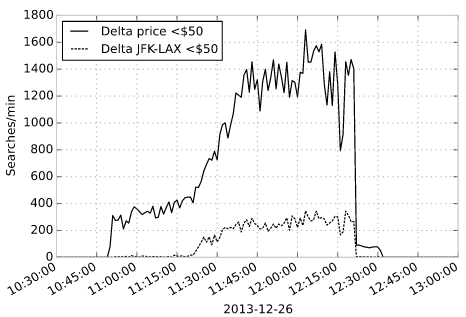 Figure 1: Number of flight searches per minute resulting in a round-trip fare < $50.  In normal circumstances, a price this low almost never occurs (see Data & Methodology).
To put the search volume in perspective, typical search rates for JFK-LAX are about 8 searches per minute (see Figure 2).  During the fare sale searches spiked to about 50 times this rate.  This includes all fares, not just those under $50

Figure 2: Number of flight searches per minute for [JFK](http://www.hopper.com/list/everything/in/new-york-city/20Db?geotype=destination&oldquery=New+York+City)-[LAX](http://www.hopper.com/list/everything/in/los-angeles/2CTT?geotype=destination&oldquery=Los+Angeles) round-trip over the month of December. Search rates spiked almost 50 times on Boxing Day as news of Delta's mis-pricing spread.
Zooming in to take a closer look at the spike (Figure 3), it can be seen that Delta starts winning almost all searches when their discounted prices go into effect.  Other airlines started winning searches after Delta changed their prices back to normal, but before search volumes for JFK-LAX decreased to normal levels.  The reason this occurs is because each search is conducted for a specific market, in this case JFK-LAX, and returns a selection of flights for that market ordered from lowest to highest price.  For the purpose of this analysis we only look at the cheapest round-trip returned.  When Delta's prices were very low Delta flights were the top result, however after Delta changed their fares to normal levels, other airlines were winning the search.  It can also be seen that elevated search levels continued for some time after Delta fixed prices at about 12:20pm.

Figure 3: Number of flight searches per minute for [JFK](http://www.hopper.com/list/everything/in/new-york-city/20Db?geotype=destination&oldquery=New+York+City)-[LAX](http://www.hopper.com/list/everything/in/los-angeles/2CTT?geotype=destination&oldquery=Los+Angeles) during December 26, broken out by the airline with the cheapest result. On average Delta wins 36% of searches in this market.  Delta began winning nearly 100% when the glitch started just before 11am, dropping near 0% after withdrawing the low prices, although search volume took several more hours to taper off.
As people were searching for fare deals, the top 10 markets (airports and corresponding cities) by popularity were:
JFK to LAX was significantly more popular than any other route with over 12,000 searches in 2 hours and over 3 times as many searches as the second most popular route of EWR-LAX. Newark to Detroit had the lowest prices in the top 10 with New York to Los Angeles coming in second place. Newark to Los Angeles had the highest of the low prices with tickets costing $46.  Discounts from a typical, low price, seen in each market ranged from just under 80% to just over 90%.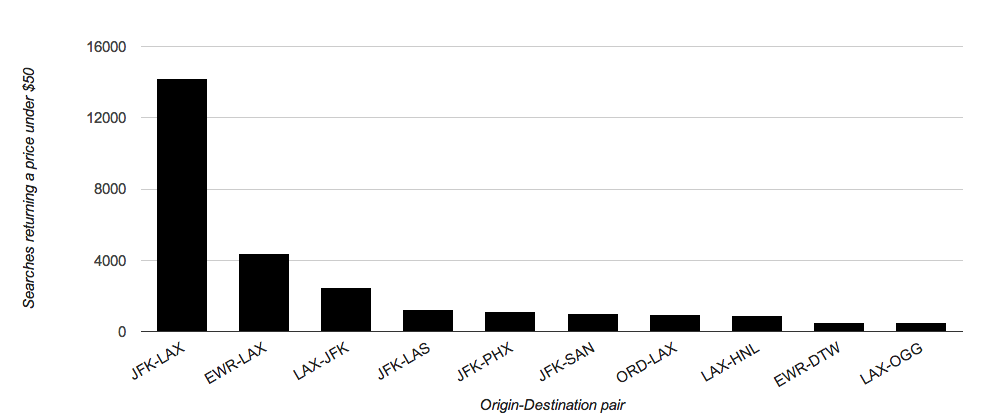 Figure 4: Number of discount price search results for top ten routes

Figure 5: Average price and discount from typical low fare for top ten routes returning discounted fares
The top 10 markets (airports and corresponding cities) by highest percent discount from normal low prices were:
All top 10 discounted markets, with at least 50 searches,  saw a discount of 91.5% to 93.5%, but compared to the top 10 most popular origin-destination pairs, these markets were significantly less popular with LAX-OGG seeing around 500 searches and all other markets seeing under 200 searches.  CMH to JFK and MCI to LGA had the lowest average price of $27 in each market, and MCI to LGA also had the largest percent discount from typical prices.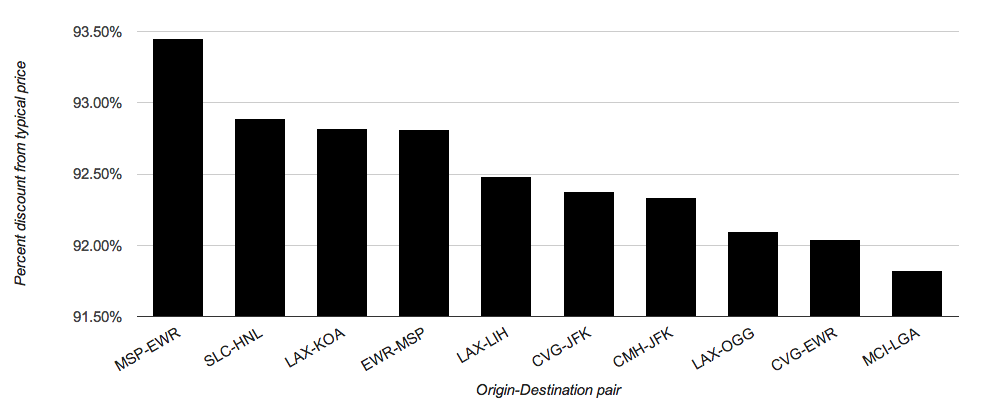 Figure 6: Top ten most discounted routes based on typical low fares, with at least 50 discounted searches.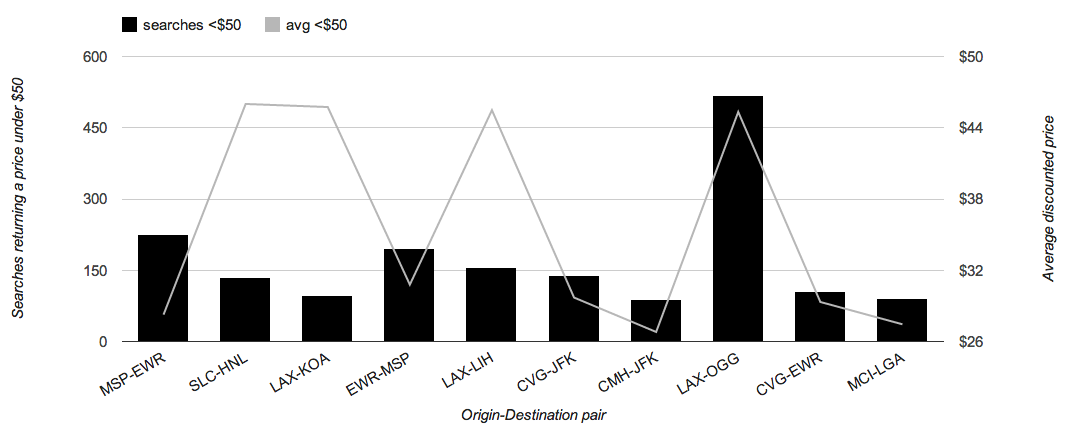 Figure 7: Average price and search volume for top ten most discounted routes.
The top 10 markets (airports and corresponding cities) by lowest overall price were:
Salt Lake City to Houston was the market, with over 50 searches, and the lowest overall price of $23.36, however, the top 10 lowest fares were all within 75 cents of each other hovering right around $24.  Pittsburgh, Pennsylvania appeared as either an origin or destination in 4 of the top 10 markets. The percent discount from typical low price ranged from 83% for ATL-DFW  to 89% for EWR-DTW, however, the overall popularity of all these markets was low, with a maximum of 532 searches and a minimum of 52 searches.  The lowest overall fare was $11 from JFK to MVY, which is New York to Martha's Vineyard in Massachusetts, but the market only had 4 searches.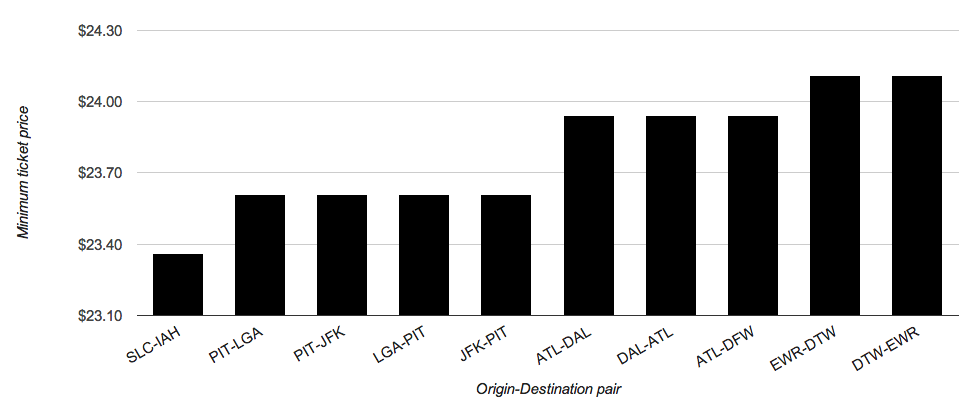 Figure 8: Top 10 cheapest round-trips on routes with at least 50 discounted results.

Figure 9: Search volume and discount from typical low fare for top 10 cheapest round-trips.
Data and Methodology
The data presented in this analysis comes from Hopper's combined feed of Global Distribution System (GDS) data sources which includes about 10 million queries and 1 billion trips per day.  Demand is represented as the number of queries not actual ticket purchases, and is calibrated across all GDS sources for each market.  Lowest fare is represented by the 10th percentile prices.  For example if the 10th percentile price is $800 dollars it means that only 10% of trips are priced at or below this price.
For this analysis, we defined discounted fares as those that had a total round-trip price  of under $50.  This excludes routes that were mis-priced at a higher price than $50.  Discounted prices for a route were calculated as the minimum and the average of the <$50 prices.  Normal prices on each route are represented by the typical 10th percentile round-trip coach price in the previous four weeks, which represents a "good deal" price for that route.
In addition to finding discounted Delta flights, there were 99 other fares under $50.  These were not included in the analysis presented above.