Display advertising is dead, say the experts.
With the recent news that Apple's iOS 9 allows ad blocking (and with other mobile platforms likely to follow), the digital advertising landscape is about to change. Especially for airlines.
The Rise of Mobile Ad Blocking
Ad-blocking features have existed for some time on desktop. Now they're on your phone, too: Plenty of free and paid ad-blocking apps are available in both the iTunes App Store and Google Pay.
The exact outcome of the surge in mobile ad blocking is still unknown (and the technology still too new) but insiders acknowledge the effects on "traditional" digital display advertising will be significant.
To compare, desktop ad blocking has grown 41% globally in the past year. There are nearly 200 million global users of ad-blocking software, and I expect adoption on mobile will be equally swift. There are sure signs that ad-blocking apps are already becoming popular. Less than a day after the iOS 9 launch, two of the top five paid apps in the App Store were ad blockers ( source), and in less than a week three separate ad blockers surpassed 100K downloads.
(Source: The Wall Street Journal)
This all comes at a time when the efficacy of display ads is already being challenged: HubSpot, the inbound marketing specialists, notes that the average clickthrough rate of display ads across all formats and placements is a measly 0.06% ( source).
As content consumption and shopping continue to grow on mobile platforms and as consumers adopt ad-blocking technologies to improve the reading and shopping experiences, many marketers expect that display ads' click-through rates will continue spiraling downward.
Why This Affects You
The ad-blocked future is frightening for most advertisers, but it's especially worrisome for for airlines that deal with high look-to-book ratios and purchases often involving multiple stakeholders.
Let's face it, the travel space has often been tentative to explore new technologies when it comes not just to digital advertising but to mobile product development as a whole. OTAs and airline sites are still littered with poorly optimized pop-out, pop-under, and in-line display ads. An experience that is poor on desktop is unusable on mobile. Consumers abandon these sites with alarming speed, and frustrated flight shoppers are less likely to return. Adding to the frustration, display ads cost consumers significant amounts of money on data, as the New York Times found (source). Display ads are expensive for suppliers and consumers, for airlines and potential flyers.
So if suppliers are to forget display ads altogether, what's the travel industry to do?
A Possible Solution
Harnessing the recognition (and audience) of partners is key. Whether it's offering additional inventory through a unique online promotion or jointly publishing native content with an admired brand, airlines now need other brands, sites, and apps for optimal mobile marketing strategies. It's the new reality.
Counteract the decline of display by joining forces with unexpected brands both in and outside of travel. Create content to move supply, improve conversion, and get your brand in front of like-minded audiences. Destination marketing organizations and tourism boards have already optimized these valuable content partnerships with other brands, mobile platforms, and powerhouse publications. More airlines should follow suit.
Where It Worked Well
Here are some recent targeted content partnerships from airlines that I think are effective and on brand:
1. Delta Airlines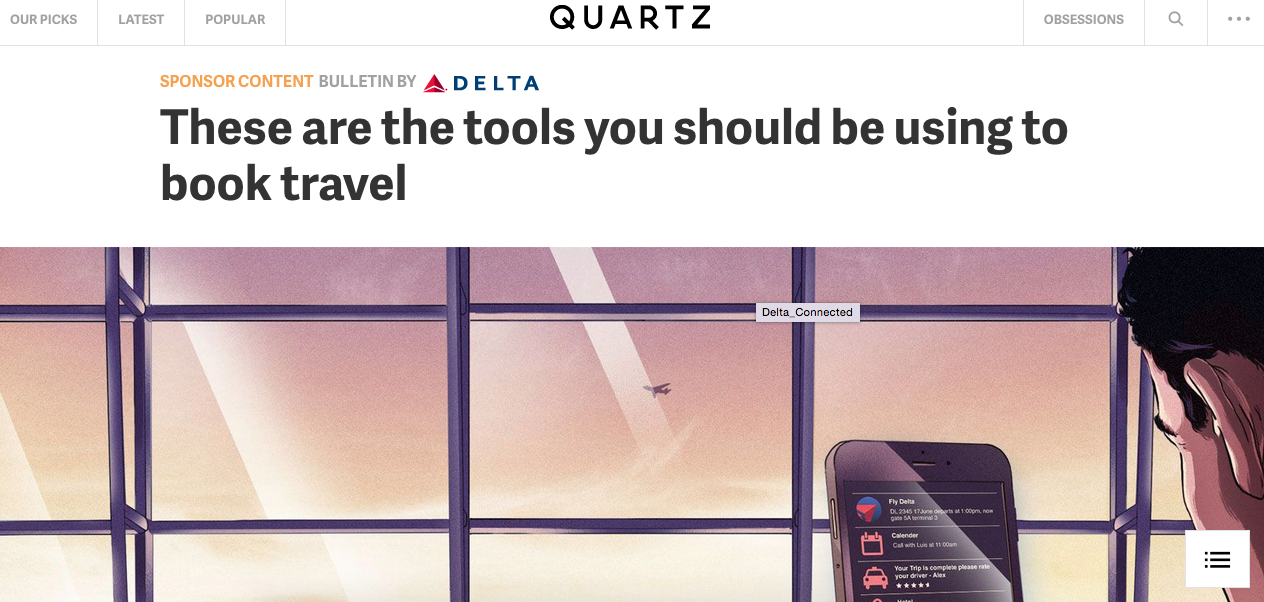 Delta sponsored a consumer-facing round-up on Quartz focused on travel apps and sites that are best for booking.
Why It Works: Quartz is not only a trusted news source, it's also an exclusively digitally native platform whose content is designed to be consumed on mobile. What better way to guide shoppers into your mobile app (and the booking funnel) while none of the display-ad noise?
2. United Airlines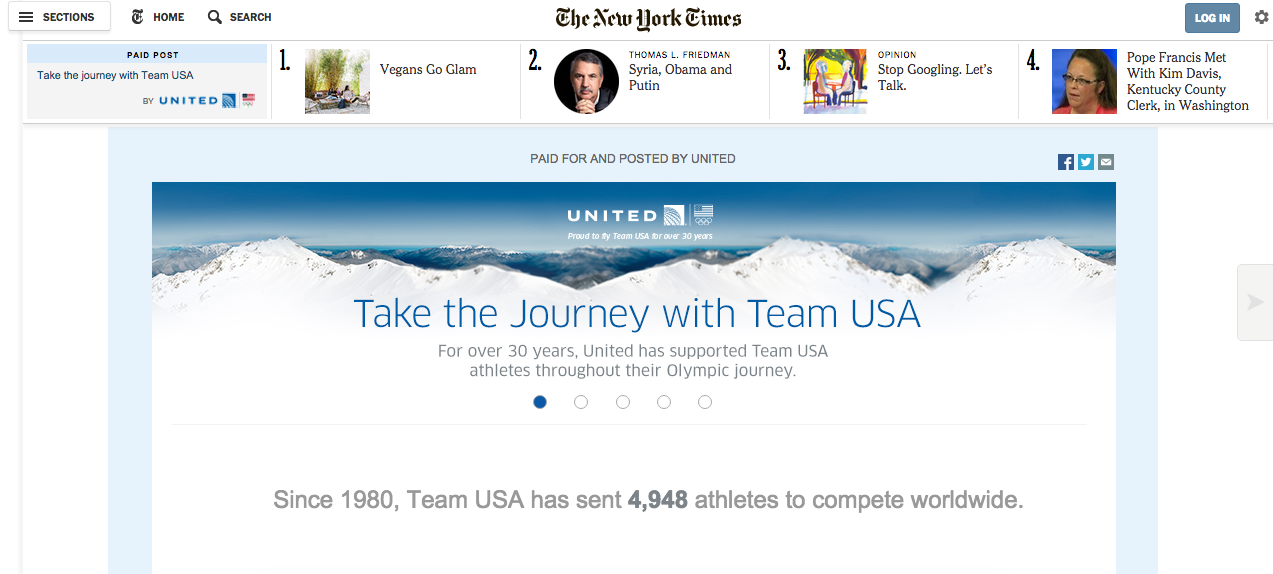 United Airlines partnered with the New York Times to create interactive graphics for the Sochi Olympic Games.
Why It Works: Timely and inspirational, this content partnership is a clever collision between three trusted brands with strong national ties: the Times, the U.S. Olympics (and the team specifically), and United Airlines. It's visually stunning and interactive.
3. British Airways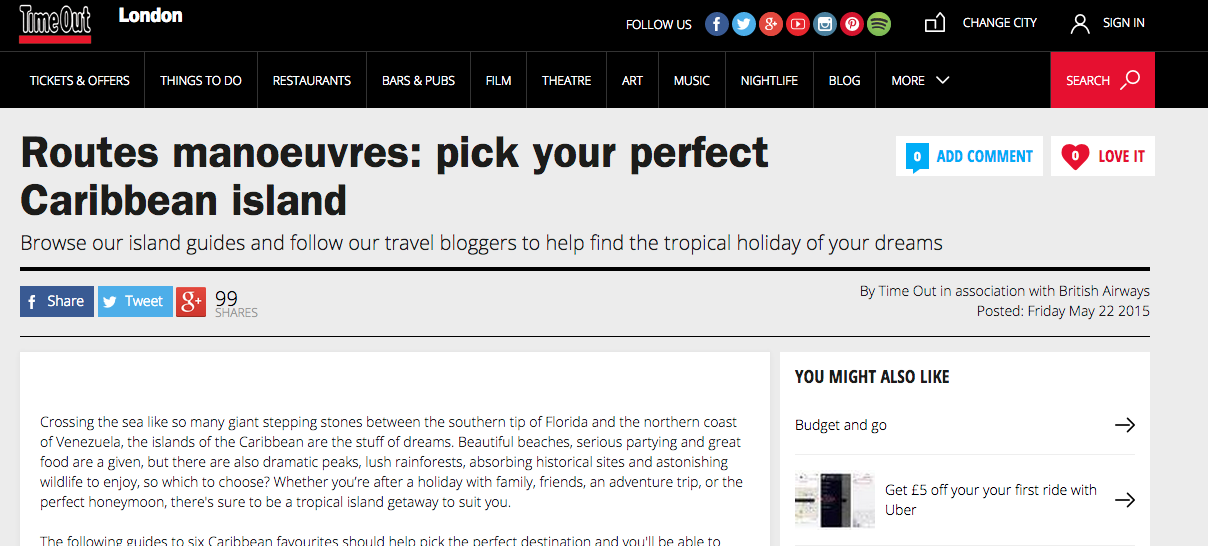 British Airways andTime Out produced editorial destination guides to showcase the airline's LHR-originating routes to certain Caribbean destinations.
Why It Works: Catching the consumer as early as possible in the shopping funnel is always a good strategy. Providing them with insightful guidance is downright smart and capitalizes on tourism boards' success with inspirational destination-focused content.
4. Spirit Airlines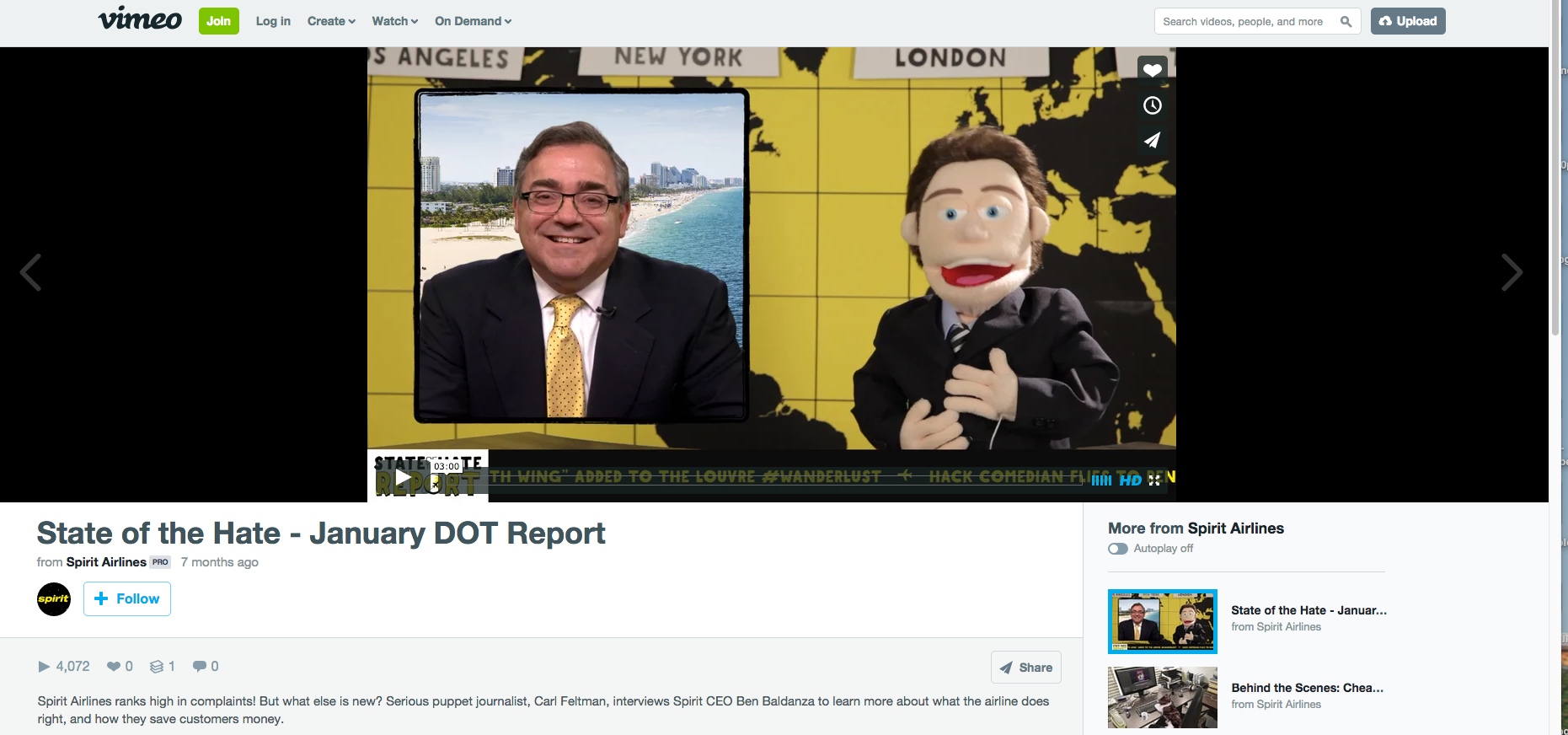 After a Department of Transportation report dinged Spirit Airlines for flyer complaints, delays, and cancellations, the budget airline released a faux interview with a puppet newscaster, celebrating the results.
Why It Works: Everyone knows Spirit gets a lot of hate ... including Spirit. This tongue-in-cheek video turned customer complaints into a brand opportunity by highlighting its super-cheap fares and punctuality (wryly noting that flyers are more likely to be injured by a chainsaw than complain). This tone would be hard for many carriers to pull off, but it works well for Spirit's brand.
Even some cursory Googling shows that many travel brands (but relatively few airlines) are incorporating such content into effective marketing strategies. To what end is content king? Native ads are viewed 53% more than banner ads. Purchase intent? That's 53% higher, too ( source).
A Final Thought on Circumventing the Blockers
Airlines that have relied on traditional display-advertising strategies are potentially headed toward bleak times. In travel, just shy of 70% of ad spend is programmatic display. Some estimates place total mobile ad spending near $70 billion by 2020 ( source), and at least $34 billion of that will be on mobile.
Will your portion of that $34 billion be wasted on shoppers who will get frustrated by the shopping experience and bounce ... or aren't even seeing those mobile ads in the first place? Potentially. Consider: If iOS 9 has ad-blocking capability now, in 2015, one can only imagine where technology will lead us by 2020. Airlines with smaller advertising budgets face the most potential uncertainty. When ad spend is tight, every campaign is crucial.
And that's the point: If airlines are to compete in a mobile marketplace, they have to turn to newer ways to reach consumers, in new mediums, through new partnerships. No matter the outcome of the mobile ad blocking surge, display ads are already ineffective and costly. Content on the other hand is very much alive. It is no longer limited to a few copy lines on a display ad. It's immune to ad blocking and purpose-built for advanced mobile technologies
So what is your brand doing to prepare?