With American interest in the FIFA World Cup sky-high as the USMNT advanced to the round of 16, it appears that domestic air carriers sought to profit from potential travel to Brazil.
Early on the day of the US team's gripping battle with Belgium, American Airlines/US Airways* and United Airlines raised prices by $300-400 for travel from New York (Newark and JFK) to Brazil (Sao Paulo and Rio de Janeiro); that's as much as a 30 to 40% increase. But as soon as the US team was eliminated from further play, prices fell back to previous levels. Non-domestic carriers (excluding OneWorld alliance members) did not adjust their prices during the period.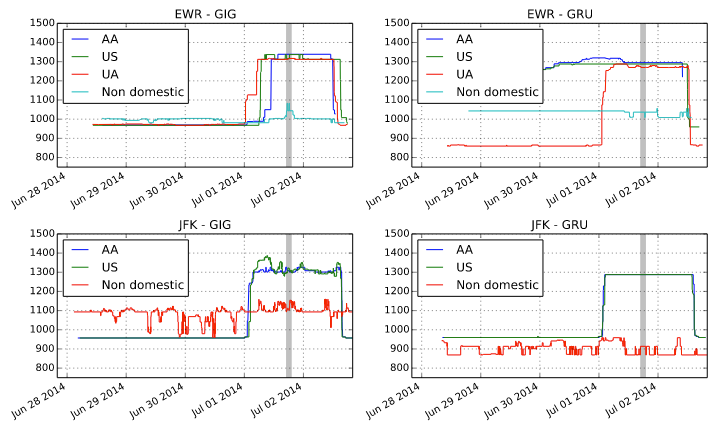 Figure 1: Prices of a "great deal" from New York (Newark or JFK) to Brazil (Rio de Janeiro - GIG or Sao Paulo - GRU) before and after the US-Belgium World Cup match. For example, the largest market, JFK to Rio, normally has great deals priced under $1000 round-trip. Prices on OneWorld alliance carriers jumped by over $300 at midnight before the US-Belgium match, and then fell back immediately after the US was eliminated from future play. Similar spikes were seen on United flights from Newark. Non-domestic carriers did not change their prices for the match.
*along with other members of the OneWorld alliance
Data and Methodology
The data presented in this analysis comes from Hopper's combined feed of Global Distribution Service (GDS) data sources which includes about 10 million queries and billions of trips per day.  Demand is represented as the number of queries not actual ticket purchases, and is calibrated across all GDS sources for each market.  Good deal prices are represented by the 10th percentile prices.  For example if the 10th percentile price is $800 dollars it means that only 10% of trips are priced at or below this price.
To detect the price changes shown in the study, Hopper looked at airfare searches for round-trip travel from New York to Brazil made during the five days leading up to and after the US Belgium World Cup match. We tracked the price of "great deals" on any future travel dates, which marks the best 10% of quoted return flights.