Summary
Plan a great trip to see your team on the road with Hopper's NFL Travel Planner  
Or if you're a displaced fan, you can find a bargain to catch up with an away game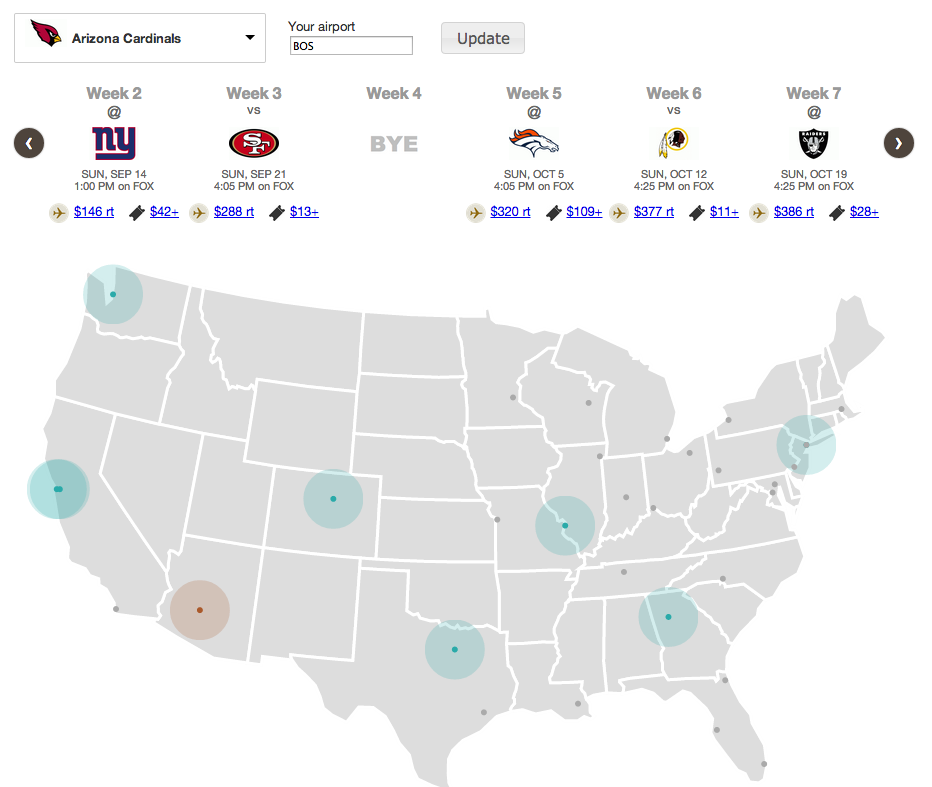 Following your team
Each of the 32 NFL teams is scheduled to play 8 home games and 8 away games during the regular season (256 games in all)
This year, three teams will play an extra away game (Atlanta, Jacksonville, Oakland), since they host one of their "home games" at Wembley Stadium in London as part of the NFL International Series
Plan your trip now to lock in low rates and ticket prices, and for all you Raiders fans, secure a spot to visit O.co Colesium before its fate is decided!
Ticket stats
Four teams have average home ticket prices over $400: the Patriots, Broncos, and Bears, with the Seahawks topping the most expensive average ticket price on stubhub at $451.
There are thirteen teams with home ticket prices between $150 and $200, with the cheapest being the St. Louis Rams.
Five teams have average away ticket prices over $300: the Bears, Broncos, Cowboys, Packers and 49ers, with the highest average away ticket price at $356.
Four teams have average away ticket prices between $175 and $200, with the cheapest being the Jaguars.
Seventeen teams are cheaper to see at home, on average, with the Bills saving an average of $86 to stay at home.
Fifteen teams are cheaper on average to see on the road, with four teams having average savings of more than $100 for a ticket to an away game: the Broncos, Bears, Patriots and Seahawks (saving an average of $174)
Travel stats
Six teams will log more than 20,000 miles traveling back and forth to their away games, with the Oakland Raiders slated to travel a whopping 36,000 miles in total, more than a round-the-world loop!
In contrast, six teams will travel less than 10,000 miles, with the Steelers traveling less than 6,000 miles in total, less than a sixth of the Raiders.
At current good round-trip prices for the away games, the dedicated Raiders fan would spend more than $4,300 in travel to follow their team, whereas a Buccaneers fan would spend a bit less than $1,900 in travel, slightly less than a Steelers fan despite traveling more than more than twice as far.  (Great flight prices from Tampa)
Adding both away ticket prices and travel costs, the Packers fan would spend the most to travel to and attend every away game, $6,769, and the Bucs fan would spend the least, $3,751.
  1. We used the average listing price of tickets for each game on stubhub.com, excluding tickets listed for more than $1,000 to avoid luxury boxes and the like. 2. For games over 120 miles away, we looked at current good deals for round-trips flights.  For shorter trips, we assume driving at 50c/mile.