Back in 1993, it was dubbed "the Southwest effect." Ten years later, it was renamed "the JetBlue effect." For two decades now, everyone from industry analysts to the U.S. Department of Transportation has kept an eye on how low-cost carriers influence established airlines. Generally, ULCC competition means demand rises, prices drop, and market share gets redistributed away from traditional market leaders.
The question now isn't whether the "JetBlue effect" is still in play — it very much is, although today it's more likely to be called "the Spirit effect." The question has become, can we identify which markets are especially vulnerable to competition from ultra-low-cost carriers like Spirit?
We think we can. Hopper doesn't have a crystal ball, but our data points out some potential hotspots.
The Present: The Low-Cost Effect in the Wild
To predict the future, first we established a baseline.
Alongside Hopper's chief data scientist, Patrick Surry, I analyzed 5,000 domestic nonstop routes. Of these, about half had been served by one of the major legacy carriers for at least two years. We identified 160 markets where a low-cost carrier (in this case Spirit, Frontier or JetBlue) had entered (142 markets) or exited (18 markets). We then graphed individual routes.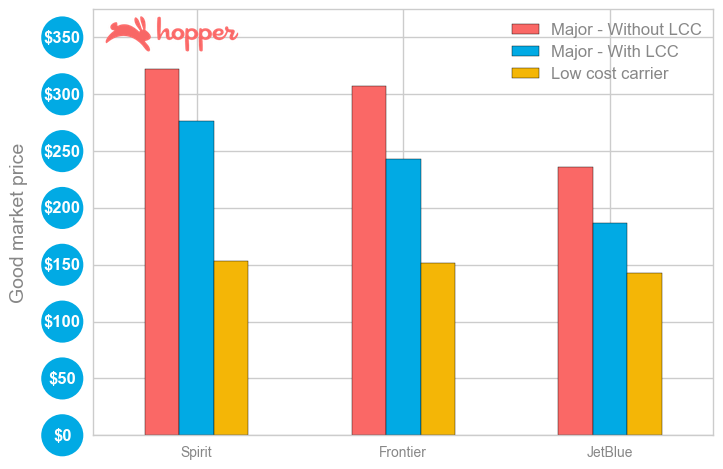 On aggregate, the low-cost carriers caused average prices to drop by almost half. For established legacy carriers, that translated to a 20% price dip on routes disrupted by the low-cost carrier. The legacy carriers' base fares didn't fall to the same level as the low-cost carriers' fares. As a result, even accounting for average per-passenger ancillary fees, the LCCs' fares were still cheaper on many routes.
Notably, if the LCC exited a route, airfares increased about 11% – recovering somewhat but not fully in the months after their departure. So LCCs caused a lasting price shift even when they no longer operated in that market. This, I think, is key to measuring future vulnerability: The existence of an LCC at any point changes the face of the market.
All three non-legacy carriers exerted downward pressure on prices. But there exists some nuance in the numbers. JetBlue and Frontier have had the biggest impact on legacy carriers' pricing specifically, driving them down by about 21%. However, Hopper's data showed that Spirit and Frontier have the biggest impact on overall market pricing, both undercutting existing prices by about 50%.
This is a newer development that lays to rest the concept of a "JetBlue effect." In fact, it appears that the ultra-low-costers (the ULCCs) have the most effect on the marketplace, hence "the Spirit effect."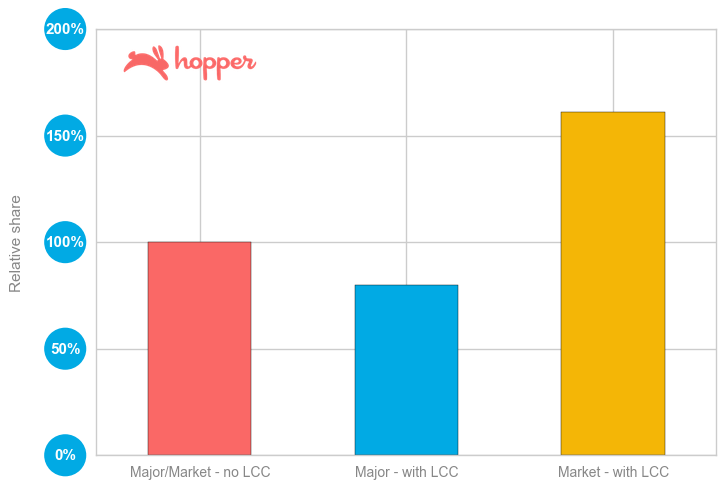 What about demand? Major carrier demand (which Hopper measured by airfare search impressions) falls about 20% due to LCC presence. However, market demand increases about 60% thanks to lower overall prices. I conclude here that a destination newly served by a low-cost carrier becomes cheaper, and thus more desirable, for consumers.
Which airlines are shifting demand the most? In the two years of data we studied, Frontier had the most new market entries, a period that includes their April 2014 pivot to an ultra-low-cost model. Spirit follows at number two, while JetBlue launched the fewest routes in that period. It's important to note here JetBlue's already widespread market share, operating over 820 daily flights; however, it's interesting that JetBlue is no longer the preeminent driver of price, demand, and market-share shift.
This is our baseline. Now, seeing clearly the effect of the ULCCs on aggregate, let's study them a bit more closely.
A Route-Level Snapshot
To gauge the ULCC impact at the route level, we looked at several specific routes operated by established carriers that experienced the entrance or exit of a ultra-low-cost carrier. We wanted to examine the variation between specific cases and to identify trends. Do certain airlines' enact characteristic changes on the market?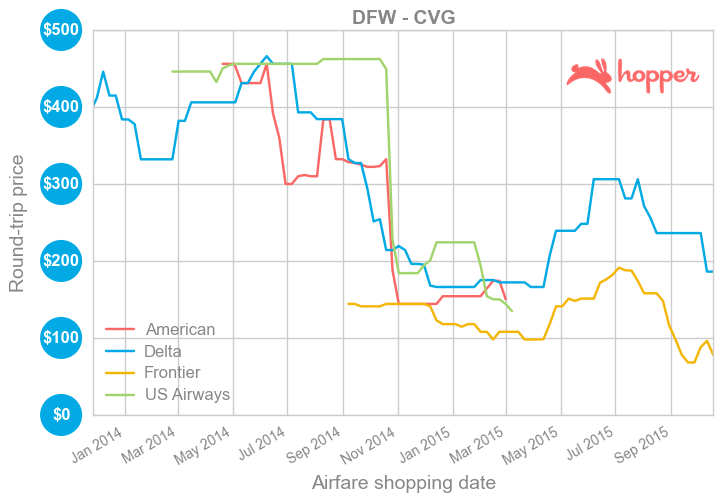 Shown: Frontier enters the Dallas to Cincinnati market with fares dipping below $100, driving down prices from Delta and AA/US, with AA/US experiencing the sharpest and most sudden decrease. (Announced late August 2014.)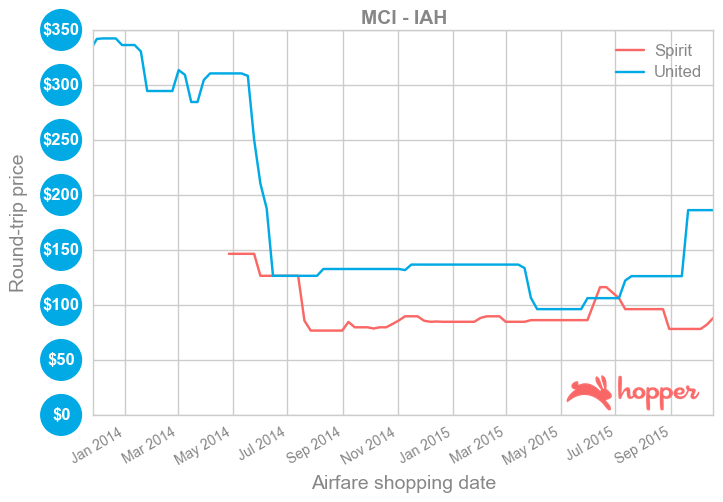 Shown: Spirit enters Kansas City to Houston, driving established carrier pricing down more than 50% and overall market pricing down a whopping 70%. (Announced April 23, 2014.)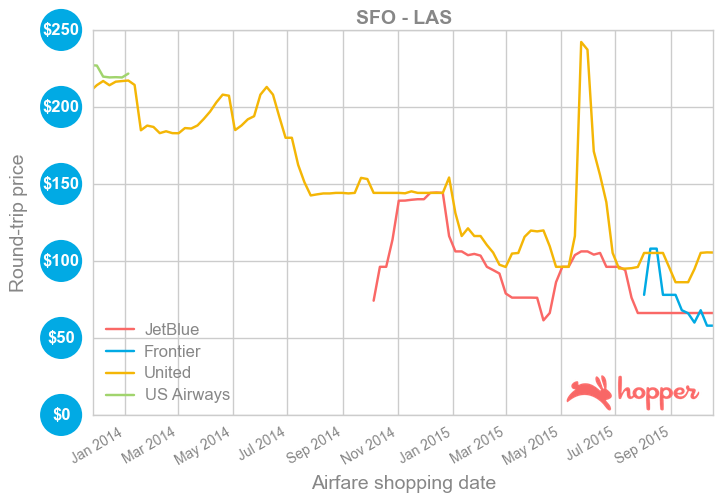 Shown: Both Frontier and JetBlue compete with legacy carriers on San Francisco to Las Vegas. (United experiments briefly with preserving price differentiation in June 2015 before returning to market levels.)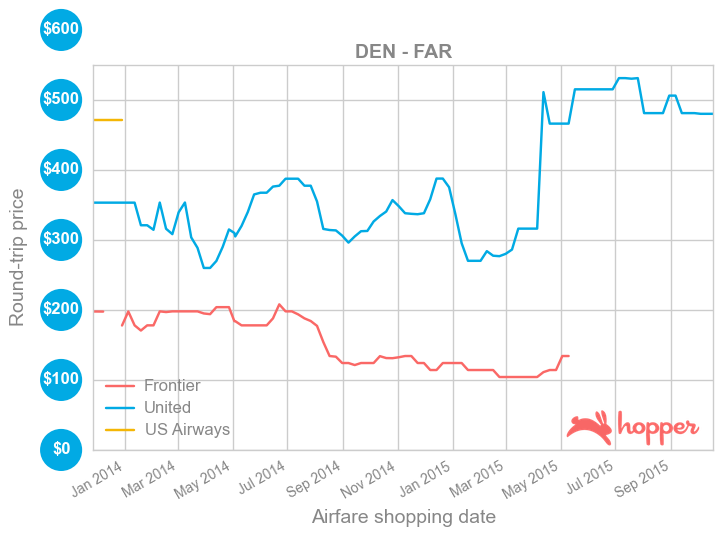 Shown: Frontier exits Denver-Fargo. Prices immediately increase with less competition. (Announced November 25, 2014.)
Note the incredible variation in the route-level data. The introduction of a low-cost carrier can cause prices to slide as much as 70%. In each of these route-level snapshots, the established carrier adapted their pricing, to some degree, to compete with the ULCC. As mentioned before, Frontier and Spirit seemed to have the most impact on price. And again, even accounting for ULCC ancillaries, their fares are still, by and large, lower. For example, Spirit receives an additional $55 per passenger in ancillary and on-board extras … still far less than the delta between their prices and the established carriers' prices on many routes.
Predicting Vulnerable Markets
So there already exists a story of disruptive pricing, newly competitive routes, and ascendant carriers.
But what about the future? ULCCs still have a lot of ground to cover. Which airlines and markets (and even specific routes) are the most vulnerable to new ULCC service?
Using observed pricing in direct markets and correlating that with observed passenger traffic and flight distance, we can tentatively project ULCC pricing for other domestic non-stop markets not currently served by a ULCC. This ignores factors like airport access and existing network footprint, of course, so is by no means definitive. However, such a prediction lets us identify potentially vulnerable markets, which we calculate by combining the projected price drop and observed demand in each market.
Table 1 shows the most vulnerable routes, a list dominated by Atlanta. Frontier and Spirit obviously did this analysis a long time ago: In 2015, Frontier launched six new nonstops from Hartsfield-Jackson, bringing their total to 16. In 2015 Spirit launched year-round service from Atlanta to eight new destinations and seasonal service to an additional destination.
Going forward, we predict that several short-haul markets originating in Atlanta currently priced around $300 to $400 could drop to just $100 with the introduction of a new low-cost carrier.
Of all the markets we studied, Atlanta shows potential for the largest projected price drops (e.g., the difference in the price pre-ULCC and post-ULCC). Table 1 shows the most vulnerable ATL routes: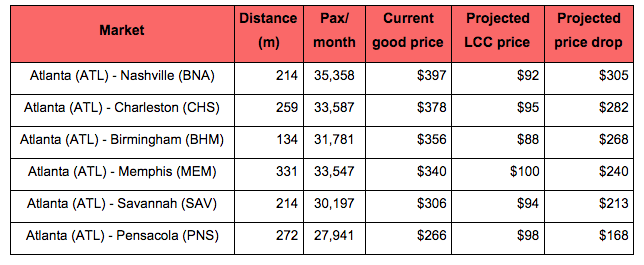 However, there's plenty of action outside ATL. Table 2 displays 8 notable non-Atlanta routes that we project also exhibit notable vulnerability. We chose these routes for a number of reasons. DTW - SEA moves nearly 30,000 passengers per month; although a projected ice drop from $311 to $203 isn't as extreme as on some other routes we've analyzed, the passenger volume is valuable (and potentially up for grabs, should a new carrier enter). For other routes, such as those originating in Newark or Charlotte, these routes display the potential for aggressive growth in largely single-carrier markets.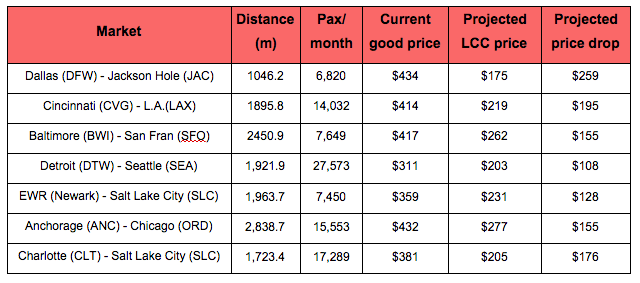 These market predictions don't include factors like the potentially prohibitive startup costs of entering new markets, including battling for slots. But it provides a roadmap for future turf wars on individual routes.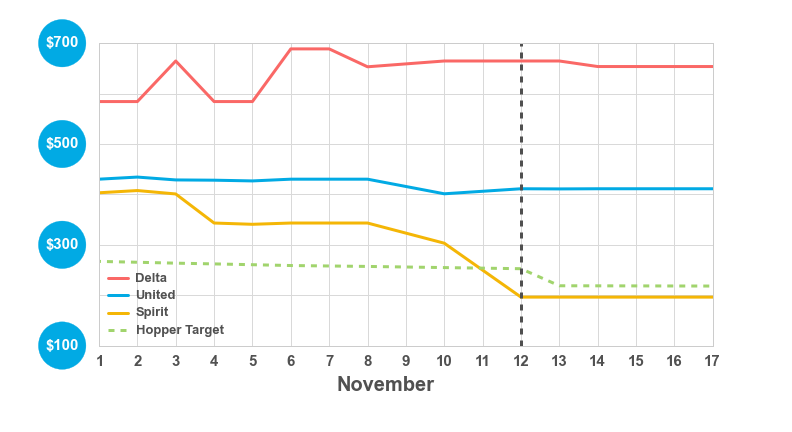 Finally, Spirit's Nov 14 announcement of new routes gives us an opportunity to "catch" the ULCC effect in real time. Let's look at Los Angeles (LAX) to New Orleans (MSY). We graphed prices for an LAX - MSY trip from April 14 to April 18, along with Hopper's target price prediction before and after the launch announcement, to compare the downward pressure Spirit's entrance exerts on this route's price and on our own prediction.
The results: Spirit fares dropped 46%, and Hopper's predicted price target dropped 14% alongside it. Hopper analyzes historical fare data and current fares to predict future fare movement. Hopper had predicted a "good" price on this route of $264 before Spirit's announcement. Now, we predict a good price of $224, with Spirit's fares going for around $190 (the cheapest on this route).
How much will Delta and United adjust their fares? For now, the established carriers' prices are stable, but history indicates they won't remain that way. We believe they'll dip at least $40 on average.
Other Likely Effects, Looking Forward
Why does assessing potential vulnerability matter? Look no further than American Airlines' new "no-frills" fares and the wise "if you can't beat 'em, join 'em" mindset of the established carriers.
American Airlines President Scott Kirby was explicit in saying these new fares are intended to compete with Spirit and Frontier's low prices, especially in the now-crowded Dallas/Fort Worth market. Although AA dominates that market, the future is uncertain. Spirit represents 20% of American's head-to-head non-stop competition out of DFW. And if Spirit were to continue expanding further, AA would surely need to find new ways to compete for those flyers.
AA plans to launch these fares in 2016. Delta has also experimented with a similar "Basic Economy" fare tier in select markets. And this fare unbundling isn't limited to those carriers. JetBlue began offering three fare tiers in June 2015, including a basic economy ticket with no free checked bags. While this was done in part to boost ancillary revenue, one wonders if the carrier saw just how deeply this trend has altered consumer behavior. More pointedly, with so many options at hand, more consumers have begun shopping for flights on upfront price alone.
The story doesn't end at the adoption of a new revenue model, the introduction of ancillary-free fares, the rebranding into a low-cost airline. The simple fact is, consumers are more price-sensitive while flight shopping than they once were, while simultaneously less likely to be loyal to any particular brand. They are looking for low upfront base fares more than they once were and may even be willing to travel based on where the lowest prices can be found. New routes are big news.
The introduction of ULCCs and the lasting effect they have on the marketplace (remember, on average, prices don't immediately recover to pre-ULCC levels) means that price and perceived value are more important for leisure travelers than almost any other factor. Competing airlines could adopt low-cost- or ultra-low-cost-carrier models, or they could choose to tailor other revenue strategies to their needs such as offering more service on established single-carrier routes. Still, every airline will need to find these price-sensitive flyers, and that massive segment is proving pickier.
It's an ultra-low-cost carrier world after all.