Thanksgiving - When To Fly and Buy
Thanksgiving travel is expensive, but you won't pay much more if you wait to buy during the month of October. Prices for Thanksgiving travel start high because the airlines know travelers have little flexibility in terms of destinations and dates. Domestic flight prices are currently averaging about $325 round-trip for Thanksgiving compared to $288 last year.
Thanksgiving airfare tends to be very stable during the month of October so prices won't vary much, but make sure you book before the week of Halloween. Hopper can monitor prices for you and alert you exactly when you should book. If you wait until early November to book your flight, it will cost you about $1 per day you wait. Then prices begin spiking by $10 per day during the final two weeks leading up to Thanksgiving.
The busiest and most expensive day to depart is Wednesday, November 22. You can save $54 by departing on Thanksgiving morning or you can save $48 by departing on Monday, November 20th. The busiest and most expensive day to return is Sunday, November 26. You can save $161 by returning on Wednesday, November 29th instead.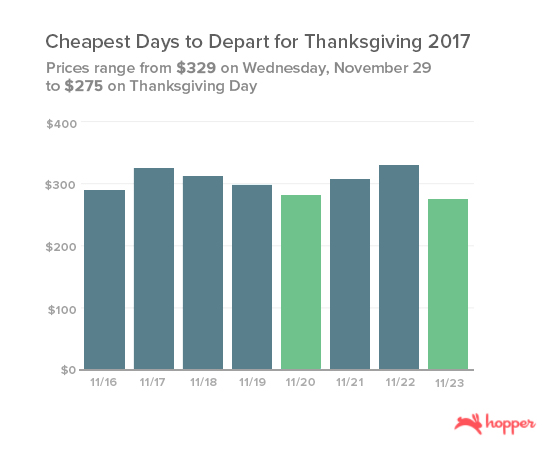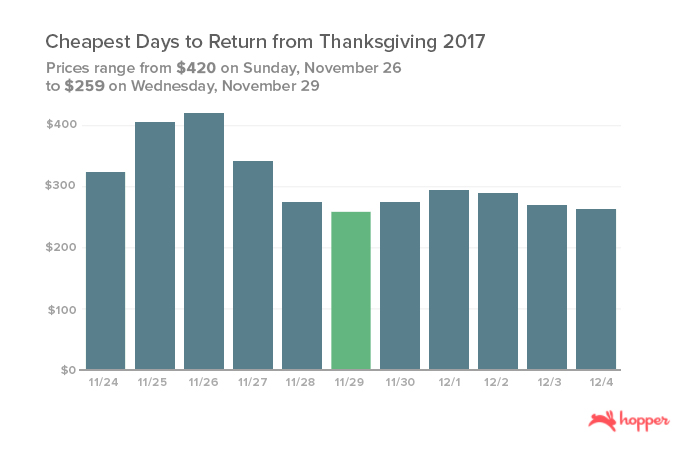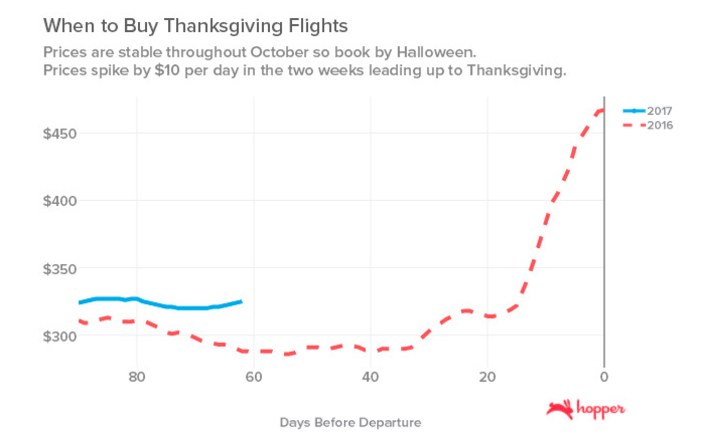 Christmas - When To Fly and Buy
The airlines can charge a big premium for holiday flights because it's the busiest travel period of the year. Flights around the winter holidays can be priced as much as 75% more than non-holiday flights. The typical domestic roundtrip over the winter holiday period is currently priced at $366 compared to $368 last year.
Unlike Thanksgiving prices, holiday flight prices tend to rise more steadily as Christmas approaches, and then spike in the last ten days. Based on Hopper's historical data, the best time to book Christmas flights is about 83 days before departure which is the first week of October.
Around Thanksgiving time, holiday airfare will begin rising by $4 per day you wait. In the final two weeks leading up to Christmas, flight prices will spike by $7 per day.
You'll save the most money if you're flexible and able to leave a few days before the holiday. The cheapest days to depart are Saturday, December 16 or Tuesday, December 19. Traveling on these dates will save you $110 compared to traveling on the busiest day, Friday, December 22. The cheapest days to return is Thursday, January 4th. Traveling on January 4th, will save you $97 compared to traveling on New Year's Day which is the most popular return date.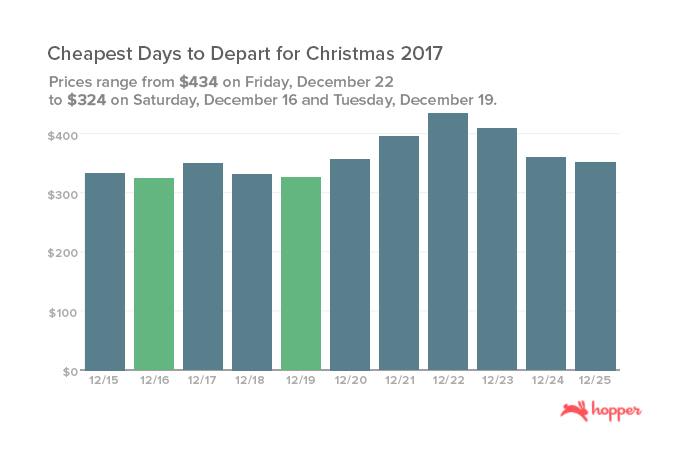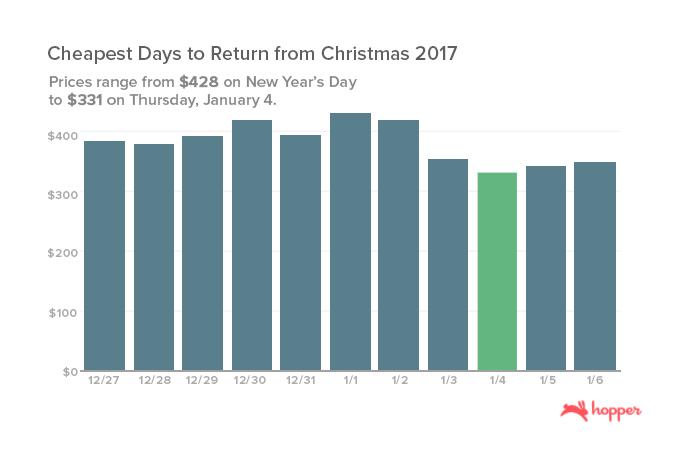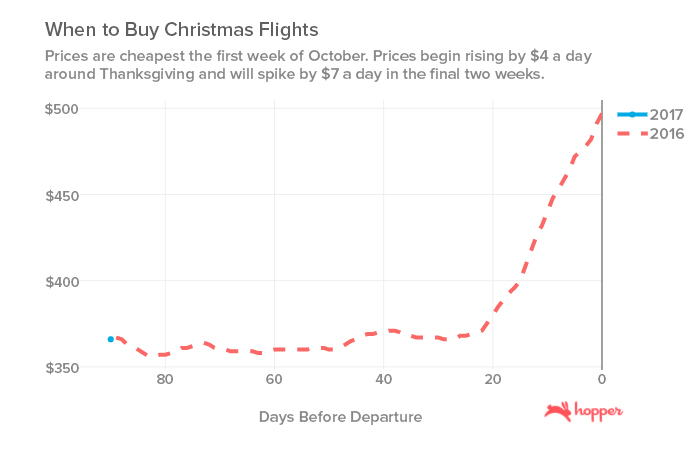 About Hopper
Hopper, the airfare prediction app, takes the stress out of booking air travel, analyzing billions of flights daily and notifying users the instant they should buy or if prices are expected to rise. With 95% recommendation accuracy and up to one year in advance, Hopper saves users an average of $50 per ticket, and up to $1,300 in the best case scenarios. Hopper has surpassed 18 million downloads and received accolades such Apple's App Store Best of 2015 and Google Play Standout Startup of 2016.