What's differentiating Virgin America and JetBlue from the competition? Hopper found it's not all about prices.
I've written a lot recently about ULCCs and their impact on competition and consumer choice in the future. Many carriers have created unbundled products to be in the ballpark with ULCCs, but it turns out they often don't actually match the bargain-basement fares. Even without ULCC presence on a route, carriers in direct competition won't always match fares exactly.
So I wondered, could Hopper's booking data expose the premium passengers are willing to pay for certain carriers? It turns out the answer is yes, and there are two clear standouts. Consumers are willing to pay nearly 10% more to fly Virgin America or JetBlue even when another carrier is offering the cheapest available price.
Across the board, while 62% do book the lowest fare, but that leaves better than 1 in 3 that choose to pay more based on brand and other factors.
How do Virgin America and JetBlue stay above the low-fare fray? And are shoppers quite as price-sensitive as it may seem? Let's look at the data.
Measuring a Premium
Hopper's own vast data – trillions of individual trip prices – offers some singular insights into consumer and market behavior. We know, at the route level, the lowest price a passenger can expect to pay; what price a passenger will pay; and how flexible they are when it comes to the best available price among competing carriers.
In the Hopper mobile app, we show the cheapest available price, either via a push notification for individual flights the passenger has chosen to watch or via a normal search. Price is the default sort in the flight list, although users may sort by time of day or number of stops.
To expose brand premium, chief data scientist Patrick Surry looked at the total number of bookings in Q4 and measured the gap between the cheapest available price at the time of booking and the price of the final flight chosen by the passenger. The premium each airline commands is the percentage above the cheapest available price, on aggregate, when they were chosen by the passenger.
We then tabulated the results.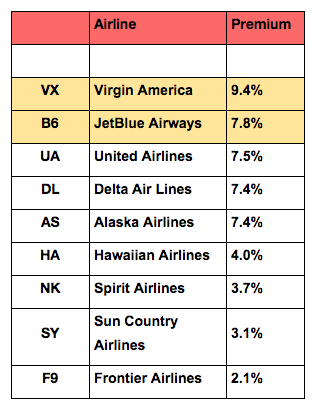 You see above that on average, passengers buying Virgin America are paying 9.4% over the best available price. Passengers purchase JetBlue at about 8% over best price. These two airlines command the highest premiums of any that we sell.
For example, on a March route from New York (JFK) to Los Angeles (LAX), the cheapest nonstop price displayed is $346 on Delta Air Lines. Our data indicates that a third of Hopper users would opt for JetBlue's nonstop offer on the same route for $374 ($28, or 7.5%, more).
This chart begins to establish the relative value leisure passengers place on certain brands and highlights competitive opportunities for every carrier. Passengers seeking the cheapest fares exhibit true price sensitivity and are less likely to pay any brand premium, but this behavior doesn't extend to all leisure flyers. At moderate price points, where the Big 3 compete with JetBlue and Virgin America but not directly with ULCCs, passengers are often willing to pay a premium for a certain brand.
Analyzing at the Route Level
An 8 or 9% premium needs context: How much higher is that over cheapest available price?
We chose several popular routes operated by at least two carriers to determine the best available price, on average, offered by each carrier. (Note: Hopper does not approximate "average" price. Instead we use the more accurate measure of tenth percentile of quoted prices, representing what a price-sensitive leisure traveler should expect to pay, based on our archive of historical prices).
At the route level, we noted some trends.
First, JetBlue exhibits some parity with carriers like Delta and United. Yet JetBlue often charges slightly more than its closest available competitor and often quite a bit more than the cheapest available competitor (for example, about $335 on Boston to LAX compared to United's $280). So JetBlue's pricing falls within our observed price premium (7.8%) but also exceeds it. There's clearly a few things they know that we don't about how market, trip length and scheduling affect their brand premium.
Second, the Big 3's prices are highly competitive with each other on most routes. American was an outlier on JFK-SFO, but elsewhere, the Big 3 compete intensely on price.
Finally, and most surprisingly, Virgin America's prices often fall well below its closest competing carrier (JFK - SFO, JFK - FLL, DAL - DCA). Remember, flyers are willing to pay up to 9.4% more than best available price to fly with Virgin America. This would suggest that any time Virgin America offers the lowest fare on a route they are potentially leaving yield on the table.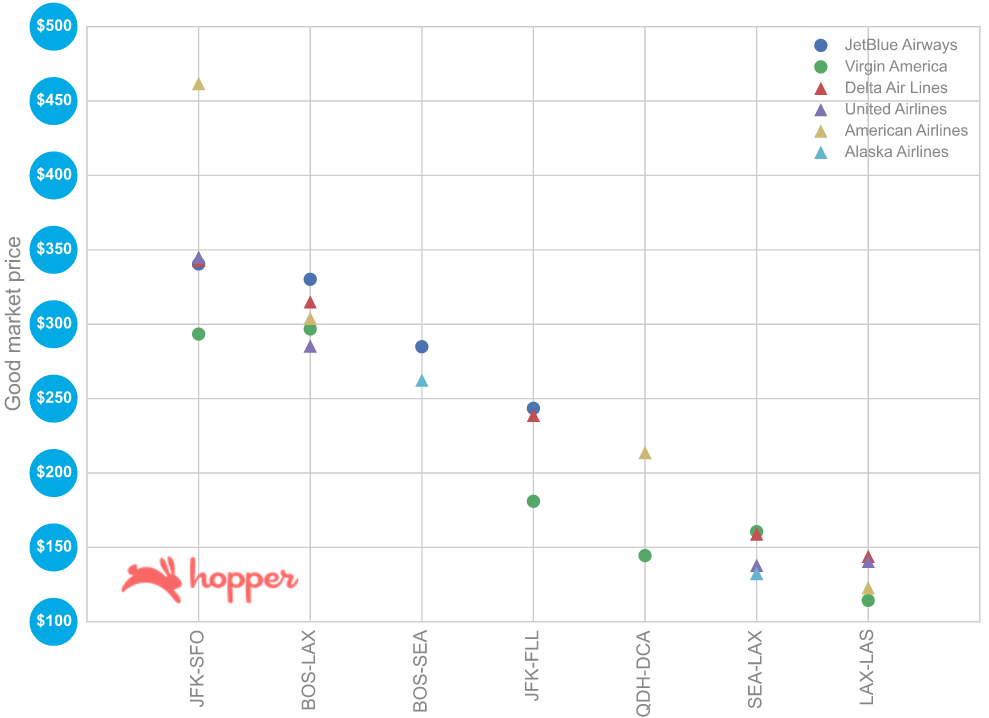 This route analysis closely follows a higher-level deep dive we previously conducted that measures, on aggregate, the relative price of each major North American carrier. Below, you can see that JetBlue and Virgin fall in the middle of the pack in terms of price, with Virgin slightly cheaper. On competitive transcontinental routes, JetBlue's pricing matches the established carriers, but elsewhere, it seems JetBlue undercuts them.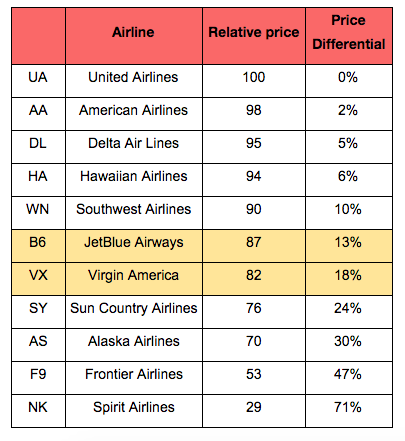 What Some Carriers Are Simply Getting Right
Clearly, leisure travelers are more interested in certain brands. Their willingness to spend reflects that. So what's driving the premium?
The first thing to consider, of course, are inclusions. Do those premiums come with valuable amenities for leisure flyers? In many cases, yes. Look at Wi-Fi: JetBlue and Virgin America both offer some form of free in-flight Internet connection. JetBlue offers a basic in-air Wi-Fi option sponsored by Amazon. Virgin America offers free Wi-Fi on some aircraft through 2016 while also offering paid Wi-Fi fleet-wide. At the same time, many airlines have yet to expand connectivity, either free or paid, fleet-wide.
Other differentiating factors may include in-seat power (fleet-wide on JetBlue and Virgin America, not guaranteed on other carriers); seat-back entertainment (same); complimentary snacks (not available even on some long-haul flights, depending on carrier); and newer aircraft. While Southwest now stands alone in offering complimentary checked bags, it seems that other, smaller value-adds aimed at passenger comfort and connectivity are still relevant to consumers.
And then, of course, there's passenger satisfaction.
JetBlue and Virgin America are the only two on this list to be considered four-star airlines by Skytrax for "provid[ing] a good product standard across different travel categories (i.e., cabin travel classes), combined with delivering good standards of staff service for both the cabin service and their home-base airport environments." JetBlue also tops J.D. Power's 2015 North America Airline Satisfaction Study in the low-cost carrier category, while Virgin tops Airline Quality Rating surveys two years in a row. (JetBlue has been #2 and #4.)
So while leisure flyers still shop for price, about 36% choose a flight that is not the cheapest available, meaning there is a clear opportunity to shift share without sacrificing yield. And as strong brands with dedicated followings like JetBlue and Virgin America have proven, even budget-conscious passengers will open their wallets for included amenities and proven customer service.
As long as ULCCs compete head-to-head in major markets there will always be a low-fare fray.
The key to rising above that fray is a competitive combination of price and convenience, a stab at un-commoditizing the product. Compel shoppers to play out the trip in their heads. "I'm going to be on a plane for four hours. Are snacks, Wi-Fi, in-seat entertainment and, extra legroom worth a few dollars more?"
Reconsider the notion that price is the bottom line: Marketing to passengers on upfront fare alone oversimplifies the fact that leisure travelers factor many items into booking decisions. Similarly, believing that flyers are swiftly abandoning brand loyalty in favor of good deals and cheap prices may lead carriers astray from smart decision-making regarding their own valuable brands.
Read More Here: