Summary
Demand for travel from the US to Sochi for the winter Olympics is very low, with the top market (New York to Sochi) only seeing about 35 searches per day.
For comparison, demand for travel from all of the US to Las Vegas is up to 1000 times more popular than travel from all of the US to Sochi.
US interest in flying to Sochi is on par with visiting the home of Legoland in Denmark or going clubbing in Ibiza Spain.
Popularity of Travel from the US to the Olympics in Sochi
Sochi Russia is located on the north eastern edge of the Black Sea near the border to Georgia and is the site of the 2014 Winter Olympics.  Typically the Olympics drive a large number of visitors to the area where they are held (1).  However, this year there have been warnings against travel to Russia and even reports that the Olympic athletes themselves are recommending that their family members stay home (2).  Given the advice to stay away from Sochi, Hopper investigated just how much Americans are interested in flying in for the Olympics.
During October, November, December (2013), and January (2014) the 15 most popular origins in the US for flights to Sochi were New York, Denver, San Francisco, Chicago, Los Angeles, Boston, Washington D.C., Atlanta, Seattle, Memphis, Detroit, Portland, Salt Lake City, Dallas, and Philadelphia.  However, the demand from these cities was tiny with New York to Sochi seeing an average of 35 searches per day, Denver with 12 searches per day and Philadelphia with just 2 searches per day.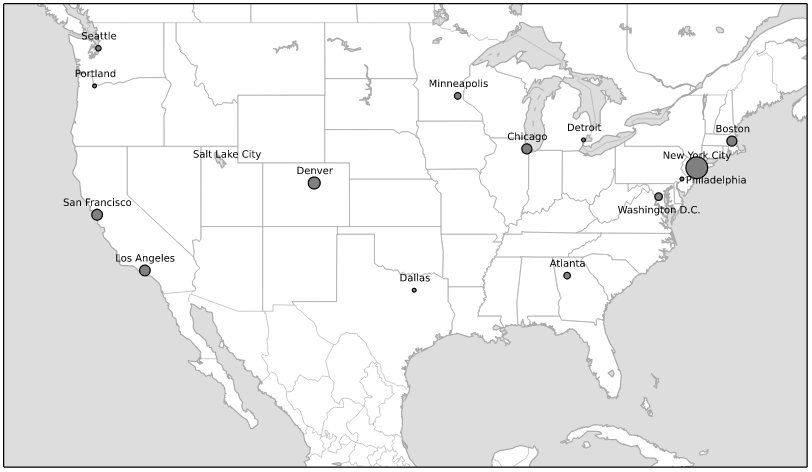 Figure 1:  US origins to Sochi, with flight search volume represented by bubble size.
Just, how little is an average of 35 searches per day?  For comparison the demand for travel between New York and Las Vegas (the most popular US market in 2013) is about 44 thousand searches per day, which means that Vegas is up to 1000 times more popular than Sochi.   If we look at travel from all of the US to Sochi vs. all of the US to Las Vegas, Vegas is about 500 times more popular.  Popularity of travel to Sochi is no where near the range of Las Vegas, but we wanted to find what other European cities are comparable to Sochi.  Figure 2 below shows seven European destinations  that have a similar aggregate US demand to Sochi (we looked for places within a 10% range of Sochi during the same time frame).
The cities are Bergen Norway, which is Norway's second largest city known for picturesque architecture and offshore oil drilling.  Billund Denmark which is the home of Legoland.  Dresden Geremany which is an industrial and governmental center.  Ibiza Spain which is a famous beach and clubbing destination.  Kiev, which is the capital of Ukraine.  Tenerife Spain, which is a warm weather winter beach getaway spot.  And finally, Timisoara Romania near Transylvania, which is a Romanian economic and cultural center.  While each of these cities offers interesting tourist attractions, they are not typical places that American travel to or are aware of.  In the case of Sochi, the Olympics has managed to increase the popularity of the city to the same level as these 7 cities, but not beyond.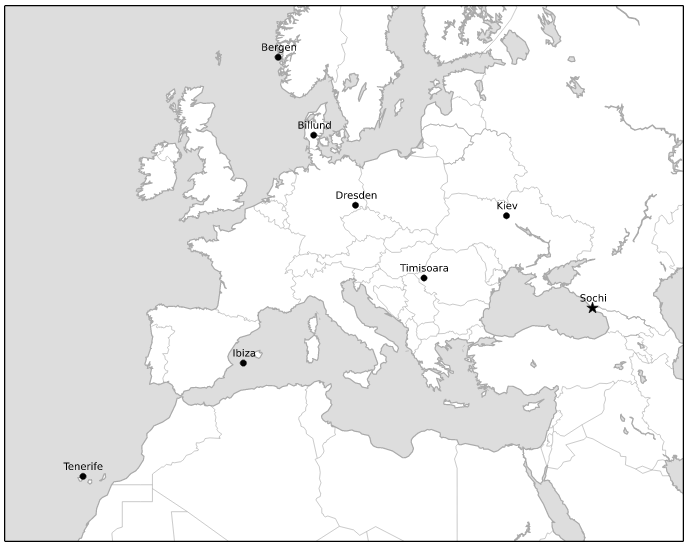 Figure 2:  European cities, with comparable popularity for travel, as US to Sochi.
For more information on how to fly to Sochi and trip pricing click here.
1.http://www.independent.co.uk/sport/olympics/news/london-2012-olympic-boost-to-retailers-and-tourism-new-figures-show-8009275.html
2.http://www.foxnews.com/world/2014/01/23/lawmaker-cautions-on-travel-to-sochi-as-olympians-tell-family-to-stay-home/
Data and Methodology
The data presented in this analysis comes from Hopper's combined feed of Global Distribution System (GDS) data sources which includes about 10 million queries and 1 billion trips per day.  Demand is represented as the number of queries not actual ticket purchases, and is calibrated across all GDS sources for each market.
Popularity by date is determined by aggregating all flights that depart before and return after the date in question.  This  factors out the overall advance purchase distribution, as search rates naturally increase close to departure, in order to highlight long term patterns.