Travel search interest to Seattle was down 2% in week following dispensary opening compared to the same week last year
Travel search interest to Denver is still up 20% since January 1st
The lack of travel interest may  be due to the threat of a 'recreational weed shortage' as only 79 dispensaries of the 2,600+ that applied have been approved to start growing
The average domestic flight to Seattle is 36% more expensive than Denver
The cost of product is $5-10 more expensive in Washington state than in Colorado per gram of marijuana
On July 8th, the state of Washington finally opened the doors to its marijuana dispensaries becoming the second state where people can legally purchase recreational marijuana. Washington's 'road to legalization' has been faced with countless delays and complications. Most recently, the threat of a 'recreational weed shortage' as only 79 dispensaries of the 2,600+ that applied have been approved to start growing. On top of that, only 24 shops were actually allowed to begin selling on the 8th, causing one store to sell out that very day.
In light of these difficulties, travelers have not been flocking to Seattle the way they did to Denver. From July 8th to the end of the year, Seattle's relative interest is only up 1.3% compared to last year (Figure 1), with the only notable difference coming in November. Denver, however has averaged a 19% increase in travel interest since opening its stores on January 1st (Figure 2). Portland, another major Northwest city, has seen an overall rise in search traffic of 6% (Figure 3) since July 8th, suggesting Washington's sluggish performance is not due to a general decline in travel interest to the Northwest.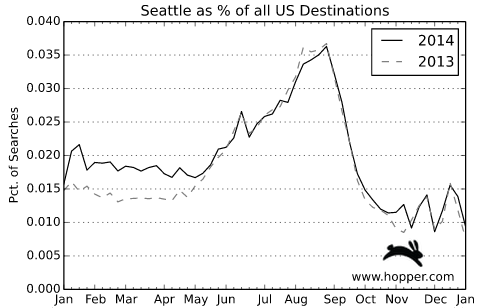 Figure 1: Seattle as % of all domestic destinations for 2013 and 2014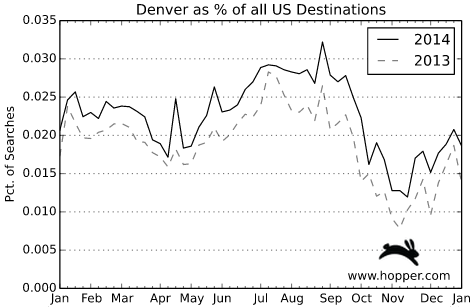 Figure 2: Denver as % of all domestic destinations for 2013 and 2014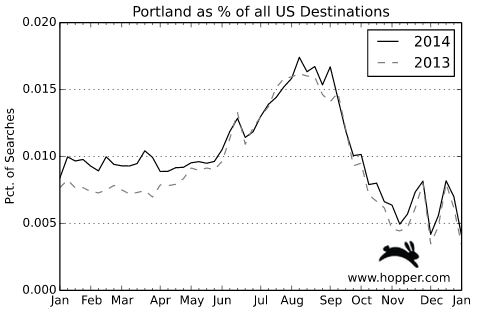 Figure 3: Portland as % of all domestic destinations for 2013 and 2014
In addition to the dispensary opening delays, there are three other significant reasons why Seattle (and Washington in general) may be less of a draw than Denver was six months ago. The first is cost of travel; over the past month, average domestic round-trip prices to Denver have been around $179 while prices to Seattle have been around $245, a 36% premium. The second is the cost of product; primarily due to the shortage of pot, a gram of weed in Washington is currently going for $5-$10 higher than in Colorado, which comes out to $17.5 - $35 more per eighth. And the final reason, and perhaps most important, is that the states surrounding Washington are already pretty weed-friendly. In Oregon, Nevada, and California, possession of marijuana has been decriminalized, while Montana has legalized medicinal usage. Idaho remains the only state near Washington with a strict anti-weed policy (possession of under three ounces is considered a misdemeanor with up to a year of jail time). However of the seven states touching Colorado (and Texas), five of them still consider possession of marijuana a misdemeanor,only  two allow medical usage (Arizona and New Mexico), and only Nebraska has decriminalized weed, and that only applies to first offenders.
In a recent report [1], the Marijuana Policy Group estimated that 90% of Colorado's recreational marijuana sales came from tourists in ski towns and 40% come from tourists in metro areas. Since Jan 1, the state has pulled in $15M in taxes from recreational marijuana alone [2]. Projected to the end of the year, this means that if sales continue at the current rate the state will make anywhere from $14M to $33M in taxes from marijuana buying tourists. Hopefully Washington can get their system in check and capitalize on this source of tax revenue before it's too late.
Sources
2. http://www.colorado.gov/cs/Satellite?c=Page&childpagename=Revenue-Main%2FXRMLayout&cid=1251633259746&pagename=XRMWrapper
Data and Methodology
The data presented in this analysis comes from Hopper's combined feed of Global Distribution Service (GDS) data sources which includes billions of trips per day.  Demand is represented as the number of queries not actual ticket purchases, and is calibrated across all GDS sources for each market.  Good deal prices are represented by the 10th percentile prices.  For example if the 10th percentile price is $800 dollars it means that only 10% of trips are priced at or below this price.