Summary
A typical college student can expect to spend about $2,000 on flights for college visits if they visit each school individually
Hopper's college itinerary planner can save you 38% or more by planning the cheapest route between selected schools
Once you've picked your school, keep saving on flights to visit home with Hopper's detailed market reports
Cost of College Visits
The costs of a college education start before high school is over as students begin to visits schools to find a good match.  A college applicant typically applies to 7 or 9 schools (1, 2) and will often visit the schools twice (3).  One visit pre-application and one post-acceptance, though the pre-application visit is more important because it signals interest in the school (3).  While students can drive to visit schools nearby, many popular colleges and universities are spread out across the US and will require flights. An average one-way flight in the US costs $171, so if a student visits 4 different locations (accounting for co-located schools) that aren't within driving distance, each an average of 1.5 times (accounting for rejections from some schools) during the application process, that is an average of $2,052 spent on flights for college visits.  However, that number can be smaller  (38% or $780 in savings) if instead of visiting each school individually, a travel itinerary is optimized to visit the schools without returning home each time.  Hopper has created an interactive map that will help you plan the sequence of visits in order to minimize costs.  Figure 1 shows an example trip to visit all the 8 Ivy League schools, which Kwasi Enin from Long Island was just accepted to (4).  If he goes to visit all his amazing University options, he could make the trip for about $550.
Figure 1:  Hopper's College Tour Itinerary Planner
Additional savings can be had by also booking, flying, and returning on the cheapest days  (see Table 1).  However, because these tips are found on aggregate, patterns may be different in specific markets and you can use Hopper tools to investigate each market in more detail.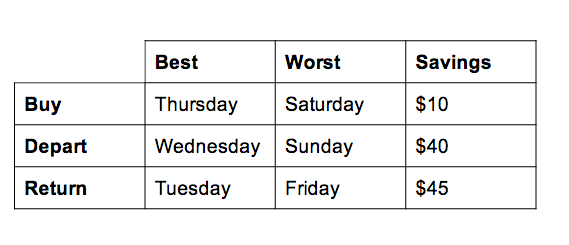 _Table 1:  Average savings resulting from buying, departing, and returning on the best days _
1. http://www.lkeducationalconsulting.com/images/soca2013.pdf
2.http://thechoice.blogs.nytimes.com/2012/06/20/commentary-too-many-application-may-be-a-crapshoot/?_php=true&_type=blogs&_php=true&_type=blogs&apage=2&_r=1#comments
3.http://www.foxbusiness.com/personal-finance/2012/03/21/nine-ways-to-cut-cost-college-visits/
4. http://www.huffingtonpost.com/2014/04/01/kwasi-enin-ivy-league_n_5067211.html
Data and Methodology
The data presented in this analysis comes from Hopper's combined feed of Global Distribution Service (GDS) data sources which includes about 10 million queries and 1 billion trips per day.  Demand is represented as the number of queries not actual ticket purchases, and is calibrated across all GDS sources for each market.  Deal fares are represented by the 10th percentile prices.  For example if the 10th percentile price is $800 dollars it means that only 10% of trips are priced at or below this price. Hopper collected data for the top 130 universities and colleges (based on US News rankings, http://www.usnews.com/rankings), including location and driving distances to nearby airports. Using this data, we select the airports to visit in order to minimize total number of airports as well as total driving distance. The shortest path by miles flown and cheapest path were determined from average round-trip flight prices between airports for all searches made over the past four weeks. One-way tickets were assumed to be half of a round-trip flight (http://www.farecompare.com/travel-advice/one-way-tickets-vs-round-trip-tickets-which-are-cheaper/).