This year, don't be surprised if your flyers wait a little bit to buy their Thanksgiving flights.
Hopper's seasonal Consumer Airfare Index reveals that Thanksgiving travel prices are largely stable and slightly less expensive than in 2014. In fact, prices won't spike until about 10 days beforehand, unlike the long and slow increase and higher volatility for Christmas flights.
Here are some key takeaways from Hopper's Thanksgiving 2015 report:
The current good deal price for round-trip Thanksgiving travel is $322
Domestic round-trip prices rise less than 5% up to 10 days before departure and then spike sharply (see Figure 1)
Airfares this year are trending between 5-10% lower than last year and have dipped due to early September sales
Demand for flights on Thanksgiving Day is low
Price Analysis for Thanksgiving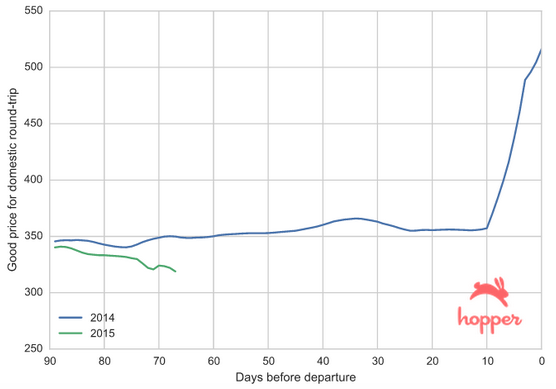 Which Flights Will Cost Shoppers More (or Less)?
We wanted to see where Thanksgiving flights have the highest premium, e.g., travelers were paying the biggest increase to fly to these domestic airports. These destinations, largely situated along the East Coast, saw the largest price hikes for Thanksgiving travel. In these markets, flyers likely aren't finding great deals or much price variation from airline to airline.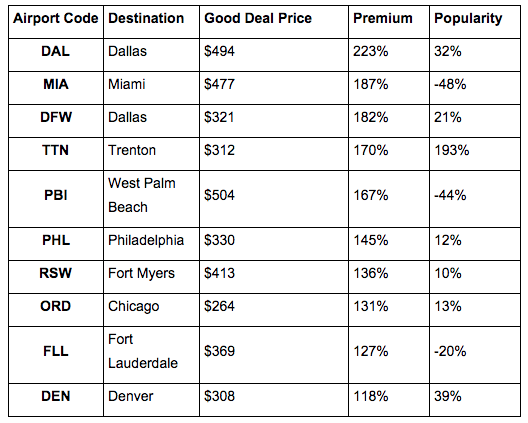 A consideration: If you're moving Thanksgiving inventory slowly, consider sweetening the deal with last-minute sales, especially on Thanksgiving Day or to domestic leisure destinations with a dip in popularity. You're likely going to see bigger spenders on those airports listed above, but domestic leisure destinations along the West Coast offer some relative value, with lower-than-average premiums for travelers who haven't settled on a destination (see chart below). Are there opportunities for fare sales or deals to these airports? Consider targeting last-minute deals to mobile shoppers.