Alaska Air Group announced yesterday its plan to acquire Virgin America. We analyzed the flight data to determine what impact the acquisition would have on consumers.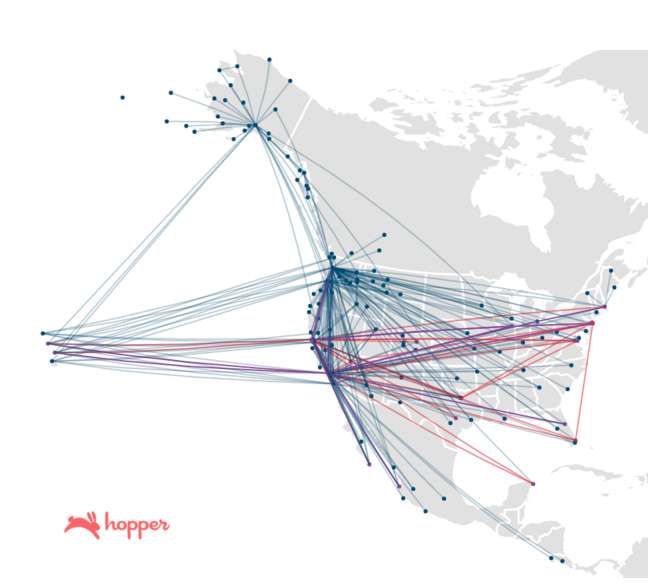 Figure 1: Combining Alaska Air's network (blue) with Virgin America (red), with overlap shown in purple. Virgin helps Alaska expand its footprint into the east and south, adding multiple routes from California to the northeast.
Virgin's network is a good complement to Alaska's existing service, helping them expand to the south and east from their traditional northwest base (see Figure 1). The overlap is relatively small, accounting for only 15 nonstop markets which makes up about 40% of Virgin's network but less than 10% of Alaska's, meaning that few routes will suffer reduced competition after losing a carrier. Alaska already serves all but two (DAL & LGA) of Virgin's 24 airports, pointing to likely synergies for ground operations.
Alaska's current network plus existing interline agreements with other domestic carriers will offer vastly more connection options for Virgin passengers, which primarily offered a point-to-point service without connecting options to other airlines.
Increased competition for the dominant "big 3" domestic airlines (American, Delta and United) is likely to be good for consumers on the whole. However, in overlapping markets, Virgin's prices are about 18% lower on a weighted like-for-like basis, so Virgin customers on those routes might get hit with slightly higher prices.
The future of Virgin America's hip brand is uncertain. Hopper has found that customers are willing to pay almost 10% premium for Virgin's service. But with Alaska topping the domestic "traditional carriers" for customer service, it could be a good fit if they can integrate successfully.