Even though Coachella is over, there is still plenty of time for you to catch your favorite artists at music festivals this summer. However, there are over 30 music festivals happening throughout the US this summer which can make it daunting to choose one.
To help you decide which festival to attend, Hopper put together a list of tips, as well as an interactive planning tool.
Check the Official Website for Tickets
Though some festivals are sold out, most festivals still have tickets available through their website including Firefly, Counterpoint, Bonnaroo, and Hangout
The average savings from buying directly from the official festival website vs. a ticket resale website is 17%
Check StubHub for Ticket Deals
For sold out festivals, StubHub is the cheapest place to buy tickets
About 70% of festivals have tickets available on StubHub
Some festivals actually have cheaper tickets available on StubHub than on the official website. The festivals with the biggest discounts on StubHub are Moogfest (51%), Counterpoint (27%), and Wakarusa (14%)
Investigate Where Your Favorite Artists Are Playing
Many artists are playing multiple festivals this summer so examine all your options. For example, 8 artists are playing at 8 or more festivals in our database including Outkast (12), Chance The Rapper (11), Big Gigantic (9), and Foster The People (9)
Use Hopper's interactive tool (Figure 1) to see what your best options may be to catch your favorite artists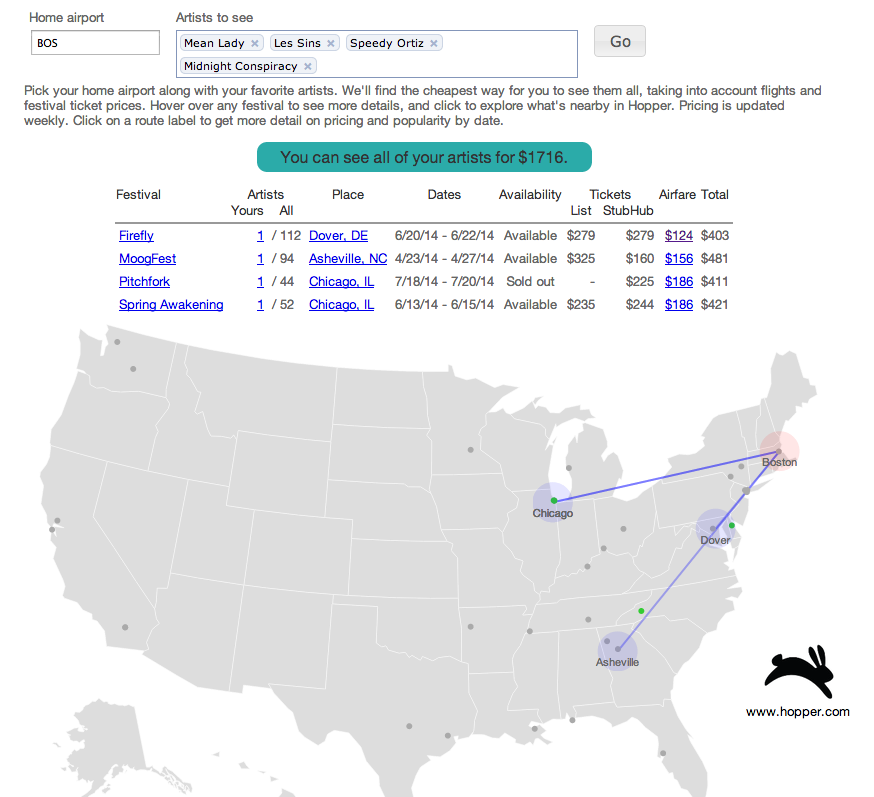 Figure 1: Example screen from Hopper's interactive festival trip planning tool
Consider the Daily Schedule
Smaller festivals may offer you the opportunity to see more artists on the lineup because there aren't overlapping sets
The festivals that are most likely to pose scheduling conflicts are Coachella with an average of 56 artists a day, Lollapalooza with 42 artists a day, and Free Press with 39 artists a day.
Book travel and accommodations with your ticket
Book flights at least 30 days in advance and save as much as 42% (as compared to buying the day off)
Festival websites often have discounted lodging or travel packages
Data and Methodology
The data presented in this analysis comes from Hopper's combined feed of Global Distribution Service (GDS) data sources which includes about 10 million queries and 1 billion trips per day.  Demand is represented as the number of queries not actual ticket purchases, and is calibrated across all GDS sources for each market.
The optimized list of festivals to attend is created by including every artist in the user's selection at least once and minimizing on the total cost of the festival (both ticket price and flight price). The ticket price is based on availability through the festival's site and the current StubHub list price. The flight price is determined by finding the average round trip price between the user's home airport and all airports surrounding a festival, and selecting the airport with the lowest fare.