People living in the North East of the US are the most likely to fly to a romantic Valentine's day weekend get away rather than plan a trip during any other time in January through March.  Those looking to break with their city for the weekend, and find romance elsewhere, are from New York and other wintry places in the New England area.  The full list in order of popularity is Buffalo, Albany, Syracuse, Rochester, New York, Newark, Providence, Portland, and White Planes.   Boston appears to be more a romantic city and doesn't make the list of places that people are leaving.
Those interested in traveling for Valentine's day are hooking up with Florida, New Orleans, the historical South, and romantic skiing.  The full list in order of popularity is Melbourne, New Orleans, Myrtle Beach, Savannah, Key West, Fort Lauderdale, Jackson Hole, Charleston, West Palm Beach, and Sarasota.   Overall warm destinations are more popular, and Jackson Hole is the only ski destination that makes the top 10 list.  Looks like Florida, and not Virginia, is for lovers.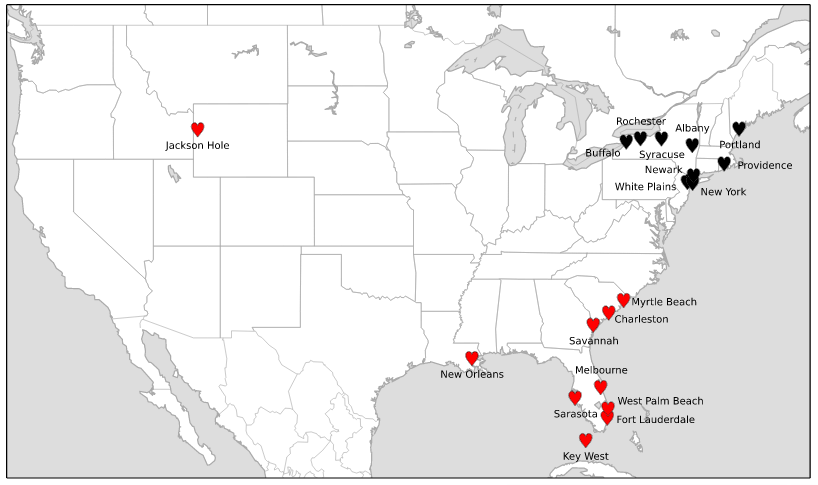 Figure 1:  Cities that Americans are interested in leaving and flying to for Valentine's day. Places where people are most likely to travel from for Valentine's Day are shown in black and cities that people are most likely to visit for Valentine's day are shown in  red.
Data and Methodology
The data presented in this analysis comes from Hopper's combined feed of Global Distribution System (GDS) data sources which includes about 10 million queries and 1 billion trips per day.  Demand is represented as the number of queries not actual ticket purchases, and is calibrated across all GDS sources for each market.
For this analysis, we looked at all domestic origins and destinations and compared demand for Valentine's Day weekend dates (traveling Feb 13-15, 2014) to that for the first three months of the year.