Summary
China is expecting high travel for Chinese New Year[1], but that travel will not be coming from the US.
Search demand for May and late December flights from the US to China is as much as seven times higher than for other dates.
These summer vacation and winter holiday trips are typically planned 2-3 months ahead.
The overall demand pattern is correlated with the distribution of the Chinese-American population, presumably traveling to visit family and friends, rather than American tourists.
Popularity of Travel to China from the US
China is expecting high travel volumes for Chinese New Year[1], but that travel will not be coming from the US.
Figure 1 shows when people in the US search for flights to China and the departure dates they're looking for.  Searches are highest in March, April and September and the most popular times that people want to travel to China are May, to a lesser extent June, and late December.  There is a tiny uptick in travel popularity at the end of January, but it is significantly smaller in magnitude to the truly popular travel times.  Searches for travel also dip during Thanksgiving and Christmas holidays.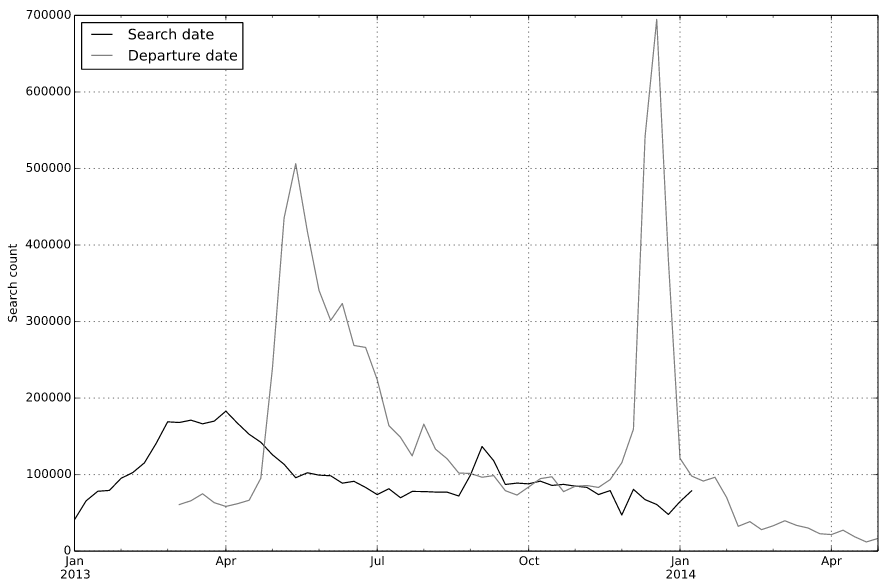 Figure 1: Popularity of travel from the US to China by search and departure dates, based on the major Chinese airports: Hong Kong (HKG), Ghuangzhou (CAN), Beijing (PEK), and Shanghai (PVG, SHA).  All airports show similar search demand patterns, though it is less extreme for commercial destinations like Ghuangzhou and Hong Kong.
Figures 2 and 3 show the most popular destinations for US travelers to China as well as the most popular origins.  Beijing, Shanghai, and Hong Kong are the largest destinations with New York, San Francisco, Los Angeles, and Chicago being the largest origins.  The US origins line up well with census data showing cities with the largest Chinese American populations[2].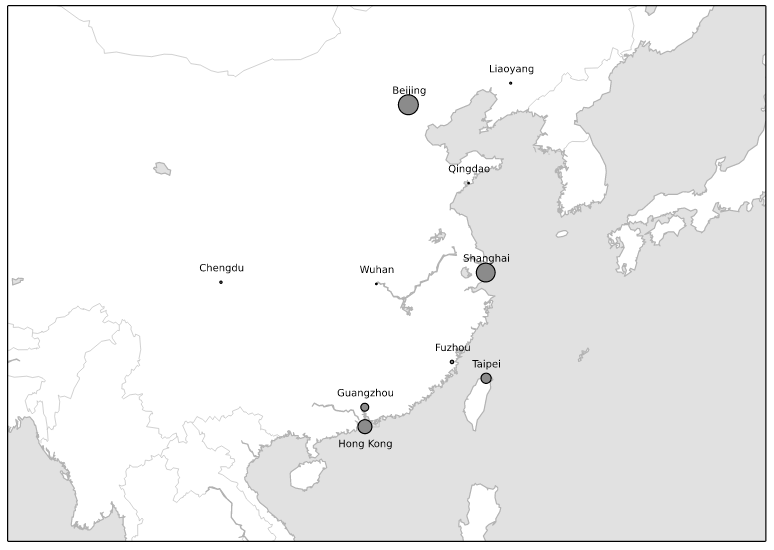 Figure 2: Top 10 destination airports in China and Taiwan for travelers from the US, with circle area corresponding to 2013 search volume.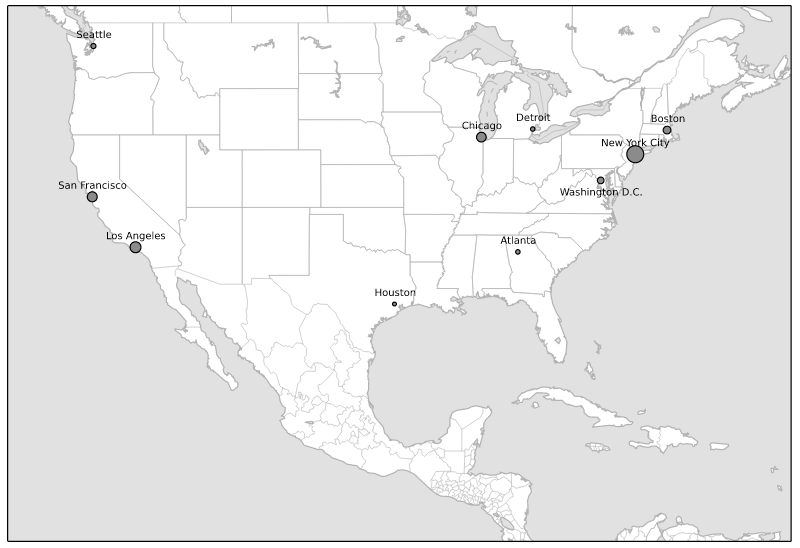 Figure 3: Top 10 US origins for travel to China and Taiwan.
1.http://www.businessweek.com/articles/2014-01-16/chinas-massive-spring-festival-travel-forecast-3-dot-6-billion-passenger-trips
2.https://www.census.gov/prod/cen2010/briefs/c2010br-11.pdf
Data and Methodology
The data presented in this analysis comes from Hopper's combined feed of Global Distribution System (GDS) data sources which includes about 10 million queries and 1 billion trips per day.  Demand is represented as the number of queries not actual ticket purchases, and is calibrated across all GDS sources for each market.  Lowest fare, or deal fare, is represented by the 10th percentile prices.  For example if the 10th percentile price is $800 dollars it means that only 10% of trips are priced at or below this price.