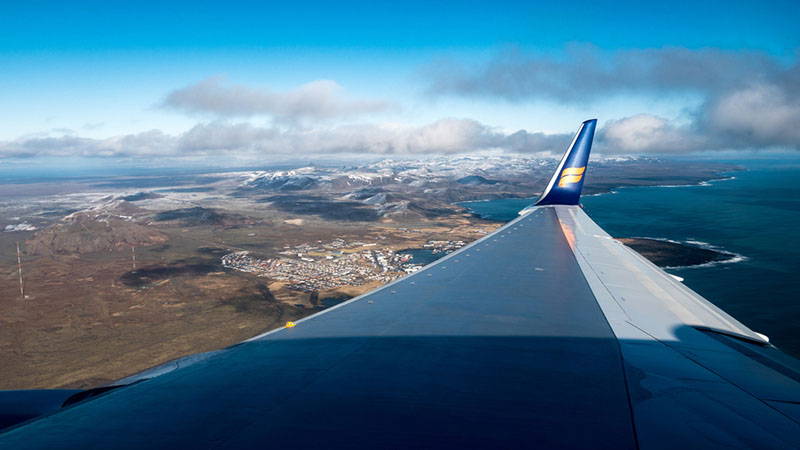 If you booked a $500 transatlantic roundtrip three years ago you'd get high fives and friends pressing you for your secrets. These days? A sub-$500 flight to Europe is not so rare. The glory is gone. Everyone is doing it. For flyers, it's undoubtedly a good thing that prices are more accessible.
But with airfares from the US to Europe falling 9.6% in the last year (as our data science team found in September), I wanted to examine the market closely. What is causing this historical price decrease? Are there lessons to be learned for competing airlines?
Popular theory holds that it's the doing of European low-cost carriers like WOW Air and Norwegian Air Shuttle that have caused some monumental price cut. Back in 2014, consumer media speculated, "As new players on some key international routes begin showing up at major U.S. gateways, there's a good chance that [price] drop may happen." (Source).
So I wanted to know for sure: What actually happens to the market when an LCC enters? Does market share noticeably shift away from the legacies and the flag carriers and onto the LCCs? Is it the same pie with thinner slices, or is the rising tide lifting all boats (and cutting all prices)?
Our data science team looked at nearly two dozen popular routes from the East Coast to Europe that the low-cost carriers have recently begun flying, such as JFK-CDG, BWI-LHR, and so on. We intentionally chose routes that were once dominated by an established carrier, such as JFK-CDG, that an LCC began flying within the past two years.
I first wanted to define three different type of carriers: upstart European competitors (Norwegian, WOW), budget flag carriers (Turkish, Icelandair), and established legacy airlines (Delta, United, Air France). I did this to differentiate three different models and price points. Norwegian and WOW are both low-cost carriers that operate with a low base fare, high ancillary model. Turkish and Icelandair offer moderately priced base fares but plenty of inclusions, such as stopovers and baggage. The established airlines that we'll consider are Air France, Delta, and United.
What Happened to Prices?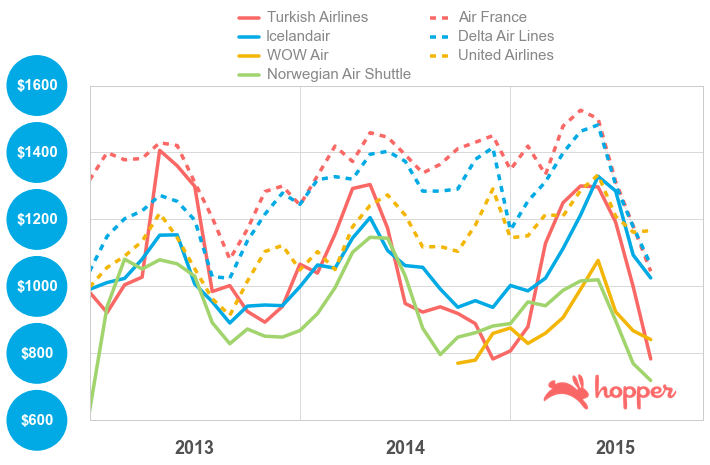 Above, we plotted the average pricing on these routes from U.S. to Europe. WOW, the solid yellow line, entered the market in winter 2014, while Norwegian (the solid green line) entered before 2013. The LCCs entered at low price points, and while there is high seasonal volatility, LCC prices have stayed well below the established global carriers, represented by the dashed lines, who traditionally dominated those same routes.
Even a cursory glance shows a dramatic price difference between the budget and low-cost carriers and the established carriers: The LCCs' ticket prices are as much as $400 lower. Apart from a brief dip in 2013, the flag carriers' and legacy airlines' pricing remains high.
An interesting aside: The established carriers exhibit far less seasonal price volatility, while the LCCs do. Look at the LCCs' price decreases in winter months especially.
What Happened to Market Share?
Price competition is not the end of the story, of course: Market share is. Below, we mapped the market share of all seven carriers we studied.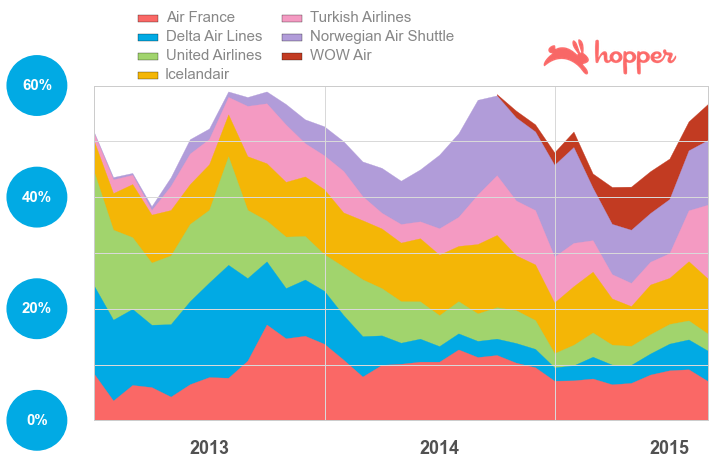 Both Turkish and Icelandair's market shares are relatively steady. However, there is a noticeable shift at two points. First, Norwegian's market share (purple) begins to increase in early 2014, overtaking Turkish and matching or nearly matching Icelandair's. Secondly, when WOW Air (red) enters the market, the airline very quickly gains share.
Interestingly, WOW's market share then begins to match Norwegian's. If you look at the price comparisons in Figure 1, you can see that at the same time, WOW actually undercuts Norwegian's pricing.
And what about the established carriers? The loss in market share for these airlines is clearly seen around August 2013, when Norwegian's market share begins to grow (both Delta's and United's shrinks) and again around January of 2015, corresponding to WOW's increase on the right. United's once robust share (green) has shrunk considerably by 2015. Delta's (blue) has done the same.
Conclusion: Our fact-finding mission uncovered that, yes, a combination of new routes and super-competitive off-season pricing have given the new competitors a sizable edge in Europe.
The most recent disrupter in this case is WOW, the Icelandic LCC known for its bare-bones in-flight amenities, ancillaries, and friendly-funky service. Perhaps most interestingly, they even managed to undercut Norwegian Air's famously low price points. There's your reason why Norwegian suddenly announced $69 flights from the U.S. to Europe beginning in 2017 — a smart and competitive move.
To a small degree, Turkish and Icelandair, once the darlings of budget flight to Europe, have seen a shift in their European market share. But the legacy carriers are even more vulnerable in this new world. To revisit an earlier analogy, their slice of the pie is becoming a sliver.
What can be done?
Three Action Items:
Shifts in share, the debut of new routes, and market disruption are just a few of the inevitabilities in this highly competitive vertical. But a loss of market share is not the end of the story. A few things stood out to me as I gathered and analyzed this data: the things that these new carriers are doing exceedingly well, that other airlines should be noting.
1. Targeted Deals
Winter seems to be a boon for the European LCCs, when price-conscious travelers are more likely to fly and select a greatly reduced fare (look again at the price trends, when Norwegian and WOW offer dramatically lower flights each winter). These off-season periods offer opportunities for enticing deals that an airline could target to leisure travelers who haven't yet chosen a specific European destination. These flyers want to go to Europe, are not yet sold on a particular point of entry, and are shopping one thing: price.
An airline could handily win back market share by targeting the right users at the right time on the right platform. This may mean targeting shoppers at the individual route level via a special off-season deal (a push notification to app users, a discount or incentive to mobile-only bookers, or highly targeted social channel ads).
2. Brand Reinforcement and Value Adds
With competition in the European market so fierce, a unique opportunity is offered to individual airlines: The opportunity to reinforce brand value to capture high-value or repeat customers. For example, Turkish Airlines (currently ranked #4 in Skytrax World Airline Awards) differentiates itself with an amenities-rich business lounge for premium flyers for which even economy passengers can buy access; Delta has offered services for premium flyers such as car service.
These brand differentiators don't have to be luxury-focused: Many established airlines include checked baggage in the base cost of international airfare, whereas the LCCs often charge for additional service like seat selection, cabin and carry-on baggage, meals and so on. Consider any inclusions or services as a means of differentiation, a bargain and a boon for price-conscious flyers. Play up and call out inclusions as a branded value add.
While Turkish and Icelandair were affected by the entrance of the LCCs, they both offer a unique value add that the others do not: a free stopover program in the airline's hub city (Istanbul and Reykjavik, respectively). Both airlines have been savvy about marketing these stopovers as vacation-extending value adds. Is a stopover program in your future?
3. Partnerships
Gaining high-value shoppers, whether one enters a new market or maintains hold of one, is difficult. Reaching the right shoppers adds to the uncertainty, as traditional and digital marketplaces are flooded with travel advertising. To find shoppers, airlines should seek partnerships that offer highly targeted segmentation. Working with vendors that can offer not just entry into emerging markets but also mobile-friendly sales targeting and social-channel savvy, is key in this ever-shifting LCC landscape. Are you currently able to target Android users in Baltimore interested in Europe but not yet sold on a destination, who won't spend a penny over $X, who never check their email? Find out who can find you those users, at the right price, at the right time. Your mobile strategy has never been more important: With each passing year, more consumers are shopping for and booking travel on their smartphones. Mobile partnerships should already be a big part of your strategy.
A final thought: The lesson here is not to copy wholesale the strategy of another brand, of course, or to change revenue models. To do so would risk brand integrity and a long history of success. Instead, airlines must be aggressively opportunistic. Depending on their business strategies and long-term objectives, every brand can capture leisure customers and adapt to this shifting landscape.