Summer days in Paris, warm nights in Spain: They're over (for now).
Demand for Europe travel is declining.
A recent consumer airfare report from our data science team found that air searches to Europe are dropping. Overall search volume for fall flights from the U.S. to Europe has fallen by 30% compared to summer 2015. This is in keeping with normal seasonal shifts in demand: Europe is always a far more popular place to fly in warm summer months.
Naturally, as demand falls, so too have airfares to Europe. While that shift in demand is normal, however, it's the shift in Europe prices that differs greatly from past years. The average price of a flight from the U.S. to Europe has dropped about 13% to $867, from a summer high of just about $1,000. And fall 2015 flights to Europe are a full 9.6% cheaper than they were in fall 2014. (See graph below.) These airfares can be much lower from certain departure points, especially on the East Coast: At Hopper, we recently saw enticing (and popular) fall flight deals from New York, Boston, and Baltimore to Europe going from the mid-$300 range.
Below, you can see the decrease in both price and demand for 2015 (solid red and blue lines, respectively).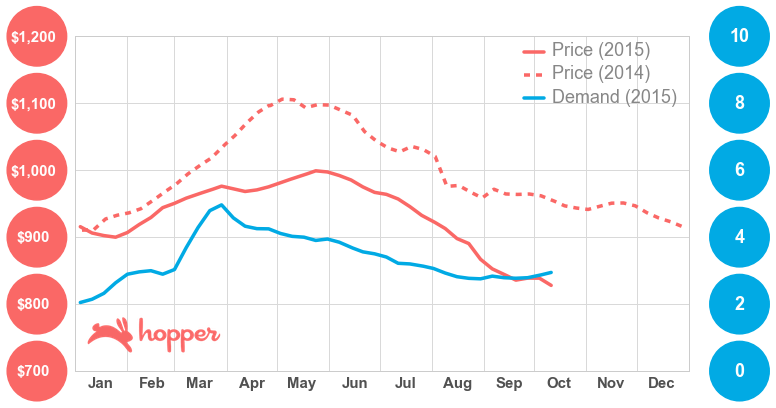 Below we mapped the top 15 European destinations with the largest discount on airfare, comparing summer to fall flight prices. In some cases, like Madrid and Paris, the price drop is noticeable, at around 20% on average. And on some particular routes, that fall discount is much more.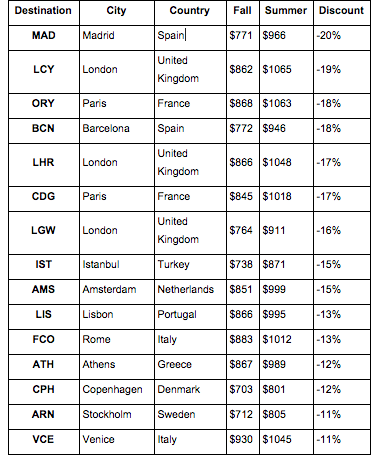 It's important to note here that low search volume doesn't necessarily equate to empty seats and half-filled planes. There's a necessary lesson for the supplier: When demand declines, an airline can step in to handily create demand.
Here are two ways suppliers can create real demand:
Target shoppers on price, not destination
Off-season travel is when most verticals, especially airlines, can capture budget-conscious consumers who are flexible about destination but picky about price. Create user segments of shoppers eager to explore Europe but not sold on a single destination. Target consumers via social channels, where younger and price-sensitive users are likely to uncover and share good deals.
Announce a sale
Fare wars are heating up, and price- (but not date-) sensitive consumers are eager for cheaper-than-average international flights. Consider announcing a discount for mobile bookers only, like Indian LCC SpiceJet did recently, or blitzing local media with a limited-time sale from that departure, as WOW Air did with a recent $99 fare sale teased to Boston and Baltimore media.
Look to content
This is something that our Hopper data science team does, producing airfare indices, engaging research reports, and timely, consumer-friendly travel articles. The shoulder and off-seasons are the perfect times to craft content about the benefits of an off-season European break. Seek a like-minded audience, but don't look past unusual partnerships from other verticals, destination marketing organizations, editorial publications, or apps. Focus on highly consumable "bites" of content that promote your routes and destinations off-season activities, and publish on mobile-friendly reading platforms that seamlessly funnel users into a booking flow. Consider using content to promote airline and even airport-hub amenities as well.