If you've been dreaming of an international getaway, this is one of the best years to go. The U.S. dollar is at its strongest in years and airfares are lower than they have been in more than three years.
Having to change dollars into foreign currencies may well be the most tedious part of international travel, but it also that means that budget­wary travelers can save a lot just by keeping an eye on how the American dollar fares against other currencies. Beginning in 2014, the US dollar has been on a tear against many world currencies so your dollar will buy you more in many foreign countries.
It's also a great time to score a flight deal. According to our latest Consumer Airfare Index, peak summer flight prices will be about 9% lower than last year due to plummeting oil prices and increasing competition between carriers.
We looked at currency and round-trip airfare from the US to other countries in spring 2016 and compared to two years early, in spring 2014.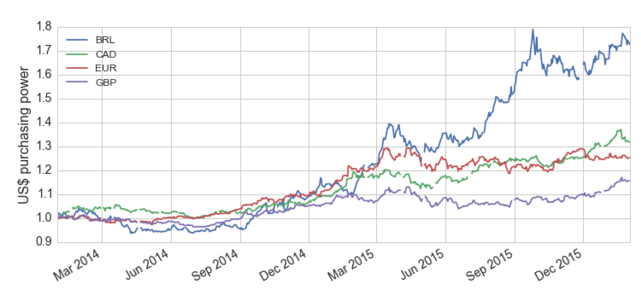 Figure 1: Relative strength of the US dollar against other world currencies including the Brazilian Real (BRL), Canadian dollar (CAD), Euro (EUR) and British pound (GBP), indexed to Feb 2014.
Currency Tourism
We found the biggest currency savings for popular foreign destinations, along with the weighted average change in flight prices over the same period.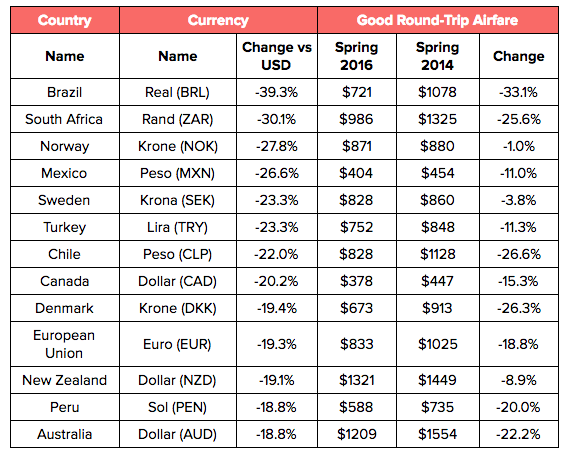 Table 1: Largest currency declines against the US$ in spring 2016 vs. spring 2014, along with the change in round-trip airfare over the same period.
Trending Destinations
Both Asia and Central/South America are trending upward in terms of share of flight search demand. There have been some big sales on Asia recently, and the Olympics in Brazil might be a draw. Demand to Europe is significantly down, with domestic share fairly flat.

Looking more closely at relative demand from the US to major European cities, we see that demand fell in the weeks following both the Paris and Brussels attacks, and then began to recover, albeit below normal levels. For the city directly involved, demand actually increases for a few days in the immediate aftermath as travelers explore alternative arrangements for planned or potential travel.
Methodology
The data presented in this analysis comes from Hopper's combined feed of Global Distribution Service (GDS) data sources which includes billions of trips per day. Demand is represented as the number of queries not actual ticket purchases. We used national currency data from ISO 4217 and analyzed year over year exchange rate data from https://openexchangerates.org/.