Summary
World Cup Popularity
The World Cup is soccer's largest event, happening only once every four years. It will be held this year June 12 to July 13 in Brazil.  As the 2014 World Cup approaches, Hopper looked into who is most excited about attending, as well as who will have to pay the most to go. While Brazil is a popular destination for warm-weather seeking travelers, the World Cup has driven a major shift in demand, particularly from US cities (Figure 1). The three cities with the highest increase in interest are Houston, New York, and Washington D.C., with increases of 2,360%, 2,156%, and 1,891%, respectively (Table 1). Of the ten cities with the highest increase in demand, 8 of them have active or pending Major League Soccer (MLS) teams, and the remaining two have a history of professional soccer (Phoenix was home to now-dissolved USL team Phoenix FC, and Las Vegas is the home of the PASL Las Vegas Legends).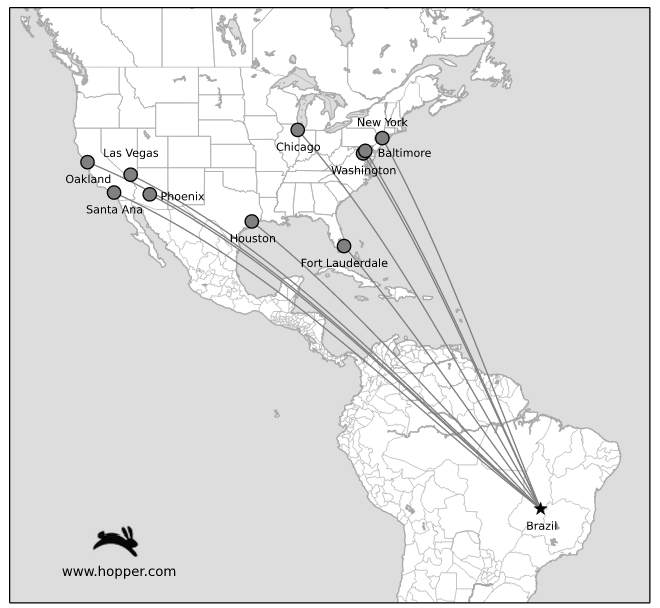 Figure 1: Top 10 most popular US origins going to the World Cup
City
Demand Change
Professional Team
2360%
Houston Dynamo (MLS)
2156%
New York Red Bulls (MLS)
1891%
D.C. United (MLS)
1529%
D.C. United (MLS), Baltimore Blast (PASL)
1428%
Team Pending (MLS)
1299%
San Jose Earthquakes (MLS)
1206%
Chicago Fire (MLS)
1143%
Phoenix FC (USL, Dissolved)
1112%
Las Vegas Legends (PASL)
1024%
LA Galaxy, Chivas USA (MLS)
  _ Table 1: Top 10 most popular origins for the World Cup, interest increase, and Professional Soccer affiliation_  
Prices to Brazil have also increased due to the World Cup.  On average, prices are 38% higher than they were last year.   Figure 2 shows the increase in prices for the top 10 origins going to Brazil.  Prices from Baltimore are up over 50%, and prices from both Phoenix and New York are up over 40%.
Figure 2: Prices for the top 10 most popular US origins going to the World Cup
Pricing by Team
While no one knows how far their team will make it in the World Cup, first round games have already been scheduled from June 12th to June 26th. For the first round, teams have been placed into Groups by the Fédération Internationale de Football Association (FIFA) and each team will play against all the teams in their group.  The two winning teams from each Group will move on to the next round.
Hopper looked into how much it costs to follow a team through the first round once in Brazil, by finding the cheapest flights between host cities. We found that teams in Group A (Mexico, Brazil, Croatia, and Cameroon) and Group G (Germany, Ghana, Portugal, and USA) are the most expensive to follow at just under $400, while teams in Group B (Spain, Australia, Chile, and The Netherlands) can be seen on average for under $200 (Figure 3).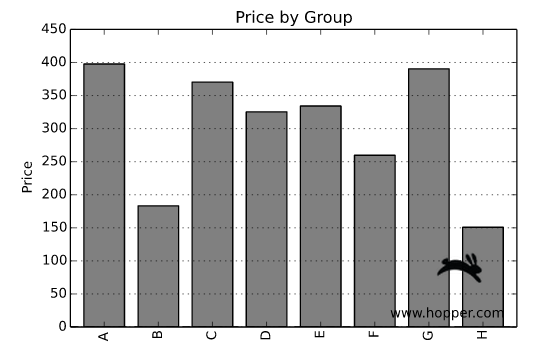 Figure 3: Average price of following a team by group  
However even within each group the cost of following a specific team varies due to the ordering and timing of cities and games. Overall, Japan (Group C) is the most expensive at nearly $774, and Team USA (Group G) is the second most expensive at $557 (Table 2). These are only prices for travel within Brazil, so costs to Brazil have to also be factored in.  The full breakdown of team groups, game cities and pricing can be found in Table 4.
Team
Group
Price Between Games
Game 1
Game 2
Game 3
Japan
C
$774
Cote d'Ivoire (Recife)
Greece (Natal)
Colombia (Cuiaba)
USA
G
$557
Ghana (Natal)
Portugal (Manaus)
Germany (Recife)
Cameroon
A
$556
Mexico (Natal)
Croatia (Manaus)
Brazil (Brasilia)
Portugal
G
$551
Germany (Salvador)
USA (Manaus)
Ghana (Brasilia)
Croatia
A
$503
Brazil (Sao Paulo)
Cameroon (Manaus)
Mexico (Recife)
Italy
E
$435
England (Manaus)
Costa Rica (Recife)
Uruguay (Natal)
Greece
C
$404
Colombia (Belo Horizonte)
Japan (Natal)
Cote d'Ivoire (Fortaleza)
Bosnia and Gerzegovina
F
$401
Argentina (Rio De Janeiro)
Nigeria (Cuiaba)
Iran (Salvador)
Switzerland
E
$396
Ecuador (Brasilia)
France (Salvador)
Honduras (Manaus)
Honduras
E
$362
France (Porto Alegre)
Ecuador (Curitiba)
Switzerland (Manaus)
  Table 2: Top 10 most expensive teams to follow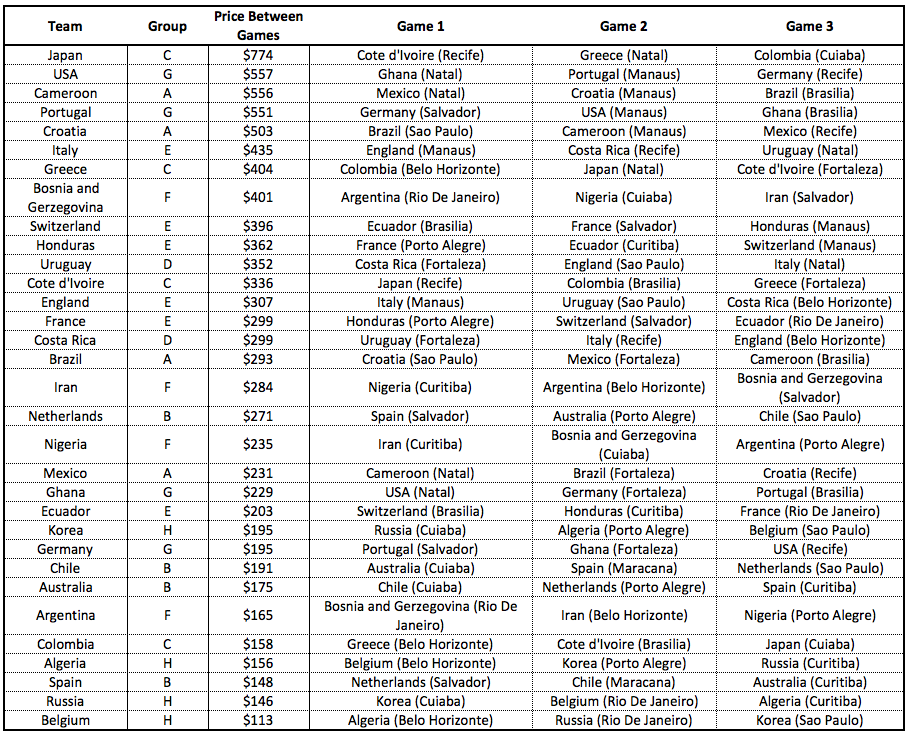 Table 3: Full list of cost to follow by team
Supporting Team USA
In addition to dropping $557 on flights between Natal, Manaus, and Recife, supporters of Team USA will also have to keep in mind how much it will cost to get to and from Brazil.  Americans can expect to pay on average about $1,600 for a round trip to Brazil, or $1,707 to fly into Natal and out of Recife (the locations of the first and last US games).  Looking at specific US origins to Brazil, Hopper found the ideal travel dates and airports for travel to Natal and out of Recife for the ten cities with the highest interest. The dates searched allowed for travel both a week prior to the first game and ten days after the last game.  Houston has the highest costs to Brazil, while Santa Ana has the lowest (Table 3).   The prices in the table are good deal prices and will increase as the date of travel approached (Figure 4).
Table 3: Ticket prices to Natal and from Recife for the top 10 interest cities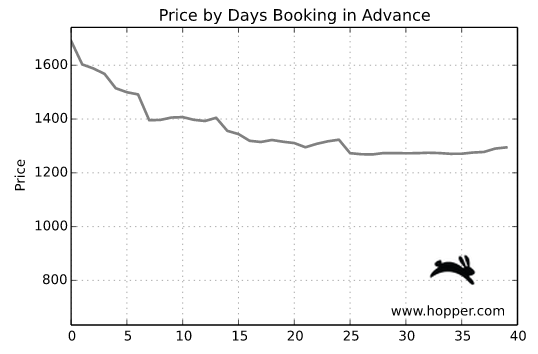 Figure 4: Average round-trip price from US to Brazil as a function of days booking in advance
Advanced Purchase and Length of Stay
Those going to watch the World Cup from the US are booking about 40 to 60 days in advance (Figure 5), which is a longer then typical advanced purchase window.  Length of stay tends to peak at 14, 7, 15, and 9 days going from most to least common (Figure 6).
Figure 5: Advanced booking for US to Brazil travel for the World Cup
Figure 5: Length of stay for US to Brazil travel for the World Cup
Data and Methodology
The data presented in this analysis comes from Hopper's combined feed of Global Distribution Service (GDS) data sources which includes about 10 million queries and 1 billion trips per day.  Demand is represented as the number of queries not actual ticket purchases, and is calibrated across all GDS sources for each market.  Good deal prices are represented by the 10th percentile prices.  For example if the 10th percentile price is $800 dollars it means that only 10% of trips are priced at or below this price.