People will say, the best things in life are worth waiting for, but sometimes that isn't really accurate – particularly, for example, when you book a flight for a Mexican beach town on a Wednesday and you're ordering your third piña colada that Friday, just, y'know, for the hell of it. Quite often enough, living with such reckless abandon is either reserved for the wildly rich or extremely stupid, but this particular situation is a little bit more within reach because you don't need to be wildly rich to take a last minute flight to San José last minute for less than $400 return. Sometimes the airfare gods bless us, and sometimes they simply don't add huge premiums on last-minute fares on select routes – call it fate, or call it a reminder to #YOLO from the research team here at Hopper, but here are 10 last minute airfare deals flying out of LAX separated into two sections: domestic and international.
In the spirit of spontaneous travel, Hopper has just released a new app called Flight Tonight for iOS 7 devices that makes it possible to find great last-minute deals on flights from your home airport departing within 24 hours. You could literally book your flight on the way to the airport!
Download Hopper's new Flight Tonight app from the iTunes App Store now to find great last-minute deals departing from your airport!
Five domestic deals when flying last-minute from Los Angeles: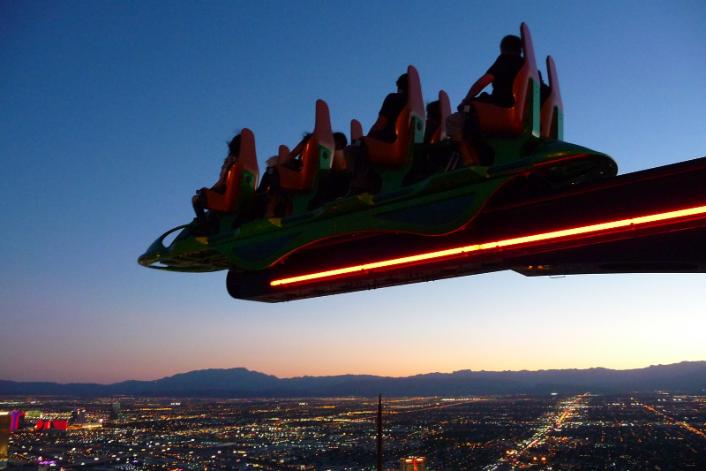 Stratosphere Las Vegas, Las Vegas – photo by Wolynski
The best way to hit Las Vegas is on a whim – and if you're flying from LA, it's a pretty economical whim, at least in terms of airfare. For as low as $182, you could be swapping highways for the Strip and using that surplus cash on the roulette tables, or a night with Céline Dion, or… hell, anything goes in Vegas! OK, so flights are a bit cheaper when booked two weeks in advance, $90 return, but a little spontaneity is definitely worth an extra $90!
To truly save on flights to Las Vegas, check out Hopper's tips for finding cheap tickets from Los Angeles to Las Vegas.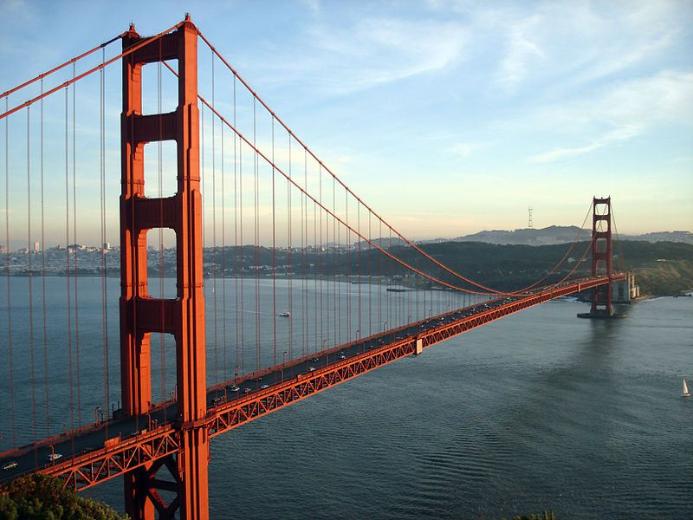 Golden Gate Bridge, California – photo by wonderslist
Got an emergency meeting in SF tonight? Hankerin' for some of that Golden Gate golden sundown? Never fear, last minute flights are here! For around $286 return, you could be chilling in the Bay Area in less than two hours – which is a deal, considering it takes six hours to drive between the two cities!
The Hopper research team has also put together this tips article showing travelers how to find the cheapest tickets to San Francisco from Los Angeles.

Photo by dagpeak/Flickr.
Need to get to Denver right quick? It's one last minute flight that won't cost an arm and a leg – for as low as $312 return, you can bet on being in that Mile High city by the weekend, sippin' an alpine brew or hiking the Rocky Mountain National Park. Check flights with Frontier or United Airlines for a nonstop flight at a great deal.
Not feeling inspired enough to make a booking? The Hopper travel section on Denver will get you there!

Photo by Thomas Hawk/Flickr.
The cheapest flights we've found going to Portland in the next six months were priced between $215 and $264, but if you're looking to travel right now rather than wait for a better deal, a last-minute flight isn't even too much of compromise. In fact, a departure tomorrow could cost as low as $341. Do it. You know you want to.
Oh Portland. How do I love thee? Let me count the breweries. And afterward let me go to them all!

Photo by Don Sullivan/Flickr.
Have an extra ticket to a Seahawks game but it's…. next week? Let the flight be the least of your worries, since a last minute flight to Seattle doesn't cost an arm and a leg. For under $400, you could be in Seattle tomorrow, if you wanted to. Travelers will be spoiled for choice, too, as all five airlines flying nonstop between the two cities, American, United, Alaska, Delta and Virgin America, offer similarly low fares.
The feed at Hopper Flights is a great way to find deals from Los Angeles to Seattle and compare fares from the five airlines flying direct.
Five international deals when flying last-minute from Los Angeles:

Photo by Psicoloco/Flickr.
Want to really get away this weekend? How about like, another country kind of "away." Mexico might just be across the border, but it's a whole other culture. Just think: wandering around the grand Mexico City Cathedral in Centro, tasting a wealth of street food, catching a match of Lucha Libre and sipping mezcal, all at the drop of a hat for a steal at just around $400.
Aeromexico occasionally offers fare sales between Los Angeles and Mexico City. Check for one now on the feed at Hopper Flights.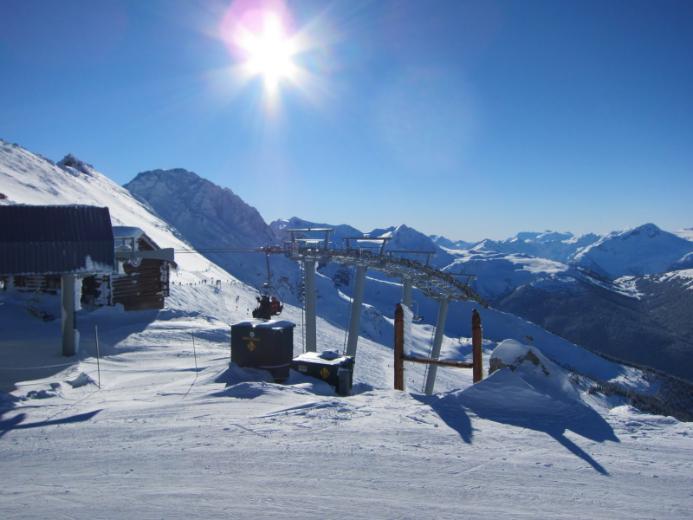 Whistler Blackcomb, Whistler – photo by globalvillagevancouver
L.A. might have great beaches, but what if you want to go skiing this weekend? There aren't too many snow-capped peaks in Pasadena, but for a relatively easy $400 return, you could be hitting the legendary slopes in Whistler this weekend. Now that's a deal!
Typically, Air Canada offers the cheapest tickets to Vancouver from LAX. It's also one of North America's best-rated airlines, so that's a bonus!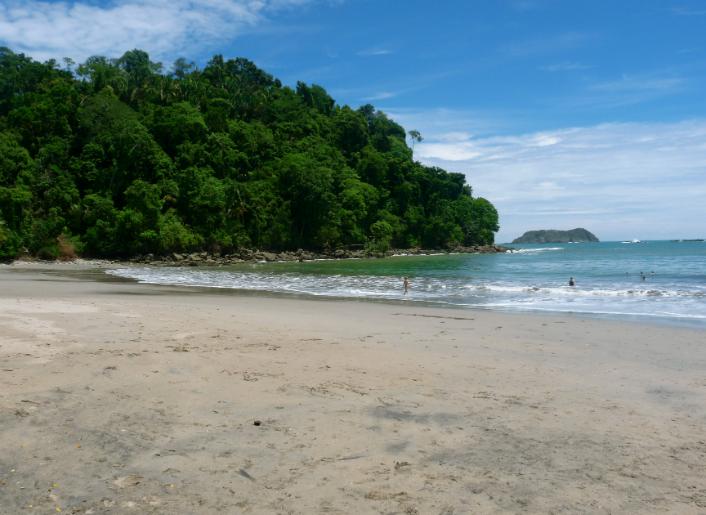 Manuel Antonio National Park, Costa Rica – photo by directionswego
For a quick, action-packed getaway, a flight to San José starts at $392. From there, you can either chill resort-style on a nearby beach, explore the Arenal Volcano and its national park or spend a night or two in a rainforest lodge.
Find inspiration for ways to spend your holiday in Costa Rica with Hopper's look at one week in Costa Rica.

Photo by HBarrison/Flickr.
How about a last minute romantic spree? Couples who don't want to spend another weekend binge-ing Netflix documentaries (again) or catching up on menial errands can instead surprise one another with a last-minute escape to Puerto Vallarta, one of the finest of the Mexican resort destinations. The price tag on that surge of spontaneity? Around $395 each for a return.

Photo by Alejandro Castro/Flickr.
For a view of old Mexico, Guadalajara, the capital city of Jalisco, Mexico, offers gorgeous, sweeping colonial architecture in an atmosphere a little more relaxed that Mexico City and a little more exciting than the sleepy resort districts of the Yucatan region. Get there this weekend for as low as $395 for a round trip booked a day before flying.
Hopper can save you hundreds of dollars on your next flight purchase. Just take a look at our tools page, choose your airport and save!