Have stories of that fabled desert megalopolis been drifting over the Southwest for too long now? Are you eager to seek out that celebrated land of glitzy party hubs, gilded casino halls, showering fountains, chiseled canyons and endless hedonism? Is the fanciful neon glow of Nevada drawing you into the west? Well, rest assured, with 641 flight searches every day in the last four weeks alone, you aren't the first Hartford local to reckon your chances on the tables of Vegas, and you certainly won't be the last. So, we at Hopper have put together this selection of tips to show fliers how to find cheap flights from Hartford to Las Vegas.
See the great deals travelers are finding right now on flights between Hartford and Las Vegas using the Hopper Flight Explorer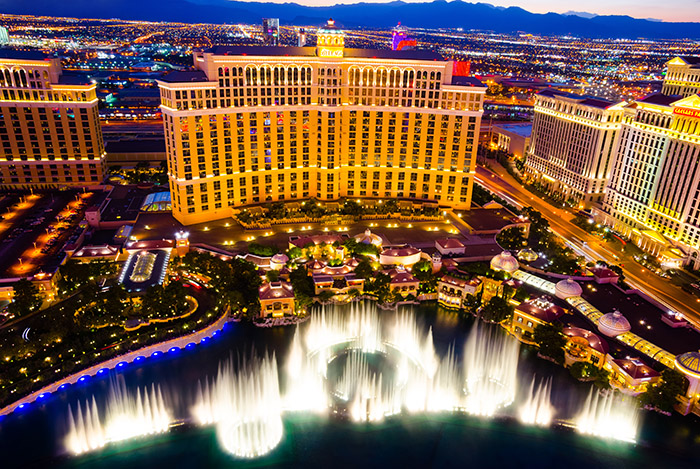 1. The cheapest time to book a flight from Hartford to Las Vegas is 14 days in advance, saving up to $250
Hartford locals eager to build up that bankroll and hit the Strip with as much loose change as they can muster should consider booking their flights from Hartford to Las Vegas at least two weeks in advance, when prices seem to drop to an all-time low of around $400 return. After that it's up, up and up some more, until fares peak at around $650, meaning a little forward planning here could add as much as $250 worth of chips to the stack!
2. The cheapest time to fly from Hartford to Las Vegas is in August, saving up to $140
Okay, granted Vegas may be sizzling in August and the nearby attractions of Red Rock Canyon and Death Valley are close to unbearable, even for the most hardened of outdoorsy types, but the MGM Grand has air conditioning, and the Bellagio's got plenty of pools. So, if you think you can put up with the heat between the airport and the hotel, then why not opt to hit Sin City in the late summer, saving as much as $140 on air fares along the way!
3. The cheapest day to fly from Hartford to Las Vegas is on a Tuesday, saving up to $93
Apparently it's not just the clubs of the Vegas strip that rock when it comes to holidaying in Sin City - midweek air departures do too, often saving passengers coming in from destinations right across the US a hefty sum on their tickets. Flights out of the Bradley International Airport are no different either, offering a possible saving of a whopping $93 for flying on a Tuesday or a Wednesday. Perhaps a little oddly, Saturday departures are also cheap, fielding a potential reduction of $91.
4. Save up to $135 by returning on a Wednesday
With Mondays and Sundays coming in as by far the most popular return options for passengers leaving Las Vegas, it's hardly surprising that mid-week connections back home are the cheapest, with fliers departing on Wednesdays in store for a possible deal of up to $135. Together with possible savings made by leaving Hartford on a Tuesday, that's a potential of $228 off the total price of your fare. Just think what you could do with that in the casinos!
5. The cheapest day to buy a flight from Hartford to Las Vegas is on a Saturday, saving up to $20
Perhaps a little unusually, we discovered that it's best to book your air fares between the Bradley International Airport in Hartford and Vegas' McCarran International on a Saturday, which is when the weekly demand for seats on the route hits its seven-day low. Wednesday is both the most popular and the most expensive day to book, coming in at around $20 more on average, while we found that Tuesdays and Sundays are also best avoided.
6. American Airlines has the cheapest flights from Hartford to Las Vegas
Recently overtaking Delta Airlines at the top spot here (though only by $1), American Airlines are now the cheapest overall carrier offering connections on the route between Hartford and Las Vegas. On average their service between the two cities takes between nine and 10 hours, costs about $342, and goes via Chicago's O'Hare International. Delta on the other hand include a stopover in the Detroit Metropolitan Airport, but take around three hours less in the air.
Airlines offering connecting flights from Hartford to Las Vegas:
- American AIrlines makes the journey in 10 hours via Dallas-Fort Worth Airport for $342 round trip, on average.
- Delta Airlines makes the journey in 8 hours via Hartsfield-Jackson Atlanta International Airport for $343 round trip, on average.
- United Airlines makes the journey in 10 hours via George Bush Airport for $371 round trip, on average.
- US Airways makes the journey in 8 hours via Chicago's O'Hare Airport for $345 round trip, on average.
7. Frequent fliers on American can use 25,000 miles to book a round-trip ticket
Price battles aside, one very attractive reason to opt for American on this route could be to bag a seat for nothing (well, perhaps just a smidgen next to nothing). The offer is open to any member of the carrier's loyalty program who has accrued enough air miles to cash in a route within the continental US. For economy passengers that means a total of 25,000 miles round trip, while for business and first class passengers it could mean anything upwards of 50,000.
8. Check out Hopper's When to Fly and Buy Reports for up-to-date information
There's nothing like a whole cascade of raw statistics to get your head around when bargain air fares are what's at stake, and there's no clearer outline on Hopper's specially tailored When to Fly and Buy Reports page—which includes technical breakdowns of nearly 3 million pieces of data related to the route from Hartford to Las Vegas, alongside a simplified look at all the most pertinent information, from monthly highs and lows to individual airline averages for the past month.
See Hopper's latest when to fly and buy report for flights from Hartford to Las Vegas for constantly updated information
9. Take a look at Hopper's Airline Fee Calculator to get the real cost of your ticket
If you've packed a few too many tuxedos for your evenings in Caesars Palace, or have stuffed that bag too full of hiking gear in preparation for your jaunt across the dusty ridges of the Red Rock Canyon, only to find you're going to need to some extra carry-on space, or perhaps a checked bag, be sure to head over to Hopper's Airline Fees Calculator, which offers a comprehensive breakdown of all the additional fees and services associated with your plane ticket.
10. Keep in mind that a cheap flight from Hartford to Las Vegas is about $343 round trip
Too often have we seen would-be buyers fall victim to the allure of returns from Hartford to Vegas for $295 and the like. That's not to say they don't exist. They do, but are typically snapped up by around just 10% of fliers. That means that in order to grab the best possible fare, you'll not only have to follow all the pointers on this list, but also keep in mind that a good price for any ticket between these two cities is typically in the region of $343.