Jacksonville lies a two-hour drive north of Orlando, but if you'd prefer an escape to a grown-up's amusement park, then you'd do better to jump on a plane to Las Vegas. The flight will take you across the broad southern belt of the USA, from Florida's humid heat to the dry desert sun of America's neon city. Everything in Vegas is designed to hoover up your money in exchange for the exhilarating atmosphere, so you'll want to arrive with as many dollars in your virtual wallet as possible. One big cost that you can cut down on is your airfare: there are heaps of small factors that influence its overall cost, and if you can control some of these, you can reduce your final ticket price by a remarkable amount. Here we've gathered together 10 tips to find cheap flights from Jacksonville to Las Vegas.
See the great deals travelers are finding right now on flights between Jacksonville and Las Vegas using the Hopper Flight Explorer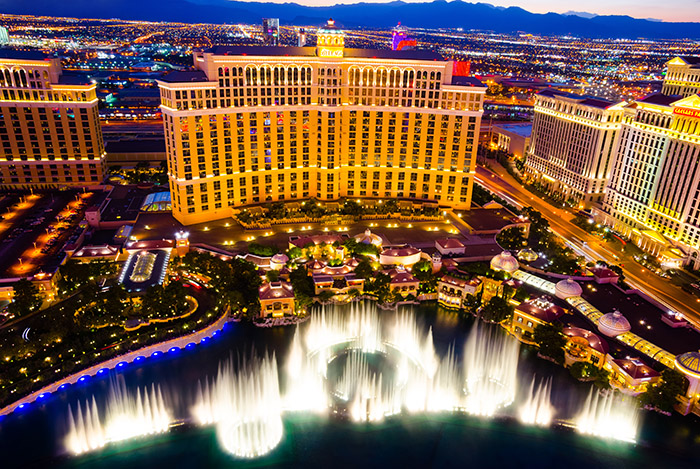 1. The cheapest time to book a flight from Jacksonville to Las Vegas is 14 days in advance, saving up to $225
Jacksonville dwellers tempted by a taste of the City of Sin can afford to be a little more spontaneous than people from elsewhere in the sunshine state: average airfares from Jacksonville International plummet rapidly the further advance that you book. They start at around $650 if you buy on the day that you fly, and have already fallen to under $450 if you book just eight days in advance. A little more forward planning can knock another $30 or so off your airfare, with rock bottom reached if you book 14 days before you fly, when tickets sell for an average of $400.
2. The cheapest time to fly from Jacksonville to Las Vegas is from October-January, saving up to $125
Las Vegas is swarming with people whenever you visit - indeed, it's so popular that it doesn't really have a low season. This is good news for travellers keen to see Vegas at its vital best: they can visit year-round and still experience the city's vibrant atmosphere. From a Jacksonville perspective, the best time to go is at the very beginning of Fall or Winter (relative in terms in Florida, of course): airfares are up to $125 lower through the months of October to January. Las Vegas is cooler at this point in the year, which is a disadvantage for those keen to swim and sunbathe, but something of an advantage if you want to get out and explore the Nevada desert.
3. The cheapest day to fly from Jacksonville to Las Vegas is on a Tuesday, saving up to $126
For many destinations, the precise day you fly makes little difference to the cost of your plane ticket. Not so with Vegas: a perennially popular weekend escape, where the shackles of the working week can be shed and replaced with Hawaiian shirts and velvet togas, it's far cheaper to fly in the middle of the week than it is to join the expectant hordes cramming into Friday and Saturday flights. To be precise, departing from Jacksonville International on a Tuesday can save you as much as $126.
4. Save up to $146 by returning on a Tuesday
Similarly, flying back midweek - and especially avoiding returning home with the disheveled working week diaspora on a Sunday afternoon - can shave serious bucks off your airfare. Schedule your return flight for a Tuesday or Wednesday and you could save up to $146.
5. The cheapest day to buy a flight from Jacksonville to Las Vegas is on a Monday, saving up to $28
Smaller amounts can be knocked off your airfare if you deploy some strategy when it comes to making the booking itself. For whatever farrago of reasons, the air travel gods have decreed that it is slightly cheaper to go online and pay for your ticket on a Monday than on any other day of the week. Simply remembering to carry out this ritual could reduce your airfare by $28. It's not much, but who knows what the magic of a Vegas roulette wheel could transform those twenty-eight bucks into?
6. American has the cheapest flights from Jacksonville to Las Vegas
Two carriers are currently slugging it out for the title of cheapest round-trip flight provider between Jacksonville and Vegas: Delta and American. From over two million airfare searches made over the last month, we've calculated that American offers marginally cheaper flights - but their advantage is so slim that it's liable to be whittled away at any moment, so it's worth making a fresh comparison when you go to book your flights. Another consideration is that all flights between Jacksonville and Vegas include stops, and that American, which most frequently transits in Orlando, operates flights with an average flight time of around two hours less than Delta (which usually transits in Atlanta).
Airlines offering connecting flights from Jacksonville to Las Vegas:
- American Airlines makes the journey in 9 hours via Charlotte Douglas Airport for $315 round trip, on average.
- JetBlue Airways makes the journey in 7 hours via JFK Airport for $417 round trip, on average.
- Delta Air Lines makes the journey in 9 hours via Atlanta for $307 round trip, on average.
- United Airlines makes the journey in 8 hours via Houston's George Bush Airport for $300 round trip, on average.
7. Frequent fliers on American can use 25,000 miles to book a round-trip ticket
Frequent fliers with American can also take advantage of the airline's frequent flier deals, which offer free round-trip travel between any of the 48 contiguous US states for a total of 25,000 air miles. The journey between Atlantic-coast Jacksonville and western-desert Vegas is a particularly long one - almost 2,000 miles as the crow flies - so if you've got a store of air miles saved up, Jacksonville-Vegas might represent a good-value route on which to spend 'em.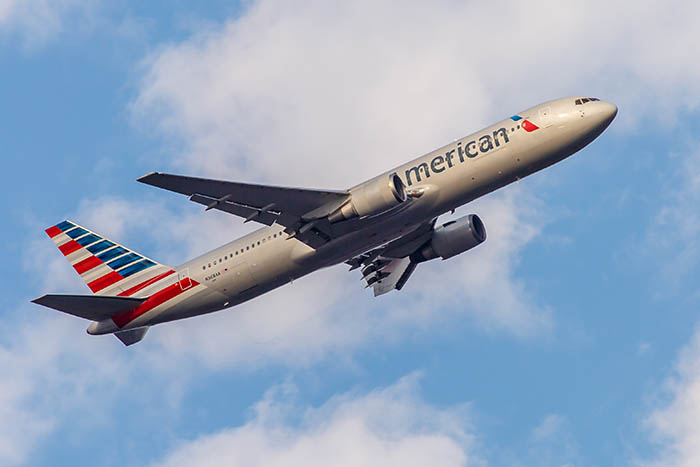 8. Check out Hopper's When to Fly and Buy Reports for up-to-date information
Our research is continuously updated and you can find the latest results in our When to Fly and Buy Reports. Drawing on data from over 2,000,000 airfare searches over the previous month, these outline the most recent information on all the statistics laid out above. They're the easiest way to keep up to date with whether Delta or American Airlines are offering the lowest airfares, the cheapest time of the year to fly, how long you need to book your tickets in advance, and so on.
See Hopper's latest when to fly and buy report for flights from Jacksonville to Las Vegas for constantly updated information
9. Take a look at Hopper's Airline Fee Calculator to get the real cost of your ticket
Of course, it's not just the basic airfare that determines the final price of your plane ticket - there's a whole buzzing cloud of additional fares and paid extras that, if you're not careful, can crawl all over your budget deal. But don't worry, we've got this covered too - our Airline Fees Calculator will detail every possible fee for your Jackson-Las Vegas flight, so you can choose to prioritize one more glamorous cocktail over extra legroom on the plane.
10. Keep in mind that a cheap flight from Jacksonville to Las Vegas is about $312 round trip
Following this advice, you should be able to drive down your airfare by a significant amount. But to get the best deal you'll also need to know how to spot a great bargain - if you hesitate over a particular price, it might pass you by and, as time ticks down to the flight, airfares will only rise skywards. Las Vegas to Jacksonville is an epic jaunt across the southern belt of the USA, and over half of all tickets go for more than $500. We recommend that if you spot an airfare around the $312 mark, you should consider that a marker of a great bargain - less than a fifth of travelers will have paid as little as you.