Some Tennessee locals opt to hop in the Cadillac and cruise a whopping 1,500 miles down the length of Interstate 40 when it's time to visit Las Vegas, weaving through the Great Plains of Oklahoma, the looming hoodoos and rugged canyons of North Texas, the cactus-peppered scrublands of New Mexico and the scorching deserts of Arizona before hitting the famous strip. Others simply pop over to the Memphis International Airport, where the regular direct and indirect connections to Sin City are some of the most popular and affordable departures on the board! If you're one of the ones looking to make the short hop across the heart of America to the Gaming Capital of the World this year, be sure to check out these 10 tips for getting cheap flights from Memphis to Las Vegas!
See the great deals travelers are finding right now on flights between Memphis and Las Vegas using the Hopper Flight Explorer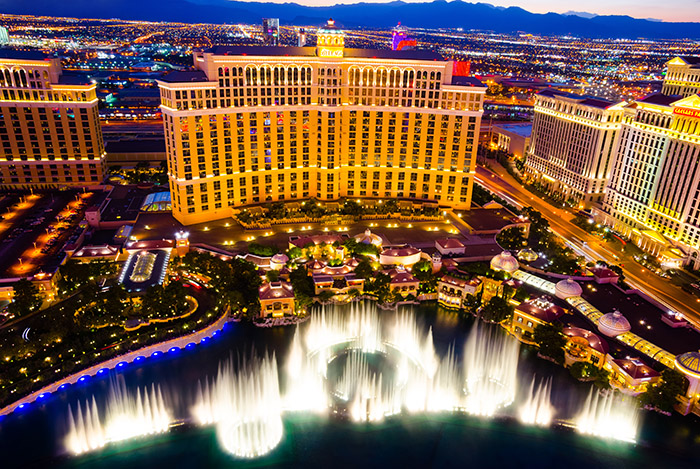 1. The cheapest time to book a flight from Memphis to Las Vegas is 14 days in advance, saving up to $350
Of all the top tips on offer for finding cheap flights from the River City to Sin City, this is undoubtedly the most important. That's because we've discovered that return flights from Memphis to Las Vegas are almost $350 cheaper 14 days prior to departure, meaning there's no room for late bookings on this one. In fact, with some unpredictable spikes in price occurring even as early as the third week before take-off, it's perhaps better to play it even safer and grab your seats at least 21 days before you intend to travel.
2. The cheapest time to fly from Memphis to Las Vegas is in December, saving up to $75
If the December rains and chilly spells of Memphis are dragging you down, why not consider grabbing a bargain round trip flight to Las Vegas? Not only should it help cure those Tennessee winter blues, but could also mean a potential saving on flights to the tune of $75 when compared to departures throughout the rest of the year. That should be a nice boost to the chip stacks, and you haven't even hit the poker tables yet!
3. The cheapest day to fly from Memphis to Las Vegas is on a Saturday, saving up to $66
Okay, so you may not be able to join the revelers on the dance floors of the Mirage, Hakkasan, or Light at the Mandalay Bay for the shindigs of Friday, but you can rest assured that Sin City has plenty of action left for the rest of the weekend, which is great news for any travelers out of Memphis International Airport looking to take advantage of these whopping $66 savings on Saturday departures to Vegas' McCarran International.
4. Save up to $122 by returning on a Tuesday
It looks as if returning from Vegas anytime during the middle of the week is the best option for Memphis locals looking to keep the prices down on their jaunt to Nevada, with Tuesday departures out of the McCarran International offering a possible saving in the region of $122! Wednesday and Thursday are also not too expensive, while prices begin to skyrocket for Sunday and Monday, when most of the weekend crowds decide to head for home.
5. The cheapest day to buy a flight from Memphis to Las Vegas is on a Saturday, saving up to $19
If you think you can tear yourself away from those smoky barbecues and groovy honky tonks for a moment this weekend, we've discovered that travelers booking their flights on Saturdays tend to pay around $26 less than those booking during the week. And while that may not seem like such a massive saving, it's worth remembering that the move doesn't require any drastic reorganization of your holiday plans, and that $26 at the tables in Vegas could turn into a whole lot more!
6. Delta has the cheapest direct flights from Memphis to Las Vegas
If you're eager to hit the neon lights and palatial casinos of the Vegas Strip as quickly as possible, or simply can't stand the excitement while sitting on the plane, then perhaps Delta Air Lines' direct connection is the best option for you. With an average price tag of just $367 return, it's certainly not a bad deal at all, while it still doesn't match Frontier's indirect offering of around $298 round trip, which takes nearly seven hours and goes via Denver, Colorado.
Airlines offering direct flights from Memphis to Las Vegas:
- Delta Airlines makes the journey for $367 round trip, on average.
Airlines offering connecting flights from Memphis to Las Vegas:
- American Airlines makes the journey in 8 hours via Philadelphia International Airport for $353 round trip, on average.
- Delta Air Lines makes the journey in 9 hours via LAX for $376 round trip, on average.
- Frontier Airlines makes the journey in 7 hours via Denver International Airport for $298 round trip, on average.
- United AIrlines makes the journey in 6 hours via Houston's George Bush Airport for $344 round trip, on average.
7. Frequent fliers on Delta can use 25,000 miles to book a round-trip ticket
If you've been clocking up your Delta Air Lines air miles for some time now and are looking to treat yourself to an indulgent city break, then why not consider cashing in your chips for one of these reward flights to Las Vegas? With a price tag of just 25,000 air miles round trip, they are among the cheapest connections on offer on Delta's loyalty scheme and have plenty of scope for upgrades to first class or business for passengers with the points.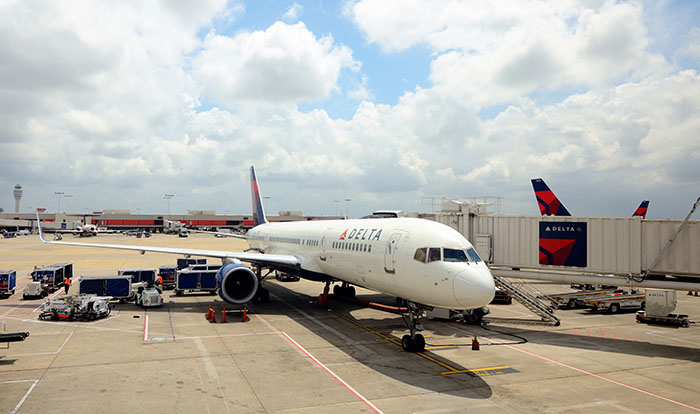 8. Check out Hopper's When to Fly and Buy Reports for up-to-date information
We know that some passengers simply can't fly in December when connections from Memphis to Vegas are at their cheapest, while others won't be able to make Saturday departures, or Tuesday returns. That's why we've made all of our statistics relating to the route between the two cities available on our When to Fly and Buy Reports page; allowing every traveler access to more than 2.3 million pieces of data every month, so that they can find the deal that best suits them.
See Hopper's latest when to fly and buy report for flights from Memphis to Las Vegas for constantly updated information
9. Take a look at Hopper's Airline Fee Calculator to get the real cost of your ticket
Another great tool that can help would-be fliers between Memphis and Las Vegas this year is Hopper's Airline Fees Calculator. It offers a comprehensive breakdown of all the additional airline fees and extra charges that could affect the final price of a flight—from the cost of checked baggage, to the price of additional leg room or in-flight meals—presenting it all in a simple and easy-to-use interface, so that travelers can be sure they're getting the best deal going.
10. Keep in mind that a cheap flight from Memphis to Las Vegas is about $318 round trip
Perhaps you know someone who's managed to bag themselves a super bargain between Memphis and Las Vegas in the past, cruising across to the runways of McCarran and back for around just $250 or something thereabouts. Well the truth is those dreamy fares do exist, but they are extremely rare. That's why we think it's best to book anything at or around the $318 mark, which is a great price for any flight from Memphis to Las Vegas.