Both Seattle and Cancun are packed with history and extraordinary sights, but the two cities are wildly different – Seattleites visiting the Mexican city will be met with a whole range of brand new cultural, culinary and historical experiences. And of course, it's unsurprising that residents of "Rain City" might want to take a break from the chilly, wet weather and embrace some fun in the sun on Cancun's famous beaches. Whether you're a Seattle resident planning to visit Cancun to see the many fascinating traces of Mayan culture or just to strip down to your swimwear and enjoy a cocktail, you can follow our tips to make sure getting there is as low-cost as possible.
See the great deals travelers are finding right now on flights from Seattle to Cancun on the Hopper Flight Explorer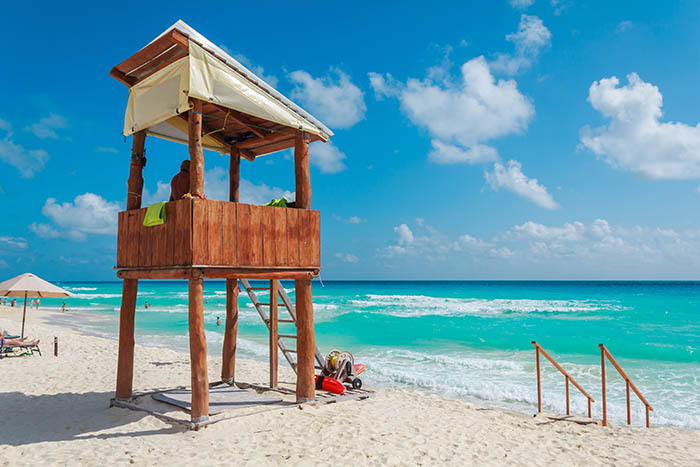 1. The cheapest time to book a flight from Seattle to Cancun is 20 days in advance, saving up to $100
It's worth being prepared to book your flights early on the Seattle to Cancun route, as prices increase gradually from about 50 days in advance of your departure date. There's an average $50 difference in price between 50 days before your departure and 20 days before. After that, though, prices rise much more quickly – by a full $100 in the 20 days before your departure date.
2. The cheapest time to fly from Seattle to Cancun is anytime not in March, April or May – saving up to $65
The months of spring are the most expensive times to travel between Seattle and Cancun – by avoiding March, April or May you could save around $65 on the price of your ticket overall. And the cheapest time of the year to fly? The autumn months. When it starts to get chilly in the Emerald City, Seattle residents looking for a cheap and cheerful escape can switch their pumpkin spice lattes for margarita and their scarves for swimming costumes, nabbing a bargain flight to Cancun to get over the fall blues.
3. The cheapest day to fly from Seattle to Cancun is on a Saturday, saving up to $22
Is there a better way to start a weekend than hopping on a flight to a land of bluer skies and more bronzed skin? Saturday is your best bet for a bargain flight between Seattle and Cancun, saving a potential $22. Remember, though, that Cancun's weekend nightlife is one of its tourist highlights – so, if you're eager to get involved in that side of things, you might want to take an early flight on Saturday morning to make it in time for the nocturnal revelry.
4. Save up to $25 by returning on a Thursday
You can save a potential $25 by returning back to Seattle towards the tail-end of the week. Sure, it might be a pity to miss out on an extra Friday night in the city, but a quiet week sightseeing without the weekend crowds might be just the thing to wind down on your Cancun vacation. Still, it's reassuring to note that the difference between the cheapest and most expensive days of the week is only $25, so even bargain hunters can afford to be flexible without incurring too much of a financial penalty.
5. The cheapest day to buy a flight from Seattle to Cancun is on a Thursday, saving up to $20
The simple matter of when you decide to book your ticket can impact the cost of your flight, and in this case Tuesday is the day you're most likely to find a decent deal. With the money you're saving on your flight, you needn't feel guilty grabbing a Starbucks coffee on your way home from work and settling in for the evening to find your best-priced Seattle to Cancun flight on Tuesday evening.
Alaska Airlines offers the ease of a non-stop route between Seattle and Cancun, but travelers will pay a little more for the convenience. Alaska Airlines have deals of around $517 on this route, while United Airlines offers round trip tickets at about $465, but travelers will have to spend up to a couple of hours waiting around in somewhere like Houston, Texas. If you don't mind paying just a little extra to get there quickly, Alaska Airlines is your best option.
Airlines offering direct flights from Seattle to Cancun:
- Alaska Airlines makes the journey in 6.75 hours for $511 round trip, on average.
Airlines offering connecting flights from Seattle to Cancun:
- American Airlines makes the journey in 9 hours for $457 round trip, on average.
- Frontier makes the journey in 8.5 hours for $540 round trip, on average.
- Aeromexico makes the journey in 10.5 hours for $454 round trip, on average.
7. Frequent fliers on Alaska Airlines can use 35,000 miles to book a round-trip ticket
Alaska Airlines offers a flexible Mileage Plan which allows travelers to use either miles or a combination of miles and money to pay off the cost of their flight between the United States and Mexico. Members earn one Mileage Plan mile for every mile flied with Alaska Airlines or any of their partners, including KLM and Delta. For 10,000 miles Alaska Airlines passengers can get a 50% reduction on their ticket, while those who have accrued 35,000 miles can use those to pay for the whole price of their round trip ticket.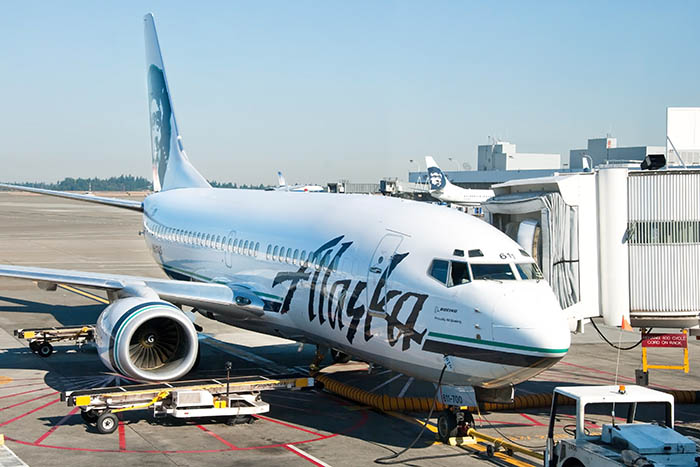 At the moment, prices are stable on the Seattle to Cancun route, but to get the most up-to-date details on the best times to book your flight and the cheapest times to fly you can check the constantly-updated When to Fly and Buy Reports. Our information here is based on over 2 million flight prices searched each month!
See Hopper's latest when to fly and buy report for flights from Seattle to Cancun for consistently up-to-date information
On the route between Seattle and Cancun, you might decide to fly with Alaska Airlines and pay a small premium to allow for the convenience of a direct route. That sort of reasoning is sensible, but often when faced with two options the face value of the ticket isn't the full story. Before making a final decision, you can check Hopper's Airline Fees Calculator to see what different airlines charge for extras like luggage or oversized baggage, and get an overall full-disclosure price on your ticket.
10. Keep in mind that a cheap flight from Seattle to Cancun is about $467 round trip
There's quite a bit of variation on a well-priced trip on this route, largely based on whether or not travelers choose to fly direct. A good deal on indirect flights ranges from $453 and $468 between Seattle and Cancun, while direct flights are slightly more expensive on average, ranging between $511 and $519. The very best deal identified by Hopper's data scientists was as low as $435.
How the flight from Seattle to Cancun compares to flights to other beach destinations