You may be stuck in the coldest, snowiest part of winter, but the good news is that spring break is headed your way. Even better news? Airfare for spring break 2016 is actually trending lower than in years past. According to Hopper's data, overall flight prices are down almost 13% compared to the same time period in 2015.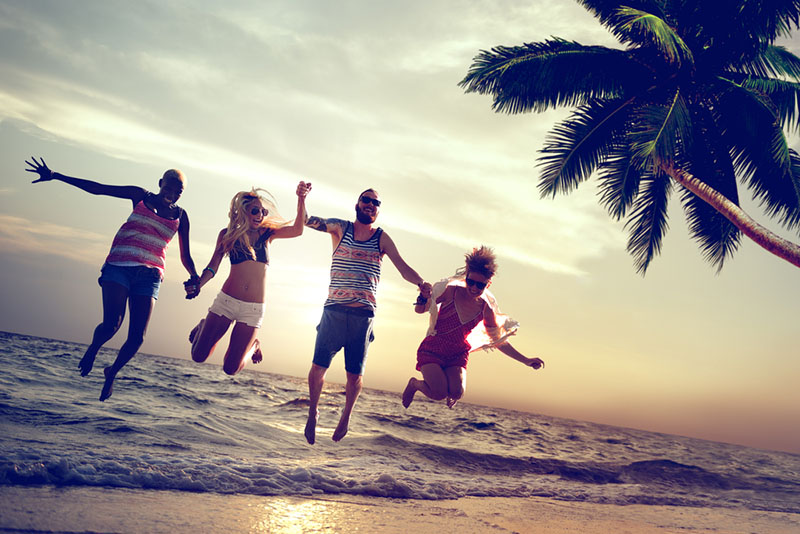 But don't let the savings stop there. Below are six tips from the Hopper team to help you save a few extra bucks on your spring-break flight.
Think Domestic
First, consider staying stateside this spring. Hopper found that the top five destinations with the steepest price drops for 2016 are all in Florida, where there's plenty of airline competition and many cheap seats up for grabs. Fort Lauderdale, Orlando, Fort Myers, Miami, and Daytona Beach are all a better deal than in 2015, with ticket prices as much as 24% cheaper this year. The harder-to-reach Caribbean destinations like Jamaica aren't showing the same big discounts, so take advantage of some beachy spots right at home instead.
Treat Yourself to a Nonstop
Forget the notion that nonstops are always more expensive than connecting flights. Destinations with nonstops are often more competitively priced than further-flung destinations without direct service. This spring, those nonstop options can be up to 10% cheaper than less popular flights with stops. Who knew saving time could save money?
Avoid Fees
Airfares have been getting cheaper for leisure flyers lately, at least in the U.S. Part of this is because jet-fuel prices have fallen so low. The other reason that ticket prices are sliding a bit? Many carriers are unbundling their fares. This means that more carriers have separated out their base fares and have begun charging fees for extras like checked baggage and seat selection, amenities that were once included in ticket prices.
This isn't bad news for passengers, though. You can still take advantage of great flight deals if you don't splurge on unnecessary extras. First, always check the airline's fare rules and baggage fees and read what's included before booking. Second, reconsider that checked bag! Southwest is standing strong with their free-checked-bag policy, but most other airlines now charge. These fees can add up to hundreds of dollars, so stick to a carry-on or even share a bag on short trips.
If you're really pinching pennies and don't care about window versus aisle, don't pay for advance seat selection. The airline will automatically assign your seat upon check-in.
Fly Midweek
We know it's not always convenient to jet out on a weekday rather than the weekend, but you could save as much as 25%. Hopper's research found that generally, Tuesday is the cheapest day to depart this spring, while Monday to Wednesday departures are up to 25% cheaper than Thursday to Saturday. And forget Friday: For most popular spring-break routes, Friday departures are the most expensive.
Be Flexible
If you can afford to be flexible and burn a little PTO, you should take your break in early March or late April. Avoiding peak school-vacation weeks between those dates could be the key to pretty sizable vacation savings. According to Hopper's research, the most expensive times to travel from a U.S. airport this spring are the weeks of February 9 (30% premium), March 23 (32% premium), March 30 (a painful 45% premium) and April 6 (28% premium).
Book Early
Finally, spring break is a major peak season for travel, when booking last-minute flights will hit your wallet the hardest. Pick a destination and start watching ticket prices as early as possible. Know that, in general, booking less than four weeks ahead of your departure will cost you around 10% more than the average price on that route. Booking less than two weeks in advance adds 33% to your ticket price. And booking within three days of departure? That'll cost you a whopping 66% more.