From the poolside glamour of Las Vegas to the beachside frolics of Cancun, from the shimmering lights of the Strip to the glistening sun of Playa Delfines, landlocked Las Vegas locals are in for a refreshing treat when they arrive on the shores of Mexico. It's not a brief trip – flight time typically comes in at around seven hours – but most will agree it's worth it. Cancun is a wildly popular tourist destination for North Americans, and flights out of the States into Cancun are often cheaper than internal flights of the same duration. Prices Mexico-side are significantly lower than those of Las Vegas, too, so even with tourist premiums Cancun promises to be an attractively priced vacation for those looking to take some time off from Sin City. We at Hopper are always eager to ensure our readers get the very best of the great prices so, to secure the optimum deal on your travel expenses, follow these tips when looking for your cheap flight from Las Vegas to Cancun.
See the great deals travelers are finding right now on flights between Las Vegas and Cancun on the Hopper Flight Explorer.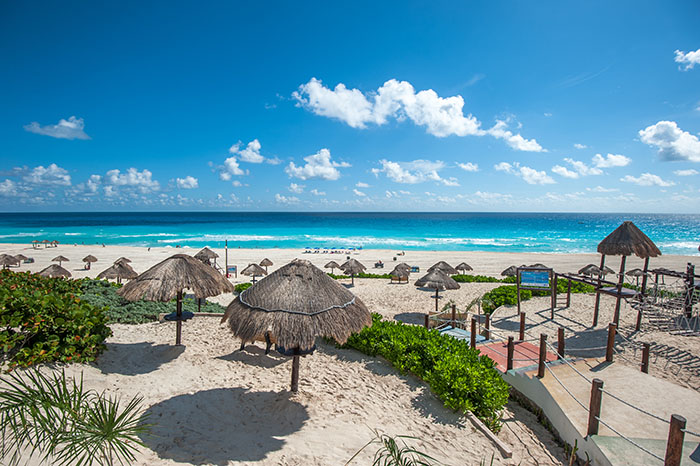 1. The cheapest time to book a flight from Las Vegas to Cancun is 25 days in advance, saving up to $50
There's no need to worry if you're planning an impulsive trip to Cancun and haven't had the foresight or opportunity to book in advance – flight prices are reassuringly steady in the run up to your chosen departure date. The most significant fluctuation you're likely to see in flight prices is around $50, a small premium to be hit with for waiting until the last minute on the Las Vegas to Cancun route. Around 25 days before departure, prices begin to climb gradually but only by a small margin. One to two days before departure prices tend fall again (worth checking out if an impulse hits you, but don't put off making your plans in hopes of this happening) but, predictably, they reach their highest on the day of departure.
Travelers who really enjoy taking last-minute, spontaneous trips can download Hopper's new app, Flight Tonight, which shows the best deals on flights leaving tonight from any airport. Download it now, for free, on the App Store.
2. The cheapest time to fly from Las Vegas to Cancun is anytime not in March or April, saving up to $80
March and April are the most expensive times of the year on the Las Vegas to Cancun route, so those looking for a good deal might want to avoid traveling during the peak spring months. North American vacationers from the colder areas get tired of the winter and migrate to Mexico for respite, Mexican families vacation around Easter and spring breakers descend on the beaches, spring is the apex of the high season in Cancun so it won't just be your flights that are at a premium. As things wind down in late summer, flight prices also dip. Fly in November for the very cheapest option, when good deals come in at a full $80 less than the same roundtrip flights in March.
3. The cheapest day to fly from Las Vegas to Cancun is on a Saturday, saving up to $12
Variation is minimal on flight prices throughout the week, so travelers can pick and choose the days that suit them without incurring much of a penalty. However, if you really want to count your proverbial pennies, Saturday tends to be the cheapest day to depart with a potential saving of $12. Arriving on Saturday, of course, sees the ever-vibrant Cancun weekend cut in half, so while you might only see a $12 saving on the flight, savings on the cost of a Saturday night party might be much higher!
4. Save up to $11 by returning on a Monday
Again, on the homeward leg of the journey, flight prices don't see much variation between the days of the week. Monday is the cheapest option, but only by $11. Still, it might be the ideal time to depart, leaving on a high after one of Cancun's legendary weekends. Potential savings if you leave on a Saturday and return on a Monday total $23. On most routes, flights typically vary depending on the day on which they're booked, but not so for the Las Vegas to Cancun route. Reserve your flight on any day of the week without incurring any extra costs.
5. Delta and Aeroméxico have the cheapest connecting flights from Las Vegas to Cancun
Delta Airlines and Aeroméxico boast the most attractive deals between Las Vegas and Cancun. For a connecting flight, good deals with Delta are around $321, while the best deals with Aeroméxico sit at $349. Frontier Airlines is the most expensive option on this route. If you're a stickler for timekeeping, go with Delta over Aeroméxico; over 80% of Delta's flights are making it to their destination on time in 2014, while Aeromexico's on time rating comes in at a less impressive 77%.
Airlines offering connecting flights from Las Vegas to Cancun:
- Delta makes the journey in 8.5 hours via Salt Lake City for $321 round trip, on average.
- Aeromexico makes the journey in 8.5 hours via Mexico City for $338 round trip, on average.
- United makes the journey in 7 hours via Houston for $348 round trip, on average.
- US Airways makes the journey in 6.5 hours via Phoenix for $350 round trip, on average.
- American makes the journey in 6.5 hours via Dallas for $381 round trip, on average.
- Spirit makes the journey in 8.5 hours via Dallas or Fort Lauderdale for $396 round trip, on average.
- Frontier makes the journey in 7.5 hours via Denver for $484 round trip, on average.
6. Frequent fliers on Delta can use 35,000 miles to book a round-trip ticket
If you travel regularly, it could count in your favor on this route. Pre-existing SkyMiles members who've accrued enough miles – either through travel with Delta or through partner schemes like the American Express Skymiles card, or perhaps through staying at partner hotels like the Hilton or the Marriott – can cash in on their miles for a round trip Las Vegas to Cancun flight, costing 35,000 air miles. Taxes and charges will still apply, but your air miles are sure to transform a good deal into a really great deal.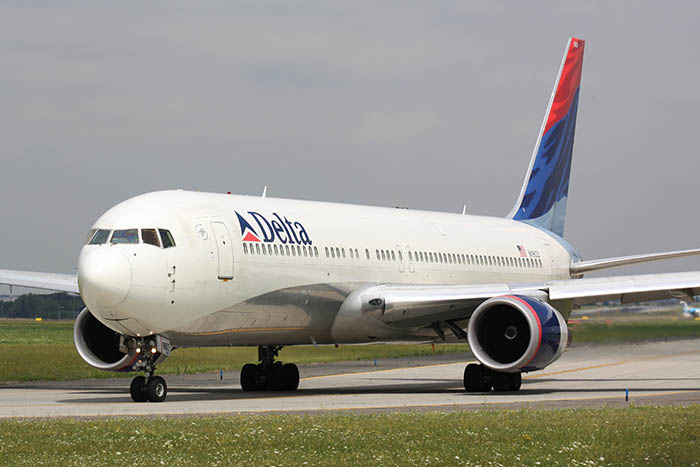 7. Check out Hopper's When to Fly and Buy Reports for up-to-date information
Our data whizzes regularly update Hopper's Fly and Buy Reports to make sure you're well prepared to book the best value flight. On the Las Vegas to Cancun route, this report has so far pooled information from almost one million flight searches in the previous month alone.
See Hopper's latest when to fly and buy report for flights from Las Vegas to Cancun for consistently up-to-date information
Hopper's travel experts know those pesky hidden fees can be a pain when you arrive at the airport, so now you can work out which airline will offer you the best deal after all those extra costs are considered. The Airline Fees Calculator allows you to select your requirements – from snacks to checked luggage to seat reservation – to see which airline offers the best overall value for your needs.
Keep in mind that a cheap flight from Las Vegas to Cancun is about $349 round trip
You've followed all the hints and tips, you're about to reserve your flight – how do you know you really are getting a decent deal? Among one million searches for this route analysed by Hopper, we've discerned that a reasonable deal comes in at between $320 and $349. The very lowest price for a round-trip on this route is $290, and if you leave booking until the last minute you should expect to pay a little more. So if you see a round-trip ticket for less than $350, go ahead and book it. It's a great deal.
How the flight from Atlanta to Cancun compares to flights to other beach destinations