From the samba sounding party bars of Cancun town, its curious Mexican-Carib eateries and sprawling five-star resorts, to the greater region's Quintana Roo beaches, mind-boggling Mayan ruins and awesome wealth of backcountry pursuits, it's hardly surprising that this destination on the tip of the Yucatan Peninsula is such a magnet for American travelers right throughout the year.
Many travelers heading into town from the north opt to catch a connecting flight from one of Florida's air hubs, making routes from Orlando to Cancun an extremely popular option for both locals and more far flung visitors alike. To help our readers beat the competition, we've put together these top tips for finding cheap flights from Orlando to Cancun, allowing them more pesos for the bars and more money for the party!
See the great deals travelers are finding right now on flights between Orlando and Cancun on the Hopper Flight Explorer.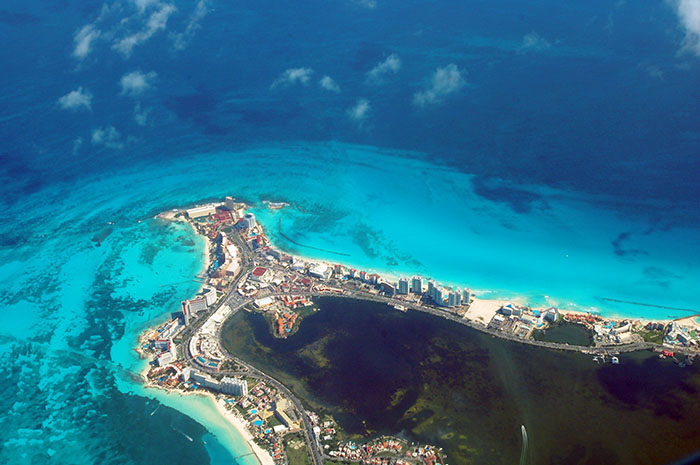 1. The cheapest time to book a flight from Orlando to Cancun is 10 days in advance, saving up to $70
We know you've been dreaming about the glistening beachfronts of Playa del Carmen, Tulum and Puerto Morelos for months now, perhaps imagining the sweet flavours of those Caribbean cocktails, or prepping yourself for the chilli-laden local dishes of the Yucatan, which all means you really have no excuse for not bagging a saving of up to $70 on your flights by just booking more than 10 days in advance. Leave it any later and prices will skyrocket. Trust us, we've seen it in the stats!
2. The cheapest time to fly from Orlando to Cancun is from August-November, saving up to $75
From the sultry highs of August to the shoulder-season days of steamy ocean shallows and ebbing hotel rates throughout town, there are a whole load of bonuses that come with flying into Cancun between August and November, and not least of all the possible saving of $75 on flights! For Orlando locals looking to avoid the booming crowds of holidaymakers hitting the resorts closer to home, then the timing could not be better, especially considering that you'd be wallowing in the Atlantic hurricane belt anyway!
3. Save up to $10 by returning on a Thursday
If you think one weekend amidst the Hotel Zone strips and booming Spring Breaker bars of Cancun is enough for you, then why not consider opting for a Thursday-to-Thursday, or even a Tuesday-to-Thursday trip, which, when combined with possible savings on departure dates, could save travelers up to $12 in total. Granted that may not sound like much, but it'll definitely pay for a rum punch or two on the ground. Now that's got you thinking!
Orlando locals looking to get as much bang for their buck on a short hop across the Gulf of Mexico to Cancun this year would do well to bet on the cute little navy-and-white planes of JetBlue, who are the only airline to offer direct connections between the two cities, and also one of the cheapest overall, with average ticket prices hovering at around just $317 return. That's a price rivaled only by Delta, whose indirect route for $314 runs via Atlanta and takes nearly four times as long!
Airlines offering direct flights from Orlando to Cancun:
- JetBlue makes the journey in 2 hours for $305 round trip, on average.
Airlines offering connecting flights from Orlando to Cancun:
- US Airways makes the journey in 5.5 hours via Charlotte for $321 round trip, on average.
- Delta makes the journey in 6.5 hours via Atlanta for $321 round trip, on average.
- American makes the journey in 4 hours via Miami for $321 round trip, on average.
- Aeromexico makes the journey in 8 hours via Mexico City for $321 round trip, on average.
- Spirit makes the journey in 4 hours via Fort Lauderdale for $321 round trip, on average.
5. Frequent fliers on JetBlue can use 15,000 miles to book a round-trip ticket
If you happen to be a member of JetBlue's TrueBlue frequent flier program, then be sure to check out if you have enough points stashed away to bag a return-trip from Orlando to Cancun gratis. With many departures between the two cities tariffed at just 7,500 points each way, the route is actually among some of the cheapest on the TrueBlue awards line-up as a whole, meaning passengers could easily be left with a whole lot more pesos for the party on arrival!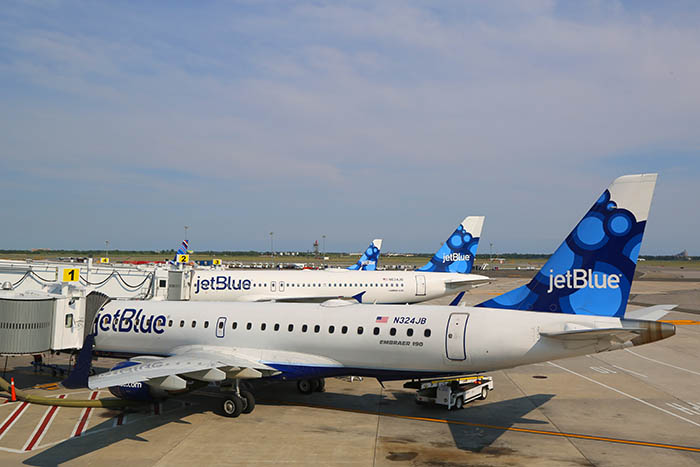 6. Check out Hopper's When to Fly and Buy Reports for up-to-date information
No matter what time of year you're thinking of flying, and no matter whether you want direct or indirect connections, anyone looking to save as much money as possible on flights from Orlando to Cancun would do well to check out Hopper's When to Fly and Buy Reports, which provide a whole range of up-to-date information about the route, from the cheapest departure dates to monthly price trends, all sourced from more than 700,000 flight searches on this route each month.
See Hopper's latest when to fly and buy report for flights from Orlando to Cancun for consistently up-to-date information
If those snorkelling flippers are peeking out from the edges of your case, or those hiking boots hanging awkwardly from your backpack in anticipation for that trip to Chichen Itza, then it may be that you need extra baggage on your flight. To check out how much it'll cost, and to see what various airlines on the route from MCO to CUN are charging for all their other additional services, be sure to head over to Hopper's Airline Fees Calculator, which offers a comprehensive breakdown of the lot.
8. Keep in mind that a cheap flight from Orlando to Cancun is about $317 round trip
If you've checked out Hopper's When to Fly and Buy Report for departures from Orlando to Cancun, then you'll know that we've seen some lucky passengers on the route grab seats for as little as $268 return. While that sounds fantastic, we also think it's important to remember that such low fares represent under 10% of all passengers on each plane, with a large majority of fliers paying in excess of $350 for their seat. With that in mind, we think anything under $317 is a real steal, so book it fast!
How the flight from Orlando to Cancun compares to flights to other beach destinations