Buffalo locals aren't far from the biggest city in the world - it's less than a mere two hours by plane to reach the state's capital, NYC, where style, culture, and nightlife abound. But sometimes, vacationers want to get that bit farther away from home. Las Vegas, though more than six hours away by plane, is the apex of escapism; world class nightclubs, other-worldly casinos and an" anything goes" mentality which pervades the whole thing has crowned Las Vegas as one of America's most popular tourist cities. If you're a Buffalo resident looking to leave the shores of Lake Erie for the bright lights of Vegas, you'll want to make sure your wallet is well-lined and ready to brave those casinos . To help you save your dollars, we have eight clever hacks that will ensure you can find cheap flights from Buffalo to Las Vegas.
See the great deals travelers are finding right now on flights between Buffalo and Las Vegas using the Hopper Flight Explorer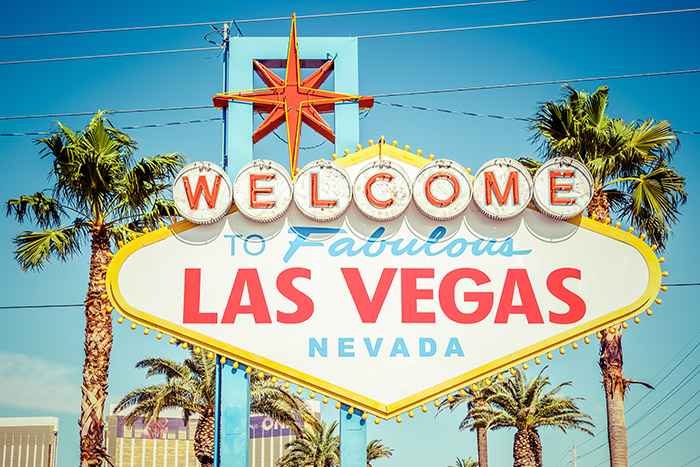 1. The cheapest time to book a flight from Buffalo to Las Vegas is 14 days in advance, saving up to $200
For any Buffalo lovers hoping to impulsively jet to Las Vegas for some kitsch spur-of-the-moment nuptials, be warned that you'll pay a premium for booking flights in the fortnight approaching your departure date. The difference between booking at the airport on the day of your flight and booking a reasonable 14 days in advance is, on average, a full $200. If you've left the booking of your flight until two weeks' before departure, don't worry - there's very little variation on flight prices between eight and two weeks' before departure, so very early birds don't have any particular advantage.
2. The cheapest time to fly from Buffalo to Las Vegas is anytime other than May or July, saving up to $100
The summer months are the most expensive times to fly between Buffalo and Las Vegas. June flights on this route total a full $100 more on average than flights during the cheapest winter months. It's always good to get out of Buffalo during those cold, dark winter months and cheap flights are the perfect excuse to brighten the season with a trip to Sin City!
3. The cheapest day to fly from Buffalo to Las Vegas is on a Tuesday, saving up to $31
When we think Vegas, we typically think weekend getaway. But thinking outside the box is exactly how savvy travelers nab the best deals. A weekday trip to Vegas is the cheaper option in terms of flights - with potential savings of up to $31 if you book on a Tuesday - and hotels in Vegas often offer lower weekday rates. Vegas gets notoriously wild on the weekends, too, so a midweek jaunt is ideal for the more tranquil traveler.
4. Save up to $70 by returning on a Tuesday
Again, midweek proves to be the cheapest option for vacationers between Buffalo and Las Vegas. Travelers have the possibility of saving a full $70 on their flights by opting to return to Buffalo on a Tuesday. If you're in Vegas for a weekend trip, why not use this as an excuse to extend it into an extra-long weekend? Take some time to unwind after the weekend and arrive back in Buffalo refreshed!
5. Delta and United have the cheapest flights from Buffalo to Las Vegas
The prices on Delta and United are the cheapest available on the Buffalo to Las Vegas route, with good deals on both airlines coming in at under $400 at the time of writing. More expensive options on the same route include American Airlines and JetBlue Airways. If you're stuck on which airline to choose, with good and pretty equal prices on two or more airlines, check out potential hidden costs on each airline and consider frequent flier deals.
Airlines offering connecting flights from Buffalo to Las Vegas:
- American Airlines makes the journey in 8 hours via O'Hare Airport in Chicago for $430 round trip, on average.
- JetBlue Airways makes the journey in 9 hours via New York's JFK Airport for $373 round trip, on average.
- Delta Air Lines makes the journey in 7 hours via Atlanta International Airport for $373 round trip, on average.
- United Airlines makes the journey in 10 hours via Washington DC's Dulles Airport for $378 round trip, on average.
6. Check out Hopper's When to Fly and Buy Reports for up-to-date information
We're constantly updating and adding to our data to make sure you have the most relevant information when booking your flight. The most current information is always available on Hopper's When to Fly and Buy Reports. The information we've compiled here is based on over 2.2 million flight prices as searched between September and October 2014.
See Hopper's latest when to fly and buy report for flights from Buffalo to Las Vegas for constantly updated information
7. Take a look at Hopper's Airline Fee Calculator to get the real cost of your ticket
Some airlines bump up the price of your ticket with last-minute hidden fees. For a savvy flier who follows all our tips, it's a heart-sinking moment to discover that your great deal is undone by a premium in luggage fees. To avoid that eventuality, check out Hopper's Airline Fees Calculator before you finalize your choice of airline. Select your airline options and specify your flight requirements for full visibility on the additional fees which each airline could charge you.
8. Keep in mind that a cheap flight from Buffalo to Las Vegas is about $373 round trip
How do you know when to stop searching for that elusive deal? Hopper's data scientists have discovered that on the Buffalo to Las Vegas route, round trip flight prices around the $373 mark represent a good deal. If you follow our tips by booking and flying at the optimal times to maximize potential savings, you might even be lucky enough to find a flight at the very lowest end of the scale. The lowest price we've identified on this route is $319!