Why not forget those time-consuming, gas-hungry road trips down Interstate 40 to Las Vegas and opt for a flight into town this year instead? Our statistics have shown that more than 300 people are now looking to make the trip every day, which takes just six-and-a-half hours cruising over the Great Plains, the Colorado Rockies and the deserts of Utah, before hitting the runways of the McCarran International. And don't say that money's an issue, not with these 10 wallet-saving tips from Hopper's expert flight team at hand, all sourced from millions of pieces of data to help travelers find cheap flights from Knoxville to Las Vegas.
See the great deals travelers are finding right now on flights between Knoxville and Las Vegas using the Hopper Flight Explorer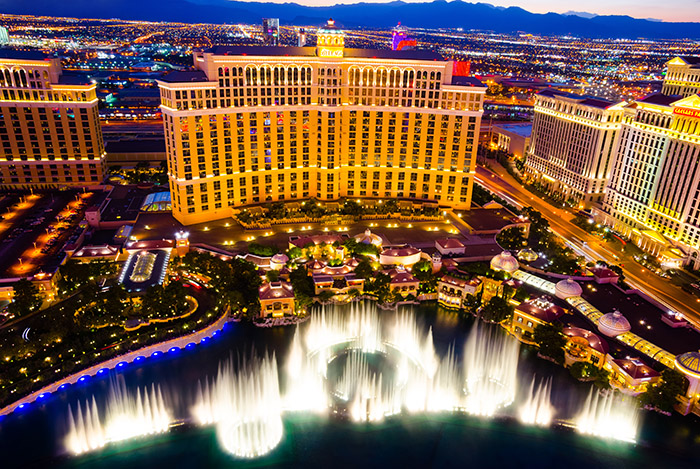 1. The cheapest time to book a flight from Knoxville to Las Vegas is 14 days in advance, saving up to $250
To get the largest savings possible requires Knoxville locals to hit the search engines at least 14 days prior to their intended departure date (and preferably at least 21 days before), when flight prices on the route between Knoxville and Las Vegas are still lingering at a nice low of around $400 return. Leave it any later and prices will start to increase rapidly, until they find their height just before take-off at a whopping $660 or more!
2. The cheapest time to fly from Knoxville to Las Vegas is any time after June, saving up to $140
We know the middle of the Nevada desert may not seem like the best place to be visiting in the height of summer, but rest assured there are enough swim-up cocktail bars, rooftop infinity pools and air conditioned casino halls here to go around. One real bonus that comes with travelling in July and August though is the price of flights, which could be as much as $140 cheaper than earlier in the year. And if soaring temperatures really aren't your thing, then relax, because October, November and December are also relatively wallet-friendly times to holiday in Sin City.
3. The cheapest day to fly from Knoxville to Las Vegas is on a Wednesday, saving up to $46
If you can find a way to escape the Marble City for Vegas midweek, then you may just be in line to make savings of up to $46 on your flights this year, because our stats have revealed that passengers leaving town on a Wednesday tend to pay an average of $357 for their ticket, compared to passengers departing on Sundays, who pay in the region of $403. That should be a nice boost to the bankroll before you hit the Strip!
4. Save up to $72 by returning on a Tuesday
Even greater reductions are in store for travelers willing to touch back down in Knoxville on a Tuesday, because our stats have revealed that savings on ticket prices ebb around $72 at this time (down to an average of $361). The most expensive day to head for home—and also the most popular—is a Sunday, which is when the crowds of weekend partiers depart from the strip. Then, travelers can expect to pay a real premium for their flights, with fares soaring to an average of $438 round trip.
5. US Airways has the cheapest flights from Knoxville to Las Vegas
Out of the five airlines vying for passengers on the route between Knoxville and Las Vegas, there are two that stand out for their low prices: US Airways and budget carrier Frontier. While we found the latter to have the cheapest base fares (with an average of $347 in the last four weeks), it's always worth taking into account Frontier's $50 charge for carry-on baggage, leading us to conclude that US Airways' $388 seats are better bang for your buck overall.
Airlines offering connecting flights from Knoxville to Las Vegas:
- American Airlines makes the journey in 8 hours via Dallas-Fort Worth International Airport for $437 round trip, on average.
- Delta Air Lines makes the journey in 7 hours via Detroit Metro Airport for $398 round trip, on average.
- Frontier Airlines makes the journey in 9 hours via Denver International Airport for $342 round trip, on average.
- United Airlines makes the journey in 8 hours via Houston's George Bush Airport for $386 round trip, on average.
6. Frequent fliers on US Airways can use 25,000 miles to book a round-trip ticket
Loyal passengers of US Airways may not even have to fork out for their journey to Las Vegas this year at all, because tickets on the route between TYS and LAS are among the cheapest on the carrier's entire line-up of reward flights (costing just 25,000 air miles round trip). Naturally, business, first class and peak time travel will cost more, with the most expensive seats to Sin City going for upwards of 55,000 air miles each way.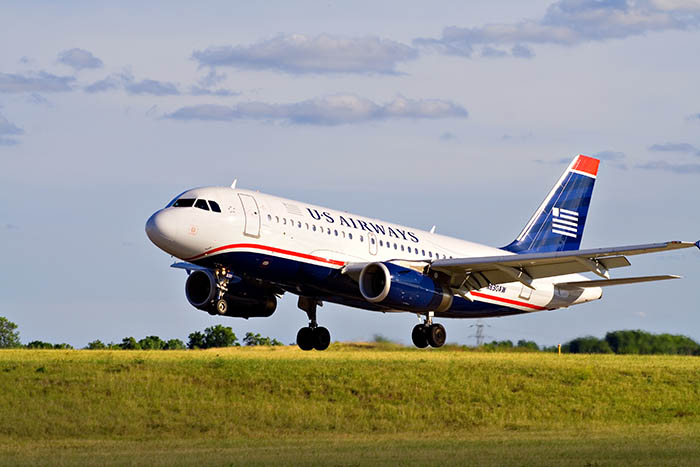 7. Check out Hopper's When to Fly and Buy Reports for up-to-date information
With Vegas coming in as the single most popular destination for flights leaving the McGhee Tyson Airport, it's hardly surprising that Hopper's When to Fly and Buy Reports application is now crunching upwards of one million pieces of data related to flights on the route each month. Consequently it now offers some of the most comprehensive and up-to-date statistics on the web; a gold mine for any travellers eager to find out the best ways to those keep airfares low on their trip to Sin City this year.
See Hopper's latest when to fly and buy report for flights from Knoxville to Las Vegas for constantly updated information
8. Take a look at Hopper's Airline Fee Calculator to get the real cost of your ticket
We've already seen how carry-on baggage fees can catapult the cheapest airline on this route into the backseat, which should leave passengers wondering what other hidden charges and costs there are that could influence the final price of their ticket. That's precisely why Hopper have made their Airline Fees Calculator application available online; so would-be passengers can compare every extra on every carrier making the hop from the McGhee Tyson Airport to the McCarran International this year.
Keep in mind that a cheap flight from Knoxville to Las Vegas is about $384 round trip
In many ways, searching for super-cheap flights between Knoxville and Vegas is like hitting the casino floors themselves: you win some, you lose some, and luck plays a really big part. That's why would-be passengers should always remember that the cheapest fares of under $250 here are so few and far between, they really aren't worth chasing. Much better is to settle on those bargain seats of around $384 whenever they happen to pop up, because you can rest assured that's far less than most people will be paying!