When faced with a destination boasting some of the most sun-sure beaches, bouncing bars and luxurious hotels in all of the Caribbean, it may come as a surprise that Cancun is only the 17th most popular arrival point for flights leaving Kentucky's sprawling Louisville airport. Still, with a steady level of demand throughout the year, and no fewer than four separate US-based airlines now running regular flights on the route, we think it's set to become a real favorite, and not least of with Louisville's burgeoning student population.
So, without further ado, here are eight top tips to help would-be fliers grab chap flights from Louisville to Cancun, ranging from details on the cheapest airlines to monthly highs and lows throughout the year.
See the great deals travelers are finding right now on flights between Louisville and Cancun using the Hopper Flight Explorer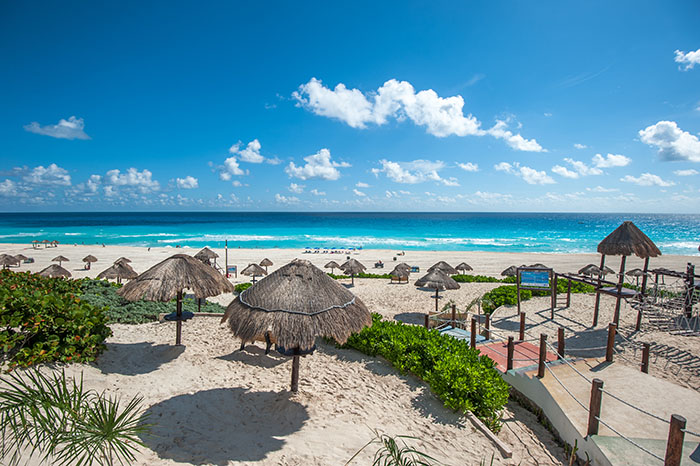 1. The cheapest time to book a flight from Louisville to Cancun is at least 21 days in advance, saving up to $180
Some of the biggest possible savings for would-be fliers looking for seats on a connection between Louisville and Cancun come from getting the date of booking correct. According to our statistics, that means ensuring you're all paid up and confirmed at least 21 days before your departure date, because otherwise it's likely that fares will skyrocket to the tune of $180 or more! Unfortunately, that does mean there's little room here for any of those spontaneous last-minute trips.
2. The cheapest time to fly from Louisville to Cancun is any time after April, saving up to $200
While April marks the end of the high season in Cancun, it's by no means the end of holidaying action on the Yucatan Peninsula. In fact, Cancun is known for its reliable year-round sun, and even though the hurricane season has been known to bring some storms to bear along the coast, temperatures still tend to sit somewhere in the mid-80s. That's great news for any Louisville locals looking to capitalize on possible savings of up to $200 by traveling later in the year.
3. The cheapest day to fly from Louisville to Cancun is on a Tuesday, saving up to $19
While $19 may not seem like such a mega amount to knock off the price of flights totaling more than $300, we firmly believe that every peso saved on tickets is a peso gained for the beaches and bars of Cancun. So, if possible, try to organize your departure from Louisville for a Tuesday, as our statistics have indicated possible savings along the way. Incidentally, it also may be worth avoiding Thursday and Friday departures, as this is when prices are at their highest.
4. Save up to $60 by returning on a Wednesday
We've also discovered that heading back to Kentucky on a Wednesday could help save passengers around $60 on the price of their flights, which is perfect for anyone eager to head out and explore the fascinating ruins of Chichen Itza or Tulum after checking out from their hotel on the Saturday. What's more, with the popular Sunday returns drawing more than 2,500 searches in the last four weeks alone, mid-week leavers will probably manage to avoid the booming crowds at the airport too.
5. American, Delta, United and US Airways have the cheapest flights from Louisville to Cancun
With only slight variations in the average ticket prices of the four major airlines (American, Delta, United and US Airways) running regular indirect connections between these two cities, it's difficult for us to pinpoint any real clear winner here. That said, passengers should be sure to consider the various additional fees charged by each carrier and the price of any extras they may require in-flight, as these could easily cause some ticket prices to rise considerably, but more of that later!
Airlines offering connecting flights from Louisville to Cancun:
- American Airlines makes the journey in 7 hours via Chicago O'Hare Airport for $357 round trip, on average.
- Delta Air Lines makes the journey in 6 hours via Atlanta International Airport for $369 round trip, on average.
- United Airlines makes the journey in 9.5 hours via Houston's George Bush Airport for $355 round trip, on average.
- US Airways makes the journey in 7 hours via Charlotte's Douglas Airport for $356 round trip, on average.
6. Frequent fliers on any of those airlines can use 35,000 miles to book a round-trip ticket
It seems that any members of frequent flier programs looking to make the six-hour hop from Louisville to Cancun are in for a real treat on this route, because all four of the major carriers running connections here offer seats as part of their reward schemes. That means passengers could find themselves wandering the strips of Playa del Carmen with a whole load more pesos in their pocket than they thought, and just 35,000 air miles shy of their next Mexican holiday!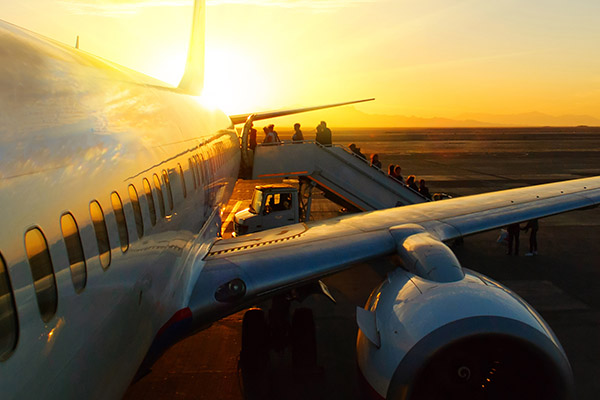 7. Check out Hopper's When to Fly and Buy Reports for up-to-date information
If you're eager to get to grips with all the wonderful findings of Hopper's expert flight team for connections between Louisville and Cancun, then be sure to head over to our When to Fly and Buy Reports application, which crunches more 300,000 pieces of data sourced from right across the Internet every month, to bring would-be passengers a comprehensive breakdown of everything—from average flight prices to monthly highs and lows and even the cost of taking alternative routes.
See Hopper's latest when to fly and buy report for flights from Louisville to Cancun for constantly updated information
8. Take a look at Hopper's Airline Fee Calculator to get the real cost of your ticket
If you're worried about losing out on that bargain flight because of the various fees and extras that so many airlines tack onto their total—for things like checked-in baggage, additional legroom, and in-flight food and drink—then be sure to consult Hopper's Airline Fees Calculator before you book. It offers a simple comparison of every carrier offering flights from Louisville to Cancun, so would-be passengers can see who really has the best deals going.
Keep in mind that a cheap flight from Louisville to Cancun is about $357 round trip
We know that Kentucky locals will want to save as much cash as possible for their Mexican holiday, which is why we think it's also wise not to get carried away with bargain hunting for flights. Put simply, the best prices we've seen on the route in the last four weeks have hovered around the $357 mark, and that's from checking more than 300,000 searches, so it's reasonable to think that they represent the lower end of the scale. Hesitate, and you may end up paying more!