With demand soaring for flights between the Louisville International Airport and McCarran International in the last four weeks by almost 40%, and Sin City staying as the number one most popular destination for fliers out of Lousville, there's never been a better time to offer would-be passengers from Kentucky to Nevada a handy list of 10 top money-saving tips for finding cheap flights from Las Vegas to Louisville. In fact, it's especially important when one considers the destination in question: Vegas; a hodgepodge of glitzy jet setter bars, luxury hotels, and sprawling casino halls that is by no means easy on the wallet!
See the great deals travelers are finding right now on flights between Louisville and Las Vegas using the Hopper Flight Explorer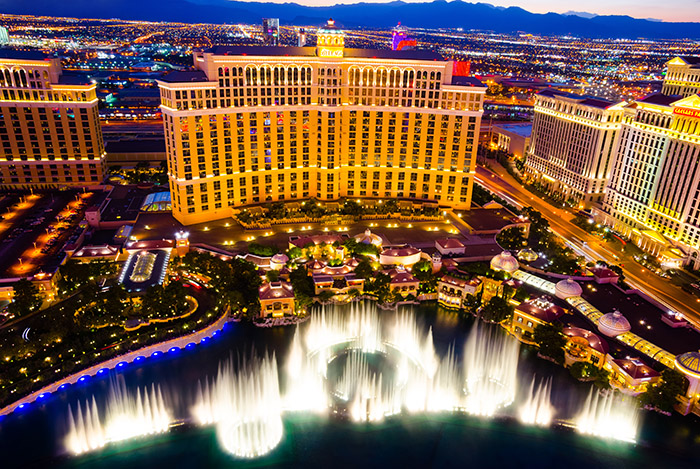 1. The cheapest time to book a flight from Louisville to Las Vegas is 14 days in advance, saving up to $180
During the two weeks prior to takeoff, we've discovered that flight prices on the route between Louisville and Las Vegas can skyrocket as quickly as the Kentucky Derby, soaring more than $180 to a whopping average round trip price tag of around $600. Put simply, that means fliers looking to top up their chip stacks for the tables should be sure to bag their seats in good time, preferably some 14 days before departure, when tickets are still around the $400 mark.
2. The cheapest day to fly from Louisville to Las Vegas is on a Wednesday, saving up to $90
If you're happy to hit Vegas a couple of days before the weekend, perhaps in time for a good warm up on the blackjack tables, or a sightseeing jaunt through the towers and winding canals of the Venetian without the booming Saturday crowds, we've discovered that travelers arriving on a Wednesday could be in line to save up to $90 on the price of their flight. It's also wise to avoid Friday and Sunday departures from Louisville, which are both popular and eye-wateringly expensive.
3. Save up to $157 by returning on a Wednesday
Why not opt to touch back down in Kentucky's River City on a Wednesday, which — according to our statistics — is a whole load cheaper than returning with most people on the weekend. In fact, taking a flight home in the middle of the week could knock off as much $157 from the overall price of a ticket, which is a real bonus for anyone who's blown the bank in the casinos! Sunday returns have proved to be the priciest, with soaring demand and an average fare of just under $440.
4. The cheapest day to buy a flight from Louisville to Las Vegas is on a Tuesday, saving up to $55
Bagging an extra $50 to splash in the casinos of Sin City has never been easier for fliers departing out of Louisville International Airport, because all that's required is for them to take ten minutes on a Tuesday to purchase their tickets into town. We've discovered that on average, passengers booking their seats on the second day of the week will pay less than those buying on the most popular days, with transactions on Thursdays and Fridays costing the most of all.
5. Delta has the cheapest flights from Louisville to Las Vegas
American Airlines, Delta Air Lines, United Airlines and US Airways are all viable options for Kentucky locals looking to make the hop across the Rockies to the city of sin this year, which leaves plenty of room for healthy competition when it comes to ticket prices. That said, in the last four weeks, our averages revealed that Delta were the cheapest carrier running returns on the route overall, with their nine-and-a-half hour connection via Atlanta coming in at an average of just $287.
Airlines offering connecting flights from Louisville to Las Vegas:
- Delta Air lines makes the journey in 7 hours via Atlanta's Hartsfield-Jackson Airport for $287 round trip, on average.
- United Airlines makes the journey in 9 hours via Houston's George Bush Airport for $298 round trip, on average.
- US Airways makes the journey in 7 hours via Charlotte Douglas International Airport for $285 round trip, on average.
6. Frequent fliers on Delta can use 25,000 miles to book a round-trip ticket
As one of the cheapest reward flights on offer from Delta Air Lines, any passengers accumulating air miles with the carrier would do well to check if they've accrued enough to soar into Sin City for free this year. In fact, return trip flights from the Louisville International Airport to Las Vegas could cost loyal fliers as little as 25,000 air miles in all, with passengers paying just airport fees and some minor standalone booking charges.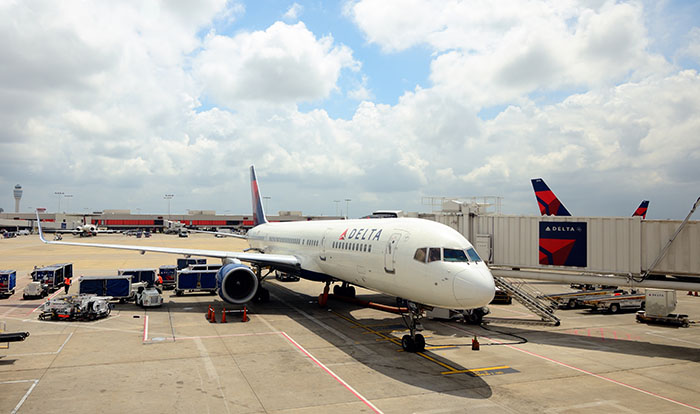 7. Check out Hopper's When to Fly and Buy Reports for up-to-date information
Hopper's When to Fly and Buy Reports page now crunches just under two million pieces of data related to flights between the Louisville International Airport and Las Vegas every month so you don't have too. That means up-to-date metrics on everything from the cheapest departure dates and prime booking times, to airline averages and monthly price trends, all presented in a comprehensive format to help any would-be fliers bag the best bargain possible on their plane tickets into town.
See Hopper's latest when to fly and buy report for flights from Louisville to Las Vegas for constantly updated information
8. Take a look at Hopper's Airline Fee Calculator to get the real cost of your ticket
If you're worried that your gaming budget is at risk from hefty airline charges, and are reluctant to fork out any more on top of the price of your ticket for things like checked-in baggage, compulsory seat selection and in-flight meals, then be sure to head over to Hopper's Airline Fees Calculator. It offers up a comprehensive breakdown of all the additional fees for all the carriers running the route between Louisville and Las Vegas, so would-be fliers can get an idea of the real cost of their ticket.
Keep in mind that a cheap flight from Louisville to Las Vegas is about $306 round trip
Our statistics have also revealed that a vast majority of passengers heading to Vegas from Louisville in the last four weeks paid upwards of $500 for their tickets, while only a small minority of travelers on every flight managed to bag bargain seats. That's why we think it's really important that travelers forget risking it by chasing the uber-bargains of $220, and settle for anything at or below the $306 mark, which is still a really great price for flights on this route.