Nashville, Tennessee, has a lot going for it: Music City is one of the most vibrant cities in the South, with a legendary country music scene, a young population, world class festivals and an lively sporting scene. It's a great all-rounder and a favorite for families and students alike. Of course, Las Vegas, however, has plenty of extras to attract the soft-spoken musicians of Tennessee – from its bright lights and unmatched nightlife, to its attractive proximity to the legendary Grand Canyon and its abundance of world-class, bigger-than-big shows. With all of this less than a four-hour plane ride away, Sin City is an understandable vacation choice for Nashville locals looking for a hassle-free change of scenery. Not only is Vegas a quick and easy choice, it can also be a very reasonably priced one if you manage to nab some bargain flights – and manage to curb your enthusiasm at the casinos, of course...
The following tips are a sure-fire way for Nashville holiday-makers to ensure they find cheap flights from Nashville to Las Vegas.
See the great deals travelers are finding right now on flights from Nashville to Las Vegas on the Hopper Flight Explorer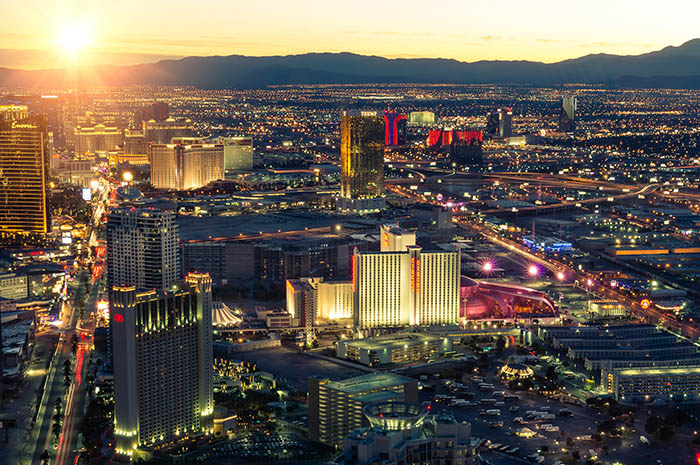 1. The cheapest time to book a flight from Nashville to Las Vegas is 21 days in advance, saving up to $250
Las Vegas is often considered an impulsive trip, but don't leave booking your Nashville to Las Vegas ticket to the last minute. In the three weeks preceding your departure date, flights take a notable leap in price. In just 21 days, they rise by $250. The good news, however, is that the well-prepared traveler will have an easy time finding a good deal. Up to three weeks before departure, prices are steady at a relatively low level.
2. The cheapest time to fly from Nashville to Las Vegas is in December, saving up to $75
Things are relatively quiet – and pretty cold – in Nashville around December. By contrast, Las Vegas is at its most lively in December. Sin City approaches the festive city with its trademark exuberance, and it's a little warmer than in Nashville at this time of year; all great reasons to make the trip from Nashville to Vegas over the holiday season. An even better reason? It's cheap! January and June are the most expensive times to fly, while November and December are the cheapest months: Flight prices during these months average $60 and $75 cheaper, respectively, than the most expensive months of the year.
3. The cheapest day to fly from Nashville to Las Vegas is on a Saturday, saving up to $65
If you're keen on saving money wherever possible on your Las Vegas trip, a Saturday flight is your best option. Take an early direct flight on a Saturday and you'll get to Vegas in plenty of time for the weekend parties, while also avoiding the premium costs of a Friday night hotel stay. Saturday night is by far the most happening time of the week in Vegas, so you'll land right in the middle of the action and kick start your Vegas vacation with a bang.
4. Save up to $91 by returning on a Wednesday
A Wednesday flight back to Nashville is by far the cheapest option, saving a potential $91 on your overall flight price. Fly out on a Saturday and back on a Wednesday to maximize savings, while enjoying an extra-long weekend and benefiting from cheaper weekday hotel rates for much of your stay. The added benefits? A few relaxing days to recover from your weekend, and the potential for great weekday-only deals on some of the big shows.
5. The cheapest day to buy a flight from Nashville to Las Vegas is on a Monday, saving up to $7
It's a simple thing that most of wouldn't take into consideration when hunting down the cheapest flights, but the day of the week you choose to book your ticket can make a significant difference to the overall price. In this case, a small way to save the cents is by booking your Nashville to Vegas flight on a Monday. It may only be $7, but ever little helps when you're planning to hit up the gambling capital of the world!
American, United and Delta all offer good and closely comparative deals on indirect flights to Vegas from Nashville. At the time of writing, good deals on all three airlines came in at around the $330 mark. Frontier boasts flights closer to $300, but they also charge extra for carry-on luggage so that deal isn't, in fact, likely to work out at the best value overall.
Airlines offering connecting flights from Nashville to Las Vegas:
- Frontier makes the journey in 7 hours for $310 round trip, on average.
- US Airways makes the journey in 6.5 hours for $332 round trip, on average.
- American makes the journey in 6.5 hours for $332 round trip, on average.
- United makes the journey in 6.5 hours for $333 round trip, on average.
- Delta makes the journey in 7 hours for $333 round trip, on average.
Our information comes from Hopper's data wizards, who compile tons of figures on current flight prices to identify trends and advise us on how to nab the best deals on flights. The report we've used here is based on over 3.9 million flight prices searched each month of 2014. At the time of writing, prices are flat, but that can always change: To keep up-to-date, check out our When to Fly and Buy reports before booking.
See Hopper's latest when to fly and buy report for flights from Nashville to Las Vegas for consistently up-to-date information
Nobody likes getting hit with unexpected fees at the last minute. When you're charged a huge amount for on-board snacks or a premium for reserving your seat, additional fees can add up to negate your bargain flight price. To avoid unexpected costs, check out our Airline Fees Calculator before choosing your airline. Which airline charges most for on-board wifi and extra leg room, and which one will charge you for carry-on luggage? Just select your extras and our calculator will show you exactly what you can expect to be charged on each airline, so you can ensure you're getting the best overall value on your chosen airline.
Keep in mind that a cheap flight from Nashville to Las Vegas is about $321 round trip
Follow our tips to nab a flight at around $321 between Nashville and Las Vegas. Among the almost 4 million compiled in our When to Fly and Buy reports, the best flight prices fell between $279 and $320. If you're particularly well-prepared and extra lucky, you might even get a round-trip flight at $236 – the very lowest price identified by Hopper's number crunchers.
How the flight from Nashville to Las Vegas compares to flights to other fun cities