Ah Cancun; that enclave of luxurious living perched on the tip of the Yucatan Peninsula; kingpin of the Mayan Riviera and twinkling temptation for many an American holidaymaker, window shopping in the agencies or flicking through the brochures.
At first, that conglomeration of pearly beaches and see-through shore waters may seem inaccessible; an unachievable destination from your cold corner of the Midwest, or far flung location in northern California. But, with this list of American cities with direct flight connections down south, we hope you'll see its not. In fact it's entirely doable, with price tags as low as $250 from some American metropolises and a whole host of various airlines making the trip daily. See you on the beaches!
See 7 tips, like when to book your ticket, from the Hopper research team that can save travelers hundreds on their flights to Cancun.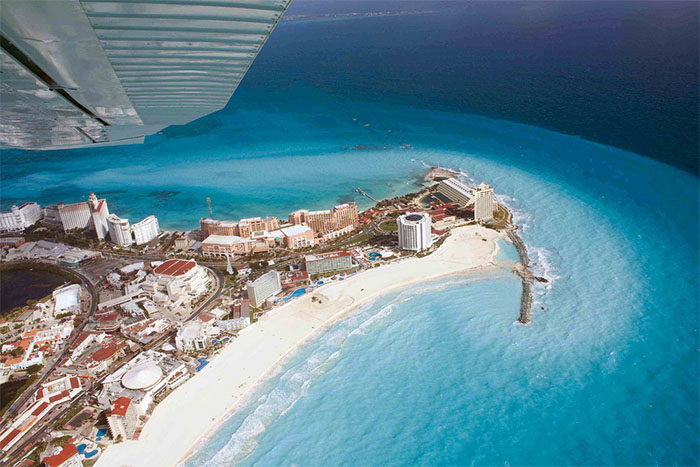 Photo by PriceTravel pictures/Flickr.
When the nearest beach to home lies more than five hours' drive away on the Atlantic coast, it's little surprise that so many Atlanta locals are opting to take this two-hour direct flight connection to Caribbean Cancun out of the Hartsfield–Jackson Atlanta International Airport. What's more, good deals for a return ticket on the route will set passengers back between just $309 and $379, while some have even managed to scoop seats to the Yucatan sun for as little as $256!
These 8 tips from the Hopper Research team can save you up to $352 on your flights from Atlanta to Cancun!
Feeling a little overwhelmed by endless lectures? Perhaps undone by those torturous midterms? Maybe you just need a break from the stoic red-brick rises of Harvard and MIT? Well, rest assured, because there's release on the horizon and it comes with a big AeroMexico, JetBlue or Delta tag dangling from the side! With so many carriers currently flying the direct route from Boston to Cancun, it's little surprise that tickets have gone for as little as $324 in recent months, while most have managed to grab returns for just of $474.
With US Airways flying this direct route to Cancun regularly, it's now easier than ever to trade in Charlotte's big city vibe for a dose of the gleaming Caribbean. Good deals on return tickets will cost anything under $631, while some have even managed to get seats for a mega $294 (yes, that's more than half the average price!). Come on, where did you think the bankers and businessmen of Charlotte go to unwind and sip cocktails on the weekends?
Have the winds of big blustery Chicago blown open your travel brochure portentously onto the pages of Cancun, leaving you gawping, open-mouthed at the shimmering sands and turquoise waters of the Yucatan? Then good, because you can be there by evening! That's right, for around just $396 it's now possible to leave behind the Midwest's most seething metropolis and join the sunbathers down south. What's more, the route takes under four hours and is now operated regularly by no fewer than two airlines! (American and United).
These 10 tips from the Hopper Research team can save you up to $417 on your flights from Chicago to Cancun!
Good deals on this direct connection down south will typically cost anything below $374, while some lucky travelers have managed to scoop seats for just $278, perhaps capitalizing on savings of over $100 with midweek departures. Today all of three separate airlines operate the route out of Dallas Fort Worth International, with American, Sun Country and Spirit all dropping Texan locals to Cancun; a world of coral-colored beaches, sun-touched shores and enthralling Mayan ruins – the perfect panacea for the gaudy glitz and glamour of the Big D!
These 8 tips from the Hopper Research team can save you up to $607 on your flights from Dallas to Cancun!
From the snow-tipped peaks of the American Rockies, to the ivory-white sands of Cancun's legendary playa beaches, what transformation could be more complete? Well, today it's possible to make the trip from mile-high Denver in the heart of Colorado to paradisiacal Cancun on the tip of the Yucatan Peninsula in just under four hours, taking travelers from ski to sun in one fell swoop. Return tickets on the route will cost between $383 and $413, while some lucky travelers have booked for just $288! What are you waiting for?
Houston direct to Cancun on United for $501 round trip, on average, in 2 hours and 17 minutes
In the American capital of Tex-Mex and Creole cooking, it's little surprise that locals here love a jaunt down south to Cancun, where the flavors of the Caribbean mix with the authentic bean stews, chili dips and habanero delights of the Yucatan. If that's got your mouth watering, then be sure to check the United Airlines direct connection that runs from George Bush Intercontinental to Cancun. Tickets have gone for as little as $297, while most others have scooped seats for around $501.
Forget the fiberglass movie sets and dressed up actors of Hollywood, think instead the 1000-year-old Mayan ruins and soaring ancient temple complexes of Mexican Cancun. Seriously, why pretend when you can have the real thing by flying just five hours on this direct connection out of LAX? The route is run by Delta, Virgin and United Airlines, who have been known to offer up return tickets for between $465 and $483, while some passengers have scooped seats for as little as $348!
Trade one of America's best-loved beach cities with one of Mexico's, on this speedy American Airlines connection across the mouth of the Gulf of Mexico. On the way, peer out of the window to catch a glimpse of Cuba as it rolls by beneath, or check out the gleaming speckles of the Florida Keys in the waters below. Return tickets can cost as little as $270, while average prices sit at around $367. Mid-September is the cheapest time to fly, when lots of locals move south to avoid the low-season Miami boom.
These 10 tips from the Hopper Research team can save you up to $380 on your flights from Miami to Cancun!
When Central Park descends beneath a blanket of powdery snow and the Christmas time department stores seem fit to burst with ruthless shoppers, New York locals would do well to remember this quick and easy connection from JFK to Cancun. It's run regularly throughout the winter by American Airlines, AeroMexico and JetBlue and tickets have been known to sell for as little as $350 during off-season lows! While fares will soar in mid-winter, it is still possible to grab bargains in early December, with some return seats selling for under $500!
Amidst the dusty cactus parks and sweltering summertime heat of Arizona's capital, locals can be forgiven for yearning for the sea. But in this landlocked state things aren't that simple, and often the only answer is a long and sweaty drive west. Well, no longer, because US Airways now runs regular direct connections to Cancun, where a wealth of pearly sands and alluring Caribbean waters await. Expect to pay anything below $384 for a bargain ticket, or in the region of $689 at normal prices.
In true north Cali style, the San Francisco locals brave this mega 5.5-hour flight cool as a cucumber, no doubt visualizing the creamy sands, stunning coral reefs and endless stream of rum punch cocktails that awaits them on arrival. United Airlines are currently the only carrier to operate this non-stop connection, with tickets going for between $444 and $527 regularly, and the luckiest of passengers scooping return seats for as little as $305! Remember, cool as a cucumber.
Washington DC direct to Cancun on United for $433 round trip, on average, in 3 hours and 35 minutes
Breathe in, and breathe out. Relax and let go of all your city troubles as the sprawling government buildings and formal institutions of Washington DC fade away into the clouds, while your United flight turns southward, toward Mexico, the Caribbean and Cancun. Sounds good right? Well today tickets on the route can cost as little as $352, with average return fare prices sitting anywhere between $373 and $457. Not bad for a dose of the tropics!
Other American cities with direct flights to Cancun: