Rising from the brown desert of Nevada like a gleaming great big mirror ball, the city of Las Vegas has long been a bastion of hedonism, fun, frivolity and indulgence for American travelers the nation over. This is where the chip hoarders come to stack piles on the blackjack tables, where bachelor parties come to let loose in the luxurious super clubs, where hedonists sip strong cocktails at the glitzy bars and curious sightseers wonder at the city's gaudy and ambitious undertakings. Ask any veteran of the American travel scene and they'll tell you this one's a must.
Thankfully it's also easy to get to. Plenty of flights connect Nevada's party capital with the rest of the country, linking it to places both close to home and far-flung, from the nearby cities of Southern Cali, to the remote climes of Hawaii. Viva Las Vegas!
See 7 tips, like when to book your ticket, from the Hopper research team that can save travelers hundreds on their flights to Las Vegas.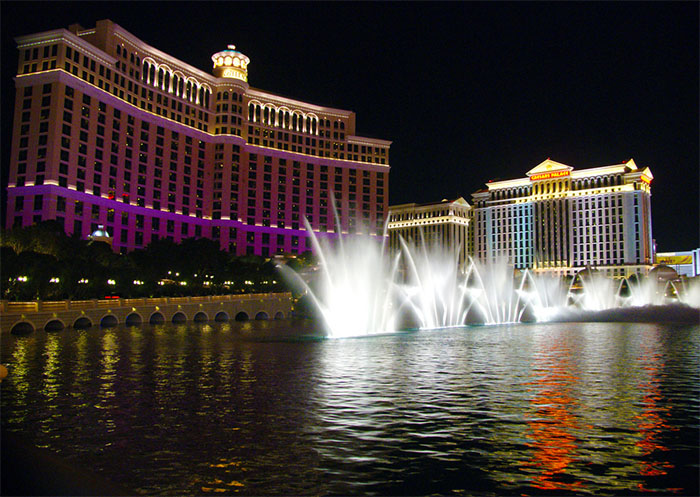 Photo by Louiseana "Isi" Borges/Flickr.
While summer nights in Atlanta are dominated by breezy cocktails on the skyline bars of downtown, they are an altogether different beast in Las Vegas, where a haze of neon floods the streets and the slap of casino chips echoes incessantly from the regal entrances of the Bellagio, Caesars and the Mirage. If that tickles your fancy, then consider jumping on one of these nonstop flights with either Delta or AirTran, which transport travelers to the McCarran International in just shy of four hours. Expect to pay anything between $288 and $348 for a return ticket on the route.
These 8 tips from the Hopper Research team can save you up to $399 on your flights from Atlanta to Las Vegas!
You may think that prim and proper Boston, with its Ivy League schools and long historic traditions, is not the place to find party people looking to cross the states to Vegas. But you'd be wrong, because plenty of people are now jumping on the JetBlue and Delta connections that fly nonstop to Sin City every day. Many of them have managed to grab bargain deals for return trips at under $406, while a lucky few have even scooped seats for just $312!
This US Airways route from North Carolina's biggest city remains one of the handiest direct connections from the American southeast region into Las Vegas and Nevada. From the Charlotte Douglas International Airport the flight takes around 4.5 hours, while return ticket prices can cost anything in the region of $500. Some lucky fliers have managed to snap up seats for just $324, no doubt making use of reduced midweek departures (which can save up to $169 in total) and seasonal lows (check September, November and December).
No doubt the all-new Mob Museum on Vegas' E Stewart Avenue can give visitors an enthralling introduction to perhaps the most influential and interesting of connections between these two onetime Mafia strongholds. But that is by no means their only join. No sir, because American Airlines, Spirit and United Airlines now all run nonstop flights direct from Chicago's O'Hare International to Vegas' McCarran, offering return tickets for below $323 and real bargains as low as $252!
Shine your boots, wax your saddles and don your Sunday best, because tonight cowboy we're riding into the desert, to the glitzy strip of Las Vegas were there's gamblers, games and frivolity galore. Oh, did I mention we're going on a Spirit Airlines flight direct for just $200 return? That's right, this nonstop route links Dallas Fort Worth with the McCarran International in just under three hours, giving Texan locals the opportunity to try their luck at the tables in no time at all!
These 10 tips from the Hopper Research team can save you up to $401 on your flights from Dallas to Las Vegas!
The speedy, two-hour flight from Denver to Vegas is currently run by Frontier, Spirit and United, while fares can be shockingly low, with the luckiest of passengers managing to grab returns for just $40! Once in town, Denver locals will need to place their penchant for fine brewed beer firmly into the backseat, because Vegas is all about the cocktail — especially ones that flow freely from to the bar to the blackjack tables in neon-lit glasses, bursting with a bouquet of miniature Hawaiian umbrellas and novelty straws.
You could be forgiven for thinking that this whopping five-hour-forty-minute connection from the Pacific reaches of tropical Hawaii to the desert sands of landlocked Nevada would be enough to break the bank, but you'd be wrong. The route is run by the Aloha State's own Hawaiian Airlines, who keep ticket prices to an affordable $521 (or, at least, thereabouts). Don't expect to pay anything less than $433 though, even for the flights leaving Hawaii during its own pleasant summer high-season.
In the home of Texas hold 'em it's quite a thing that state laws prohibit card game gambling, while Houston locals have long taken to the seas for so-called casino cruises, where in the sanctity of international waters, they can hone their skills at the tables. But there is another option at hand and it comes in the form of United Airlines and Spirit Airlines, who both run direct flights to the Gambling Capital of the World. Tickets typically go for between $186 and $236, while some lucky gamblers have managed to take the pot for just $177!
Granted Los Angeles is just a stone's throw down the interstate, but it's also got some of the most congested freeways in all of southern California and some of the longest traffic delays in the country! So, when the summer sun starts to swelter past 90 and the tarmac shimmers with the heat, it's surely a better option just to hop on one of the many daily flights from LAX to LAS and enjoy air conditioned cabin comforts all the way. Currently American, Delta, Spirit and United all run the route, with tickets often available for below $100.
These 10 tips from the Hopper Research team can save you up to $329 on your flights from Los Angeles to Las Vegas!
If you find yourself wondering just how well the west coast barmen can cook up a Caribbean rum punch like the one you've just bought from that cool Creole bar in Miami Beach, then why not go and find out for yourself? Nonstop air connections from Miami to Las Vegas take less than five hours from beginning to end, while American Airlines operates regular routes to LAS from Miami International. Expect to pay anywhere between $292 and $357, with the biggest savings coming from mid-week departures and the September low-season.
It's no secret that when New Yorkers feel the urge to trade cash for chips and try their luck on the gambling tables they zoom down the Garden State Parkway to Atlantic City by the sea. However, today there's another option for those budding card sharks looking to try their hand, because no fewer than three separate airlines (JetBlue, Delta and Virgin America) run regular direct flights from New York's JFK to Vegas' McCarran International. Some lucky travelers have even managed to snap up seats for under $300, while most tickets will go for around $360 to $397.
Sick of watching those dollar-eyed fashionistas sip cocktails in the stylish bars of Coronado? Tired of trying to catch the waves on the salt-washed back of your pinged and peppered surf board? Then what better remedy than a little fortune-chasing in Vegas courtesy of Spirit who run direct flights to the gambling town for as little as $72. Who knows, you may even be able to afford a new surfboard when you come back, even if not one of those cocktails!
Yes, Frisco may be the Paris of the West, but where's it's Eiffel Tower? Now for that you need to go to Las Vegas, where the Paris Las Vegas hotel has raised its own grand monument to the French city. It can be found sticking its legs through the roof of the casino, soaring high above the twinkling lights of the Vegas Boulevard. Flight connections are cheap too, with return tickets on United or Virgin costing on average between $136 and $177 and the lowest recorded fares dropping to just $134.
These 10 tips from the Hopper Research team can save you up to $408 on your flights from San Francisco to Las Vegas!
Travelers looking to hop from the northwest city of Seattle to Las Vegas in the south would do well to choose between either Alaska Airlines or Delta Air Lines, who both run nonstop connections from the Seattle–Tacoma International Airport to the McCarran International Airport in Nevada. The flights take around 2.5 hours from beginning to end, return ticket prices usually hover at about $215 apiece, and real bargains on the route can even come in at a super low $174!
Both United and Frontier currently run regular direct air routes back and forth from the capital's Dulles Airport and Vegas' McCarran International, offering Washingtonians a gateway into the wild and hedonistic center of entertainment and gambling that the laws forged in their own backyard first helped to create.
Other American cities with direct flights to Las Vegas:
Albany on Southwest
Albuquerque on Southwest
Austin on Allegiant and Southwest
Bismarck on Allegiant
Boise on Allegiant and Southwest
Buffalo on Southwest
Colorado Springs on Allegiant
Columbus on Southwest
Des Moines on Southwest and Allegiant
El Paso on Southwest
Indianapolis on Southwest
Little Rock on Southwest
Louisville on Southwest
Milwaukee on Southwest
Nashville on Southwest
Oklahoma City on Southwest
Omaha on Southwest
Pittsburgh on Southwest
Reno on Southwest
Sacramento on Southwest
San Antonio on Southwest
San Jose on Southwest
St Louis on Southwest
Tampa on Southwest