Money can't necessarily buy happiness, but for less than 10 bucks in select cities in America it can buy bliss, if only for about an hour. Think about it: soft, flakey, buttery croissants; cream-filled cakes; thick, gooey brownies and pillowy, sugar-crusted donuts. These are the kinds of things that can really pick someone up on a bad day, especially if they come from the bakeries listed here. For a real dose of sugar and butter, ignorable guilt and a fine cup of coffee, check out these 10 American bakeries.
Want to find tips on how to save money on airfare? Visit our flight tools page, choose your airport and go!
10. Donut Bar in San Diego has your coffee and donuts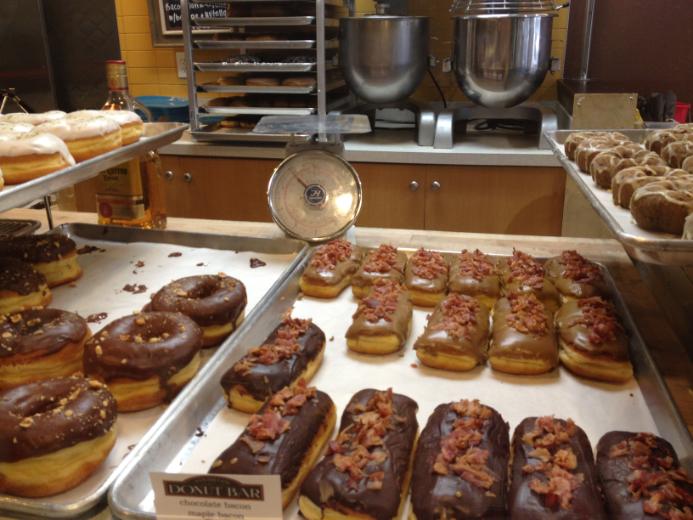 Donut Bar, San Diego – photo by suzygarcia
You're gonna want to get there early. They open at 7 am and close when they run out, and these donuts run out like crazy. Their donuts are made with funky originality, with rotating flavors like limoncello, crème brûlée and bourbon caramel; but regulars have found faithful orders in crobar (their response to the popular Cronut), and strawberry split, a giant sugar donut stuffed sandwich-style with strawberries and cream. The gang behind the Donut Bar have a legion of online followers, owing to their social media finesse and updates about Kiddo Donuts, which are occasional large batches of festively decorated donuts, free for kids and $3 for adults.
9. Henri's Bakery will make you think twice about Atlanta pâtisseries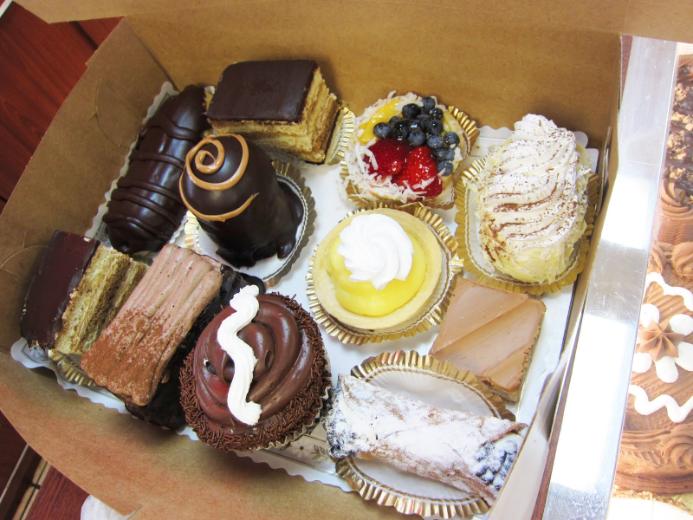 Henri's Bakery, Atlanta – photo by Hungry
This little painted restaurant with the '60s vintage block-letter sign in Buckhead Village opens up to a dizzying array of shortbread cookies, sables, éclairs and more pastries, and they've been using the same production processes and baking techniques since 1929 when the bakery was first established. An enormous amount of output comes from this little shop, and visitors can see it through the glass windows to the work stations (it's extra clean and always a show). At Henri's, visitors can pick up breads like the standard French baguette and challah, as well as cinnamon logs, German rye, butter-crust, sourdough, garlic bread, knot rolls and more; as well as a variety of pastries and pies.
8. Fill up on the bread at the Pearl Bakery in Portland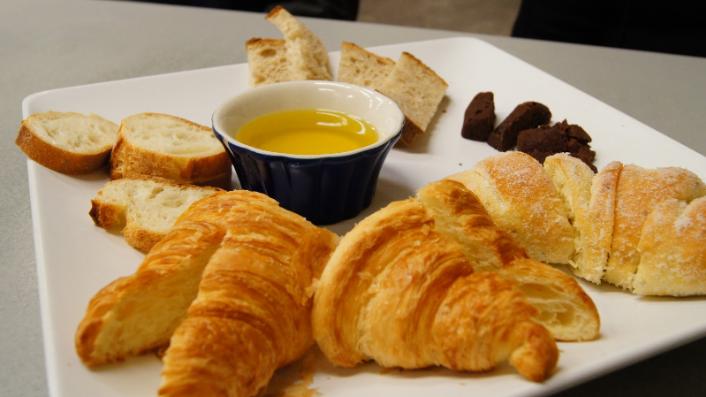 Pearl Bakery, Portland – photo by Sylvia Avey
Even if some Portlanders have never been to the Pearl Bakery, it's more than likely that they've already tasted it – restaurants both upscale and casual keep their tables stocked with Pearl's famous loves. However, for a real taste of this Pearl District mainstay, visitors and residents have got to go to the source. Pearl Bakery has been hyped by acclaimed pastry chef David Lebovitz, Gourmet, Bon Appétit, Martha Stewart Living and a whole roster of other butterloving publications. This family run establishment specializes in expertly rolled croissants, danishes, baguettes and cakes made with local butter and dairy, sustainably produced flour and competitively sourced chocolate.
7. Baked & Wired in Washington D.C. serves up a match made in heaven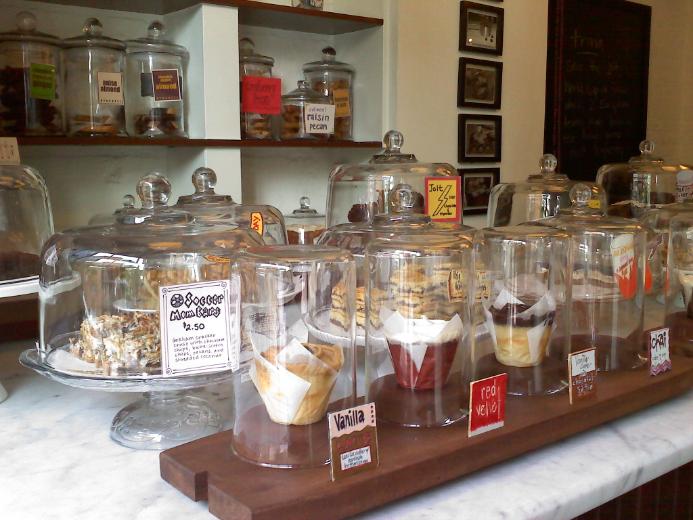 Baked & Wired, Washington D.C. – photo by Madeline Moy
There's a coffee and a pastry, and then there's Baked & Wired. Quickly carving a name for themselves as the destination in D.C. to get cupcakes, the proprietors of B&W balance out the sweetness of a perfect parchment-wrapped cupcake loaded with rich frosting in accordance to their whimsical names (the Dude is a chocolate cake with a cream filling and Kahlua buttercream frosting, robe not included) with an expertly pulled shot of Intelligentsia espresso. All of their baristas are trained for months and host twice weekly pourover demonstrations, while their bakers seem to be blessed with the Midas touch of desserts. Even our barking buddies get a treat – dog walkers passing by can pick up a Zillabone, a homemade and hand-rolled all-natural dog treat.
6. You're going to want to get into Le Panier - Very French Bakery in Seattle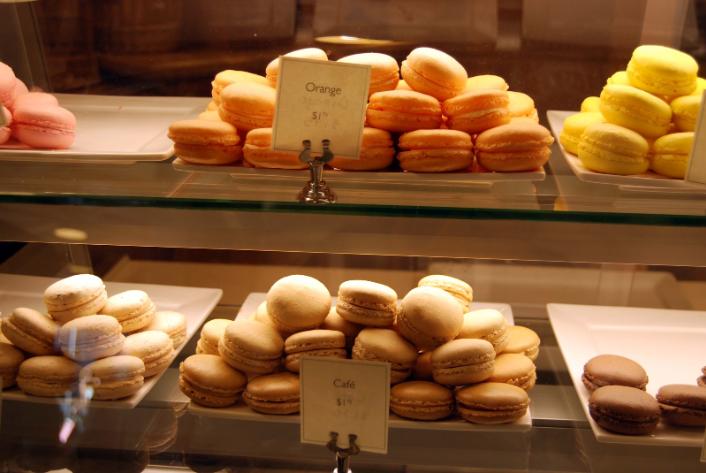 Le Panier - Very French Bakery, Seattle – photo by Kelli Wong
For a taste (and aroma) of France in Seattle, Le Panier has been the city's go-to for 30 years. Located in Pike Place, Le Panier is a simple, rustic and homey French pâtisserie that specializes in traditional French baking, which means lots of butter, from their flakey and soft croissants to the savoury feuilletés, which are puff pastries with various fillings like chicken in a cream sauce, spinach and cream, or ham and cheese. There are macarons for a quick pick-me-up, a croissant à l'abricot for a rainy day with a book, and loaves upon loaves of French artisan breads to take away for later.
5. Make all the joggers jealous by taking a table at Amandine Patisserie in Los Angeles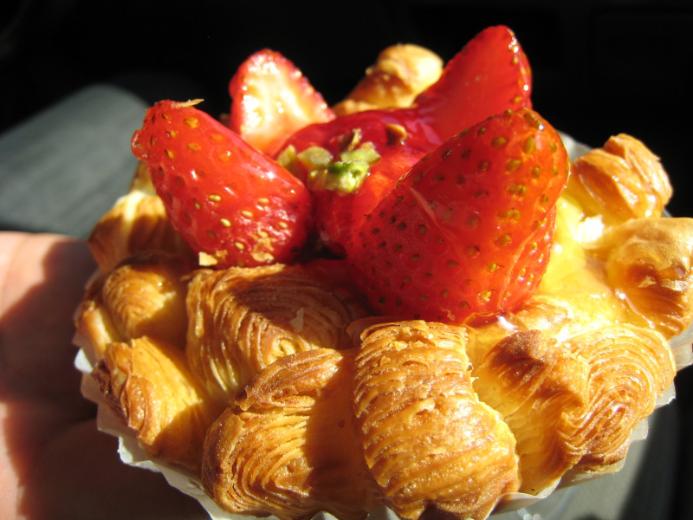 Amandine Patisserie, Los Angeles – photo by TNT Adventures
Diets don't have a chance at Amandine. The display case of gateaux, croissants, danishes, fresh seasonal fruit tarts and other pastries are irresistible enough to overcome the appetites of even the most dedicated weight watchers, proving once and for all that all diets are fad diets in the fragrant ivy-covered Amandine. Yes, they have gluten free and vegan, but their best offerings if you've got a while are the french toast breakfasts. Grab a cuppa, order an almond croissant to go and dive right into their Brioche French toast on their Wilshire patio. That's right – make all the passersby swoon with jealousy with that sweet hot thing on your plate. After all, calories will just give you more energy to face the day, right?
4. Stop by at the Martha Stewart-approved Floriole Cafe & Bakery in Chicago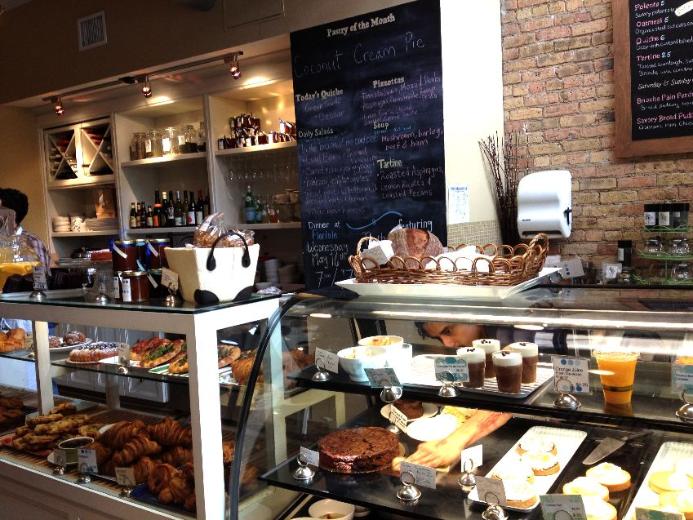 Floriole Cafe & Bakery, Chicago – photo by Elizabeth
Armed with an army of devoted followers from their days peddling their rustic French pastries out of a tent in Chicago's Green City Market, some Valrhona chocolate, organic flour and sugar, cage-free eggs and (omg) French butter, Florio has steadily torpedoed their way into national acclaim. Even Martha Stewart loves it, and nobody is a better judge of pastries than her. Beyond buttery sweets, Floriole also offers sandwiches, salads and wood-fired pizza, but diners ought to save room for the Gateau Basque, an almond butter cake filled with pastry cream and seasonal fruit.
See 6 tips, like when to book your ticket, from the Hopper research team that can save travelers hundreds on their flights to Chicago.
3. Pondicheri in Houston makes beautiful creations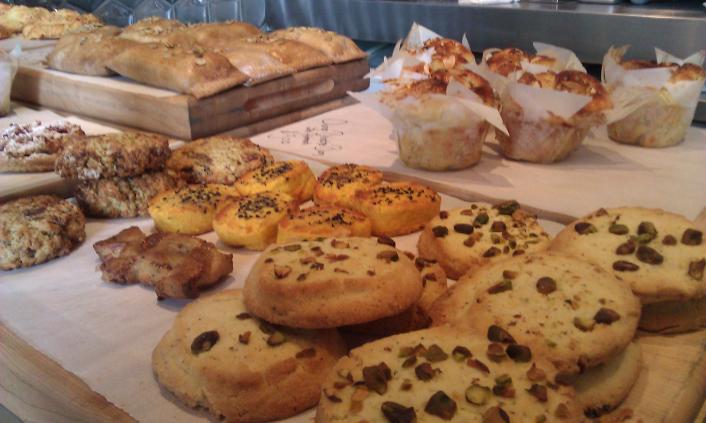 Pondicheri, Houston – photo by boxingoctopus
The Bake Lab in Pondicheri in Houston doesn't smell like your typical bakery. Instead, visitors are greeted with unique aromas of cardamom, chai spices, cooked dates and other South Indian flavors. Their experiments carefully blend French technique with local ingredients (the farms which the restaurant is affiliated with are written out on a blackboard for everyone to scope) and a worldly perspective. Their brioche buns, for example, deviate with the delicate flavors of cardamom, orange, saffron and almond or chocolate; while cookie varieties range from classic and safe oatmeal date to chocolate oatmeal chili, masala and more, depending on the season and the mood.
2. Go to Baked in Brooklyn – just don't call them a cupcake shop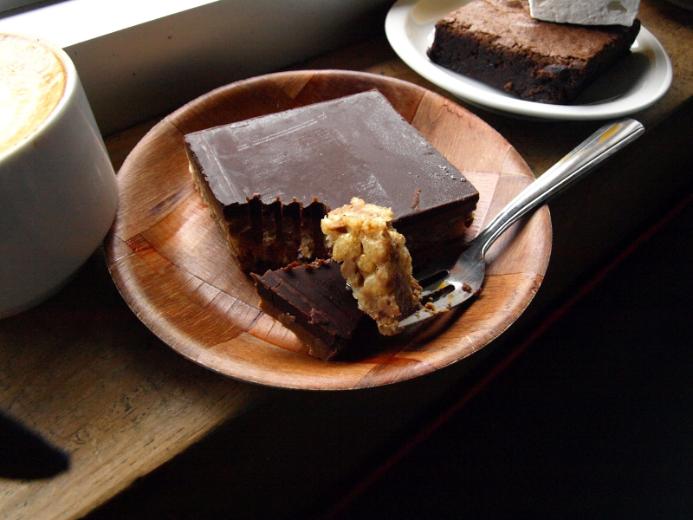 Baked Nyc, New York City – photo by Nydia
The simple, mom-inspired dreams of two ex-advertising guys became a reality with a small bakery in the Red Hook neighborhood of Brooklyn. Now it's a baking empire, with massive endorsements from Oprah (theirs is the Queen's favorite brownie), a product partnership with Williams-Sonoma, a still-cozy neighborhood bakery and a national treasure. And it is not a cupcake store – although they make cupcakes; good ones. Much of their magic lies within the rows of pastry cases on the counter, which are tastefully filled with a dizzying array of bars, cookies, and brownies. Their brownies are some of the best ever, the Brookster is a chocolate chip cookie baked into a brownie base, and their Whoopie pies are alone worth the trip to Red Hook.
1. Every morning should start with a Morning Bun from the Tartine Bakery in San Francisco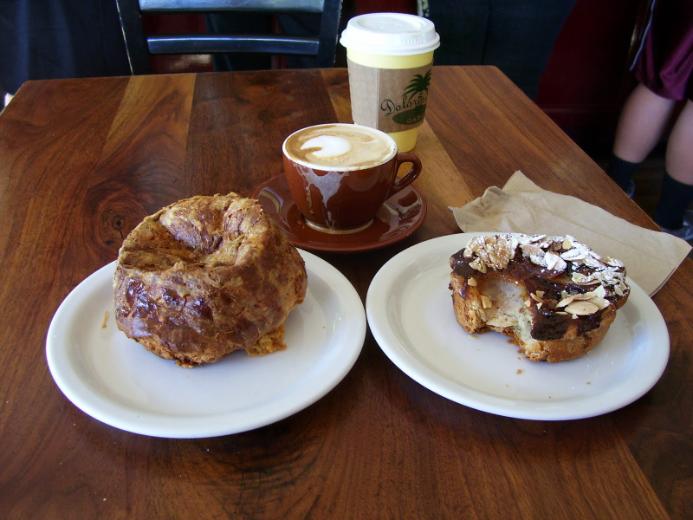 Tartine Bakery, San Francisco – photo by Brian McGowan
Located in an unassuming block in the Mission District, Tartine is a bakery marked only by the line of visitors out front, waiting in patient anticipation for a taste of Tartine's ultra-flakey and fluffy croissants, éclairs and the much-hyped Morning Bun, a buttery pastry made with croissant dough, rolled with cinnamon and orange zest and coated in cinnamon sugar. Their pastries are made small-batched, ensuring absolute freshness, and all their ingredients are as organic and local as possible, and the couple behind this San Francisco institution have won the James Beard Award for Outstanding Pastry Chefs twice.